Is the Rent Too Damn High?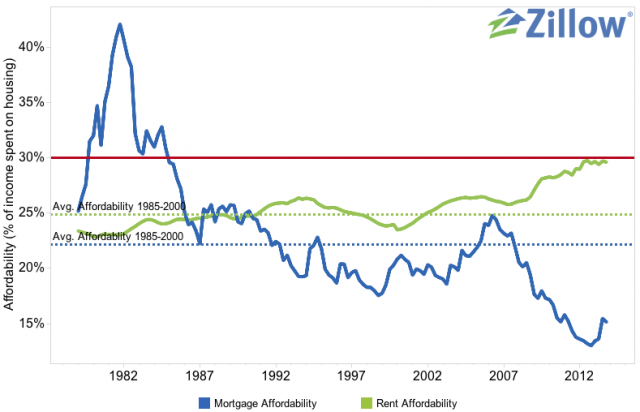 The rebound in home prices has attracted a significant amount of attention in recent years, but stagnant incomes and less demand for homeownership have pushed rent prices to new highs. In fact, renters are spending more of their income on rent than they have at any point over the past 30 years.
In the United States, renters currently need to spend 29.6 percent of their income to afford rent on the median property, according to a new analysis from Zillow. Historically, renters spent 24.9 percent of their income on rent. Compared to the pre-bubble period between 1985 and 2000, renters are now spending an additional 19 percent of their incomes on rent.
"Nationally, the share of income that households must devote to rent has increased steadily and consistently since 2000, as the increase in rent has dramatically outpaced the growth in income over the same period," explained Zillow. "Over the period from 2000 to 2014, median household income has increased by 25.4 percent, while rents have increased over 52.8 percent, more than twice as much. On the heels of our recent analysis showing the erosion of affordability of homes for purchase, this represents even more bad news for those looking for housing."
As with most studies on real estate, location is a large factor when it comes to high rents. Some parts of the country such as San Francisco, Miami, and Los Angeles show that households spend more than 40 percent of their income to rent the average home. Renters in Washington, D.C. spend 27.2 percent of their income on rent, but that is 68.4 percent higher than its historical average, while the ratio in New York City is 67.2 percent above its historical average.
Affordability issues are also becoming well-known among homebuyers as double-digit price increases and low inventory levels impact Americans across the nation. In a separate report, RealtyTrac found that the estimated monthly house payment for a median-priced, three bedroom home purchased in the fourth-quarter of 2013 surged 21 percent to $865, compared to $714 a year earlier. Among the 15 most populated counties analyzed, the estimated monthly house payment jumped an average of 34 percent from a year ago. Last year, homeownership reached its lowest level in almost two decades.
More From Wall St. Cheat Sheet:
Follow Eric on Twitter @Mr_Eric_WSCS