Is There Still Hope for the Mortgage Market?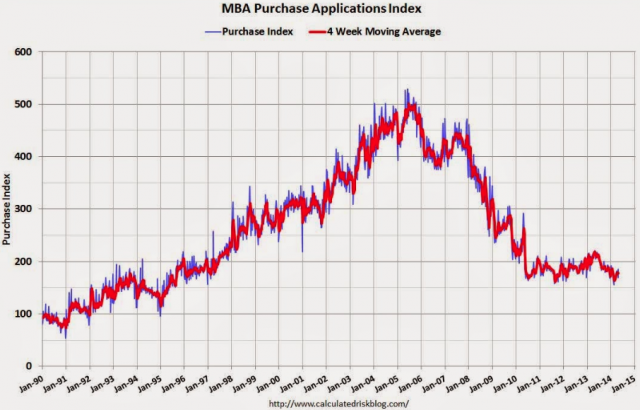 After several months of almost constant deterioration, the mortgage market may finally be turning the corner. In the latest update from the Mortgage Bankers Association, for the week ended May 2, applications for home loans increased 5.3 percent on a seasonally adjusted basis from one week earlier. The index gained 6 percent on an unadjusted basis.
Other areas of the mortgage market also showed improvement. The Refinance Index increased 2 percent from the previous week, while the Purchase Index jumped 9 percent to reach its best level since January 2014. As the chart above shows, applications have struggled to gain momentum for a sustained period since the housing bubble collapsed.
"It is official: We are in a majority purchase market for the first time since 2009," said Mike Fratantoni, the Mortgage Bankers Association's chief economist. "A sizeable increase in purchase applications last week likely reflected the impact of somewhat lower mortgage rates as well as continued growth in the job market, as confirmed by Friday's employment report from the BLS.  Despite the strong increase in the purchase market last week, volume continues to run 16 percent behind last year's pace."
Overall, the refinance share of mortgage activity accounted for 49 percent of total applications, its worst level in about five years and down from 50 percent a week earlier. In fact, the refinance share of mortgage activity has now dropped for 12 of the past 13 weeks.
The average interest rate for a 30-year fixed-rate mortgage dipped to 4.43 percent, the lowest rate since November 2013. Meanwhile, the average rate for a 15-year fixed-rate mortgage edged lower, to 3.52 percent from 3.53. Although mortgage rates are still near historic lows, the housing recovery story will likely draw more skepticism this year as higher prices and stagnant wages continue to weigh on homebuyers. In a recent report, the MBA revealed that the average loan size for purchase applications had reached its highest level in the history of the survey at $280,500.
More From Wall St. Cheat Sheet:
Follow Eric on Twitter @Mr_Eric_WSCS