Jeb Bush: 6 Questions About His Presidential Candidacy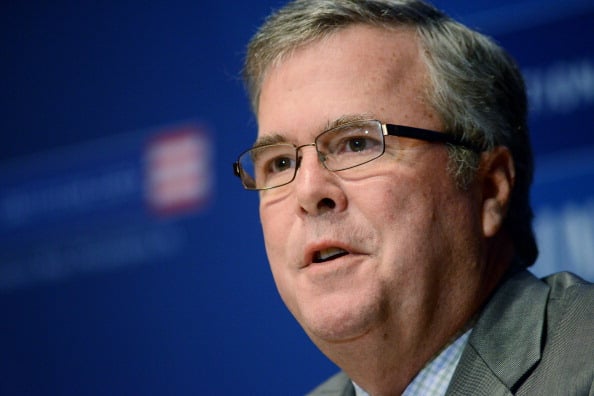 The Republican party is looking into the future of the 2016 election and starting to worry. Democrats are banking on Hillary Clinton, but even if the GOP were sure that Jeb Bush actually plans to run, there are some questions on his candidacy and how viable he would be as the face of the Republican party in the next presidential race. Here's a breakdown of his career, his stances on various issues, and concerns that some have.
1. Is he even running?
Well, we aren't sure — much like we aren't sure about Hillary Clinton running. That said, he's made it clear that it's something he's seriously considering. According to CNBC, at the Catholic Charities fundraiser in New York, he told the audience that he was "thinking about running for president," admitting more than he has when queried in the past. In an interview in early April he said that he would make his decision on whether or not to run by the end of the year.
And while there are other GOP options out there, most of them seem to have downsides, or concerns that might lead their party to doubt their abilities. Governors Rick Perry (R-Texas), Scott Walker (R-Wis.), and Chris Christie (R-N.J.) have all been listed as possibilities, as has Rep. Paul Ryan (R-Wis.). Perry and Christie both have scandals to overcome politically, while Ryan and Walker have their own hurdles in looking at a transition to a White House run. This puts added pressure on J. Bush, whose name seems to be said with more confidence, but who also has characteristics as a candidate that have some Republicans concerned.
2. What's his stance on immigration?
Speaking of things that have some of his fellow Republicans worried — Jeb Bush's recent discussion of his position on immigration was nothing if not controversial. It likely had more Democrats smiling than Republicans — with the exception of Senator Jeff Flake (R-Ariz.) and Rick Perry. In an interview held at the Bush library, he praised the Senate's bipartisan bill as a "good effort" last year and emphasized the importance of regaining American's confidence in the U.S. immigration system by properly targeting visa violations and better controlling the border.
However, the bulk of what he said — and the part that everyone is talking about — had a more lenient tilt to it. "The way I look at this — and I'm going to say this, and it'll be on tape and so be it. The way I look at this is someone who comes to our country because they couldn't come legally, they come to our country because … they wanted to make sure their family was intact, and they crossed the border because they had no other means to work to be able to provide for their family," said Bush, according to The Washington Post. "Yes, they broke the law, but it's not a felony. It's an act of love. It's an act of commitment to your family."
In 2012 Gov. Perry said something of a similarly lenient nature. "If you say that we should not educate children who have come into our state for no other reason than they have been brought there by no fault of their own, I don't think you have a heart," he said, according to
The Washington Post
. Sen. Flake directly addressed Bush's statement in a Facebook post, saying "
Truth is, I agree with Jeb
, and I applaud him for having the guts to say it … To lump everyone who crosses the border illegally into the same class is unfair and unproductive." Other Republicans, unsurprisingly, were less enthused.
3. What about his common core opinion?
While packed with slightly less political gun powder than Obamacare, the Common Core Education issue is one that has conservatives up in arms. The Common Core is made up of a national education standard put into place in forty-four states, plus the District of Columbia, and is being criticized as interference by the federal government in state education.
Republicans are highly critical of it as a whole, but Bush was in favor of it during his time as governor of Florida and has been critical of flip-flopping Republicans who have changed their tunes on it once it became unpopular. "Others that supported the standards all the sudden now are opposed to it," said Bush, according to The New York Times.
Senator Ted Cruz (R-Texas) had said that he felt the anti-Common Core sentiment in the Republican party is a positive sign in being responsive to Americans. "The Republican Party is getting more and responsive to the grass roots, and that is a very healthy thing for the party and the country," said Cruz, according to The New York Times.
Bush disagreed, saying, "I guess I've been out of office for a while, so the idea that something that I support — because people are opposed to it means that I have to stop supporting it if there's not any reason based on fact to do that?"
4. What's his position on Obamacare?
On to the main event — one cannot be considering a run for president under the GOP without having his or her position on the Affordable Care Act examined. Jeb Bush, for his part, says that it is "flawed to its core," that it "doesn't work."
Even so, he has been less vocally against the law than others in his party, even counseling a more gentle response.
"It might actually be a politically, a better approach to see the massive dysfunction … I think Republicans need to just take a step back and show a little self-restraint and let this happen a little more organically," said Bush, according to Politico. "I think the best way to repeal Obamacare is to have an alternative; we never hear the alternative."
5. What has his role in politics been in the past?
In the 1980s and 1990s, Jeb Bush gained political power in Florida, beginning as the Secretary of Commerce and eventually becoming governor of the state in 1998, where he stayed until 2007. His place in Florida politics was especially notably during his brother run for president, when the vote count their became a controversial deciding factor in who won the race. At the time, Jeb Bush stood back in order to remain uninvolved as a family member of one of the candidates.
During his time out of office he has worked on business interests, some of which have proven more scandalous than others — such as the fraud problems with InnoVida, which he consulted for, and involvement with the Lehman Brothers before it failed. He has also made a pretty penny in "corporate speechmaking," earning about $50,000 for speaking, according to The New York Times, and making more than 100 speeches since his departure from office.
"Jeb Bush had a successful career in commercial real estate and business before serving as Florida's governor. After eight rewarding years in public service leading the state, he is enjoying running his own business again," said spokeswoman Kristy Campbell in a statement to The New York Times. Some have discussed whether or not his long period out of office would become a problem in returning to the field, while others claim he is fresh, having kept out of some of the more unfortunate back and forth fighting between parties — a major advantage with Americans feeling as frustrated as they are at present.
6. Another Bush?
There has been some discussion of the so-called "Bush baggage," and on whether or not his familial connection would be problematic for him in running again. Some are critical of having a third Bush as president at all, but Hillary Clinton would be the second Clinton and that is hardly standing in the way of her polling numbers.
As far as J. Bush is concerned, he says he believes his brother's time in office between 2001 and 2009 will one day be seen in a more positive light.
"I don't think there's any Bush baggage at all. I love my brother. I'm proud of his accomplishments. I love my add, I'm proud to be a Bush and if I run for president it is not because of something in my DNA that compels me to do it," he said, according to The Hill.
More From Wall St. Cheat Sheet:
Follow Anthea Mitchell on Twitter @AntheaWSCS