Job Market Inches Forward, GDP Falls: Where Is Economic Growth Headed?
Together, the two major economic reports released by the federal government Thursday — the Department of Commerce's revised estimate of first-quarter gross domestic product growth and the Department of Labor's weekly tally of the number of Americans applying for unemployment benefits  – serve as important barometer of the progress the United States has made toward recovery. Intrinsically, GDP data is of far greater magnitude than initial jobless claims numbers, but the two reports still complement each other well; United States GDP tells the larger story of why businesses have generally been hesitant to expand payrolls, even if layoffs have returned to pre-recession levels. In turn, jobless claims — which serve as a proxy for layoffs — highlight that emerging unemployment is returning to acceptable levels.
Earlier this month, Americans filed the fewest number of first time applications for unemployment benefits in seven years, meaning the last time jobless claims — and by association, emerging unemployment — fell so low before the financial crisis and subsequent recession. To any casual observer of the United States labor market, hitting such a historic milepost would suggest recovery of the economy and the jobs market is well on its way to completion. It is true that the strides forward the labor market has taken, especially in the past 12 months, cannot be discounted. Yet, as the most recent figures released by the Department of Labor prove, progress is steady but not without setbacks. Or as Pierpont Securities economist Stephen Stanley told Bloomberg, "the labor market is showing slight progress, but nothing dramatic."
Despite a substantial uptick last week, jobless claims have continued to trend down and dropped by by 27,000 in the week ended May 27. The Labor Department reported that 300,000 Americans filed initial applications for unemployment benefits, well below the 318,000 expected by analysts. At this level, claims numbers are well in line with pre-recession levels, when the average churn of the job market created approximately 300,000 weekly applications for unemployment benefits.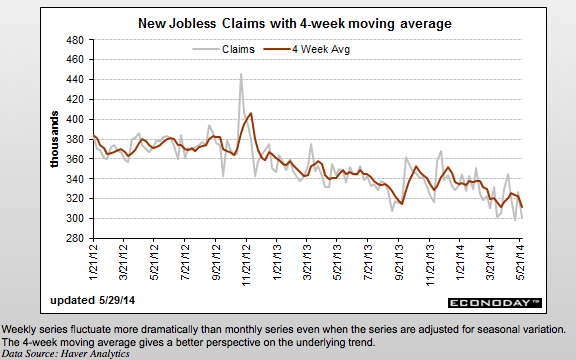 Jobless claims provide the first look at the employment situation for any given month, but since the weekly figures can be volatile, economists use the four-week moving average to understand wider trends in employment, which are far more telling of labor market health than weekly readings. Alongside the sizable decrease in benefit applications, the the four-week moving average continued to decline, falling by 11,250 to 311,500. While that measure remains above its recent low of 302,000 claims, "the trend in the data is indicative of some recent improvement in the labor market," J.P. Morgan Chase economist Daniel Silver told The Wall Street Journal. Yet, as RBS Securities economist Omair Sharif noted, initial jobless claims have rarely stabilized at or below that key 300,000-claim level.
It is also important to remember that the jobless claims measure calculated by the Labor Department's Bureau of Labor Statistics is what is known as a low impact indicator compared with its monthly Employment Situation Report. While the general downward trend in jobless claims can be termed as a positive sign for the labor market, jobless claims numbers are a leading economic indicator, and therefore only offer indirect clues about the pace of hiring — the most important part of the labor market story. While "inroads" into unemployment are being made, progress is still slow. In other words, job growth may no longer be bad, but it is still sluggish. Importantly, economists say economists say any claims figure below 350,000 indicate moderate job creation.
Plus, the number of people continuing to collect benefits decreased by 17,000 to 2,631,000 million in the week ended May 17, a decline that puts continuing claims in line with 2007 levels. Continuing claims figures are reported with a one-week lag.
If initial claims for unemployment benefits defined the whole labor market story than the narrative of the jobs recovery would be easy to summarize: progress is steady, or at least, the labor market situation is not worsening. As jobless claims continue to decrease, the labor market will further tighten, meaning employers will theoretically be under more pressure to boost wages. Typically, initial jobless claims wane before employment growth can accelerate. Of course, initial applications for unemployment benefits have been trending down for more than a year, but job gains have been far less consistent.
The labor market may be resilient, but it is no where near full, pre-recession health. Payrolls did indeed increase in April, but generally companies are holding off on hiring until consumer spending substantially increases. The problem is that stagnant wage growth has made it difficult for consumers to generate sustained periods of very strong spending. Faster growth in job creation and wages would jumpstart economic growth, given household spending accounts for approximately 70 percent of U.S. gross domestic product, which contracted in the first-quarter of this year.
With the unemployment level now resting at 6.3 percent, it is clear the labor market has taken a great leap forward in the past year. But as numerous economists have argued, that headline figure tells far less than the whole labor market recovery story. While job creation did strengthen in April, with employers adding 288,000 jobs to payrolls, a significant portion of the 0.4 percentage point drop in the jobless rate came from a sizable decrease in the labor force, meaning workers are still discouraged and unable to find employment. That aspect of the jobs report was by no means surprising; a disheartened labor force and a record low labor force participation rate has characterized the recovery, a recovery has not yet reached all Americans. Since unemployment remains such a pressing issue, jobless claim numbers continue to important data for assessing the ongoing labor market recovery.
The labor market was undoubtedly impacted as GDP growth turned negative in the first quarter — thanks to the cold winter, the slowdown of the housing market, and the inability of consumers to significantly draw down business inventories and spur further production.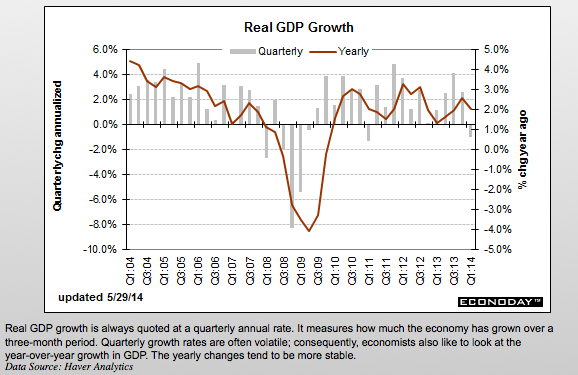 The Commerce Department's revision of first-quarter GDP growth put economic growth in negative territory, and the 1-percent contraction was weak even for an economy where normal growth is below 3 percent. The good news is that the economic contraction is not seen as the beginning of a new trend. The temporary downturn fits within a pattern seen throughout the economic recovery. Since the recession ended nearly five years ago, GDP very rarely achieved what economists call ideal growth, or even consistent growth.
Looking back to the first-quarter of 2009, when GDP decreased 6.4 percent, recent data shows the extent to which the economy has rebounded, even if the recovery has both failed to gain consistent momentum and remained slowed by historical standards. On average, the United States economy has grown at an annual rate of 3.3 percent since 1929. Generally, economists say a healthy rate of growth for GDP is between 2 percent and 4 percent. GDP growth fell just within that range in the final three months of last year, but the first-quarter posed another setback. The uneven nature of the economic recovery can been seen in the ongoing weakness of the labor market, where high levels of joblessness has persisted even if the unemployment rate has ticked down.
But "nobody thinks that there's any significance to the first-quarter being negative," Northwestern University economist Robert Gordon, a member of the National Bureau of Economic Research's business cycle dating committee, told The Wall Street Journal. But the negative growth is noteworthy given that the U.S. economy has only contracted a handful of times since 1947 when not in a recession, according to the Commerce Department's Bureau of Economic Analysis.
With GDP data it is important to distinguish the signal from the noise. Or, in other words, this downward revision of economic output should not further stall the jobs recovery, nor should that dip be used as evidence of the Democrats inability to guide the economic recovery forward in the upcoming midterm congressional elections.
More From Wall St. Cheat Sheet:
Follow Meghan on Twitter @MFoley_WSCS