Jobless Data Point One Direction: Labor Market Is Going Nowhere Fast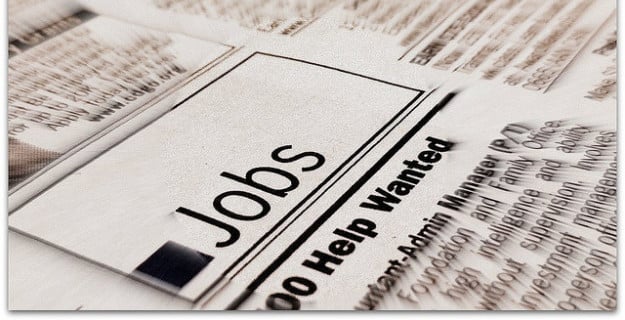 Thursday was not remarkable for its deluge of positive economic reports. January retail sales slid into negative territory, and initial claims for unemployment benefits once again ticked up. The two reports — released by the U.S. Department of Commerce and the Department of Labor's Bureau of Labor Statistics — join the clamor of data releases that have thrown the stability of the economic recovery into question. Friday's Employment Situation Report, which showed U.S. employers added only 113,000 jobs to payrolls in January, also provided cause for concern.
In the week ended February 8, 339,000 Americans filed initial claims for unemployment benefits, and while that figure represented an increase of 8,000 jobless claims from the week before, the total number of claims remained at a level consistent with moderate labor market growth. Economists say any claims figure below 350,000 indicates moderate job creation. But it is important to remember that employment growth in January was far less than expected and far less than is needed to significantly reduce the high level of unemployment.
Continuing claims have been elevated in recent weeks, but in the week ended February 1, the number of people continuing to receive jobless benefits decreased by 18,000 to 2.95 million.
Initial claims for unemployment benefits — which serve as a proxy for layoffs — paint a picture of a strengthening and resilient labor market. The general downward trend of jobless claims offers a sign that even though job creation was not strong in December and almost as equally weak in January, businesses remained confident enough to keep workers last month, even if they were not inclined to increase payrolls significantly. If initial claims for unemployment benefits defined the whole labor market story, then the narrative of the jobs recovery would be easy to summarize: Progress is steady.
Supporting that theory was the fact that the unemployment rate declined for the right reason in January. More people began looking for work last month, a notable change for a labor market often characterized in recent months by its high number of disheartened workers. Since October, the unemployment rate has fallen from 7.2 percent, largely because a high number of disheartened workers have dropped out of the labor force.
As a result, the labor force participation rate — the share of working-age Americans who were employed or looking for work — fell to a several-decades low. The fact that more people began looking for work in January was a sign of optimism, and some of those job hunters found employment, which contributed to the percentage-point decline in the unemployment rate. From December's 6.7 percent, the unemployment rate fell to 6.6 percent, the lowest rate since October 2008.
The fact the unemployment rate fell as labor force participation rose by close to half a million suggests that the underlying employment trends are stronger than the headline jobs number would suggest. Capital Economics' Paul Ashworth described the so-called "guts of the January employment report" as showing much more strength than payroll additions. Meanwhile, TD Securities deputy head of U.S. research and strategy Millan Mulrain, called the underlying trends in the report — including the increase in average weekly earnings, lower unemployment duration, and growth in aggregate hours worked — "quite encouraging."
Still, the volatility that has characterized recent jobless claim numbers was evident in Thursday's report. Jobless claims provide the first look at the employment situation for any given month, but since the weekly figures can be volatile, economists use the four-week moving average to understand wider trends. In the week ended February 8, that average increased by 3,500 claims to 333,000 from the previous week's revised average of 333,250.
Of course, trends in jobless claims, a leading economic indicator, only offer indirect clues about the pace of hiring. And more importantly, jobless claims are not the whole story. Job creation, which was a big concern throughout 2013, is the other half of the labor market narrative. There is a relationship between jobless claims and job creation: Typically, applications for unemployment benefits wane before hiring accelerates. But that relationship was askew for much of last year. While businesses dismissed fewer employees, they were hesitant to expand payrolls, and that hesitancy is still evident.
Recovery in the labor market is "far from complete," Federal Reserve Chair Janet Yellen said this week.
"The job market isn't going anywhere quickly," Moody's Analytics senior economist Ryan Sweet told Bloomberg. Looking beyond the weekly volatility of jobless claims data, clearer fiscal policy and growing business confidence means "we'll start to see hiring accelerate in the spring and summer," he said.
More From Wall St. Cheat Sheet:
Follow Meghan on Twitter @MFoley_WSCS