Jobs, Hiring, and Layoffs: Where Does the Labor Market Stand?
Initial applications for unemployment benefits fell close to a seven-year low last week; the last time initial claims were this low was before the start of the Great Recession, on May 12, 2007, when they measured 297,000. Last week also saw the largest decline in claims since late 2012.
Data released by the Department of Labor on Thursday showed that the number of Americans filing new jobless claims declined by 32,000 to a seasonally adjusted 300,000 in the week ended April 5, completely reversing the previous week's 22,000-claim gain. More importantly, this drop — which surpassed analysts' estimates for a 12,000-claim decline — confirmed that employers are holding onto workers as expectations for greater economic growth become stronger. Current jobless claim numbers are "collaborating with the other signals we have been seeing, which is the jobs market is slowly improving," Moody's Analytics senior economist Ryan Sweet told Reuters. But also, "some of the drop is normalizing from this winter's depressive effect."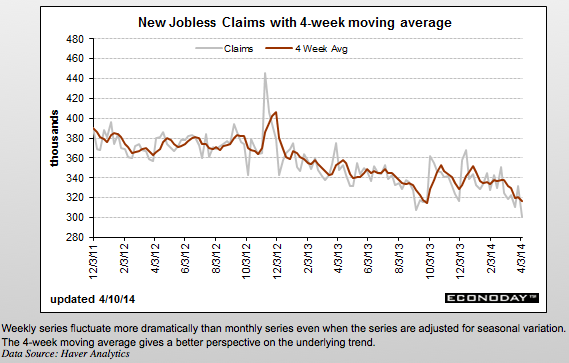 Jobless claims are now trending in line with pre-recession levels; before the recession began in December 2007, an average number of 320,000 initial claims were filed each week due to the normal churn in the job market. And, more significantly, economists say any claims figure below 350,000 indicates moderate job creation.
Mirroring the decrease in weekly initial applications for unemployment benefits was the corresponding decline in the monthly average. Jobless claims provide the first look at the employment situation for any given month, but since the weekly figures can be volatile, economists use the four-week moving average to understand wider trends in employment, which are far more telling of labor market health than weekly readings. Falling by 4,750 from the previous week's upwardly revised 321,000, the four-week moving average for the week ended April 5 dipped to 316,250.
In addition, in the week ended March 29, the number of people continuing to receive jobless benefits for more than one week fell to the lowest level recorded January 2008. Continuing claims, which are reported with a one-week lag, dropped to 2,776,000 — a decrease of 62,000 from the 2.84 million applications filed the previous week.
Initial claims for unemployment benefits — which serve as a proxy for layoffs — paint a picture of a strengthening and resilient labor market. If initial claims for unemployment benefits defined the whole labor market story than the narrative of the jobs recovery would be easy to summarize: progress is steady, or at least, the labor market situation is not worsening. Confirming the thesis of labor market resilience is the fact that the underlying trends in jobless claims remained positive as well in the past week. But while the downtick in jobless claims can be termed as a positive sign for the labor market, it is important to remember that jobless claims numbers are a leading economic indicator, and therefore only offer indirect clues about the pace of hiring — the other piece of the labor market story. While "inroads" into unemployment are being made, progress is still slow. In other words, job growth may no longer be bad, but it is still sluggish.
Both the civilian labor force and total employment increased in March, although the unemployment rate remained steady at 6.7 percent.
According to the Labor Department's March Employment Situation Report, it was another month has returned steady, but not great, job growth; after several months of slow job creation in December and January — when exceedingly cold temperatures kept consumers at home, blanketed construction projects with snow and ice, and caused supply-line disruptions for manufacturers — employers began hiring in February at a stronger pace, a pace that March nearly equalled. The 192,000 jobs added by employers to payrolls last month was a sign that the U.S. economy had withstood the difficult winter. But that gain, while almost exactly in line with the 200,000 jobs expected by Wall Street, was hardly the early spring jump that many economists expected. Job gains were well below the 237,000 and 274,000 jobs added in October and November, respectively. However, the employment gains did catapult the labor market to an important milestone: The private sector has recovered all jobs lost in 2008 financial crisis. Although, there are now 85,000 fewer government jobs than there were twelve months ago.
The Labor Department's Jobs Openings and Labor Turnover Survey confirmed the growing health of jobs market, with hiring numbers improving by 1.6 percent and layoffs declining by a significant 4.9 percent. The so-called JOLTS report, which is reported with a one-month lag, revealed that employers posted the largest number of job openings in February since January 2008. Job openings, a measure of labor demand, increased 299,000 — or 7.7 percent — to a seasonally adjusted 4.17 million. Even more encouraging, workers are now quitting jobs at a greater rate, a sign of confidence in the labor market. "The report is upbeat and dovetails with the improved February and March payroll data," Stone & McCarthy Research Associates economist Ray Stone told Reuters after the report was released Tuesday. "The improvement in job openings foreshadows somewhat faster payroll growth in the months immediately ahead."
With job openings increasing and layoffs declining, the number of unemployed job seekers per available job has narrowed. Although 10.5 million Americans remained unemployed in the second month of the year, February's increase in job openings left an average of 2.50 unemployed Americans for each available job — a decrease from January's ratio of 2.64 and the lowest level recorded since July 2008. At this ratio, the average number of unemployed Americans compared to the number of open jobs almost exactly matches the average seen between 2002 and 2004, a period when the unemployment rate averaged 5.8 percent, as Barclays economist Cooper Howes told Reuters. "This suggests that there is little slack remaining in labor markets and that future wage growth will be stronger than it was at similar levels of the unemployment rate during past cycles," he added.
And, as Howes suggested, this report contains evidence that the Federal Reserve may be overstating the slack in the labor market. "Slack means that there are significantly more people willing and capable of filling a job than there are jobs for them to fill, noted Federal Reserve Chair Janet Yellen in a March 31 speech at a Chicago conference. She then proceeded to explain why she believes "there is still considerable slack in the labor market" and therefore why she thinks "there is room for continued help from the Fed for workers," citing the high number of underemployed Americans, the meager wage growth, the extraordinarily large share of the unemployed who have been out of work for six months or more, and the record-low levels of labor force participation.
The JOLTS report is a favorite of Yellen because it describes "the underlying dynamics of the labor market."
More From Wall St. Cheat Sheet:
Follow Meghan on Twitter @MFoley_WSCS