Keystone: Won't Save Landrieu, Won't Heal Washington
Update: The House of Representatives passed the Keystone Pipeline bill 252-161, sponsored by challenging Louisiana Senate candidate, Rep. Bill Cassidy, in favor of continuing construction on the XL pipeline.
The battle for Senate majority may be over for all intents and purposes, but that doesn't mean war isn't being waged on the election front in Louisiana, where Rep. Bill Cassidy (R) and Sen. Mary Landrieu (D) are still sharpening their claws and continuing their electoral battle. The main weapon being focused on in this case is that of the Keystone XL pipeline, an enterprise that members of the Louisiana electorate are strongly in support of, largely due to the belief that it would improve the state's economy and would create a significant number of jobs — though how many permanent jobs it would bring is a predictably disagreed-upon topic.
The pipeline is a politically divisive topic and has been for some time, with constant delays and hearings, and a great deal of debate. It was stalled in Congress, stalled by the president, but now it's up for a vote once more in the Senate, introduced by Sen. Landrieu in a bill proposed June 26, and soon to be debated in both houses of Congress. The push for a vote on the pipeline is clearly politically motivated for Landrieu, something she's open about; likely a safe bet considering she's been a long-time supporter of the pipeline long before elections, and the simple fact that she's unlikely to retain her seat in the Senate no matter what she says or does. This is a last ditch effort — there isn't much she can do wrong at this point.
"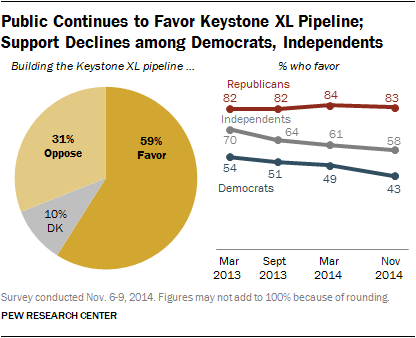 Landrieu's efforts are unsurprising; her disagreement with President Barack Obama over Keystone and his decision to delay acting on it was a campaign advantage earlier in the election. It offered her an opportunity to disagree with the president, whose poor approval ratings had the propensity to hurt her in the election, distancing herself from Democrats in Washington and still standing in favor of legislation that her state feels strongly about.
Yet the views of the White House and president don't seem to have improved, judging on comments from White House Press Secretary Josh Earnest. He referenced the study currently being conducted by the State Department to look into environmental effects of the pipeline. "It is the view of the administration that that process should continue and that that's the proper venue for determining whether the project should move forward," said Earnest. Regarding what would happen if Landrieu's efforts were successful, and bipartisan efforts saw the proposal passed, Earnest said, "I think it's fair to say that our dim view of these kinds of proposals has not changed." He added that "there have been previous proposals that I expect would be consistent with proposals that have been discussed overnight. And in evaluating these earlier proposals, we have indicated that the President's senior advisors at the White House would recommend that he veto legislation like that." In other words, a veto would be more than likely, so efforts from Landrieu may be rather cut off by such a threat.
According to Real Clear Politics's average of other polls, Landrieu's competitor, Cassidy, is ahead in the polls by 48.8% to 44%. He leads in polls across the boards, from Public Policy Polling, with a 1 percentage point lead, to NBC/Marist, and CBSNYT/YouGov polls, where he leads by at least 4 percentage points. The University of New Orleans give him a full 8-point lead.
NBC's exit polls showed that when asked how they'd vote in a runoff election, 43% said they'd vote for Landrieu compared to 51% who said they'd lean toward Bill Cassidy. Only 4% said they would not chose to vote in a runoff.
More Politics Cheat Sheet:
Follow Anthea Mitchell on Twitter @AntheaWSCS