Labor Market Improves for Low-Income Earners; U.S. Economy Rejoices?
The recession that engulfed the United States economy from December 2007 to June 2009 was the longest experienced by the country since the Great Depression. It wiped 8.4 million jobs, or 6.1 percent of all payroll employment, pushing the unemployment rate from 5 percent on the eve of the recession to a peak of 10 percent in October 2009 before dropping to 9.5 percent by the end.
Even though the jobless rate has slowly edged down, hitting 6.3 percent as of April, the improvement of that statistic hides many problems. While the economy has created jobs for the past 50 consecutive months — and at least as many jobs have been created as were lost in the recession — unemployment data still point to an unhealthy economy: long-term unemployment remains high, labor participation is weak, and workers have little leverage to push for wage growth.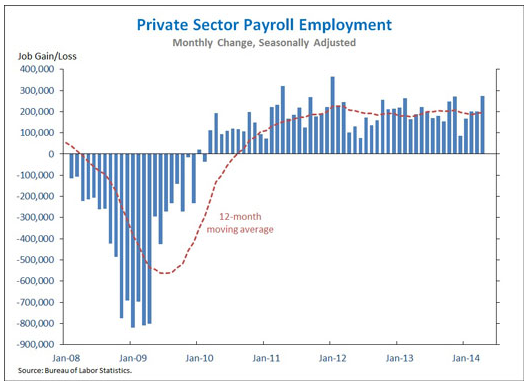 The pace of job creation has gained momentum, but the strongest employment gains in the weak recovery have come from low-wage industries: work at retail outlets, fast-food restaurants, and providing home healthcare. Higher-paying jobs in blue collar industries, like construction and manufacturing, have not recovered to pre-recession levels. And it has been well documented how the recession turned middle-class jobs into low-wage jobs.
For lawmakers and the White House, the important question is how job creation in low-wage industries will impact the economy. By association, the question extends to whether it is good news for the broader workforce that greater employment in low-wage industries is pushing incomes higher for those workers.
Not only have wages stagnated, but the great majority of jobs created by the labor market since the recovery began has come at the bottom of the job market. More than six years have passed since the recession began and more than four years have passed since employment hit a record low. Those years have been characterized by low-wage job creation. This type of job creation was not only a feature of the first phase of the recovery, but a pattern that has persisted for more than four years.
"Deep into the recovery, job growth is still heavily concentrated in lower-wage industries," said the National Employment Law Project in an April 2014 report. "As a result of unbalanced employment growth, the types of jobs available to unemployed workers, new labor market entrants, and individuals looking to move up the career ladder are distinctly different today than they were prior to the recession."
Low-wage industries like retail and hospitality accounted for 22 percent of the recession-era job losses, but represented 44 percent of employment growth over the past four years. By comparison, mid-wage industries accounted for 37 percent of the total jobs lost but only 26 percent of recent employment gains, and high-wage industries accounted for 41 percent of jobs lost but just 30 percent of jobs gained.
Now, low-wage industries employ 1.85 million more workers than at the start of the recession, while mid-wage and high-wage industries employ 958,000 fewer and 976,000 fewer workers, respectively. For clarity, according to the National Employment Law Project's rubric, low-wage jobs pay hourly wages between $9.48 and $13.33, mid-wage jobs between $13.73 and $20, and higher-wage jobs between $20.03 and $32.62.
"It's looking more and more like the low-wage economy is the new normal," NELP policy analyst and report author Mike Evangelist told CNN. "Unemployed workers, new labor market entrants, and individuals looking to move up the career ladder are getting left behind."
During the recovery period following the 2001 recession, job growth was much more evenly spread across the wage spectrum. The employment situation for workers at the low end of the wage and skills spectrum has improved much more significantly than at the opposite end. Department of Labor data show that unemployment among workers with a high school education or less dropped to 6.3 percent in April, about a 1 percentage point decline from December.
Comparatively, unemployment among workers with some college education saw a much smaller decrease, although their jobless rate is lower, at 5.7 percent. Alongside the greater drop in unemployment, wages for production and nonsupervisory workers grew at a 2.3 percent year-over-year rate in April, an increase from a 1.4 percent rate in mid-2012.
Contrary to a prevailing labor market theory, this data suggest that the labor market has been weak not because of a skills mismatch but because of the anemic economic recovery. "The idea that our labor-market problems are primarily driven by a lack of skills at the bottom end of the distribution just isn't right," Goldman Sachs chief economist Jan Hatzius told Bloomberg.
"At the margin, the labor market has now made a bit more progress and that additional progress is helping people at the low end," Hatzius added, per Bloomberg. However, that "doesn't change the fact that there's been a widening of the gap over a longer period." To be clear, while improvements at the low end of the labor market do help the economy, they also do little to decrease income inequality.
When the labor market tightens — meaning the gap between the amount of labor needed by employers and the amount of labor on the market narrows — the so-called inequality numbers are likely to improve. But economists, including Federal Reserve Chair Janet Yellen, believe the job market must experience greater growth before labor shortages occur and overall wages accelerate.
The size of the pool of available workers, a favorite metric of Alan Greenspan when he was chair of the central bank, stands at 15.9 million, a modest drop from December's 16.5 million and a major decrease from the October 2009 record of 21.4 million. Recent decreases in that metric reflect the falling numbers of unemployed Americans, which in turn has fallen as workers find jobs or drop out of the labor force.
As the U.S. economy continues to strengthen, economists expect employers to continue growing payrolls throughout 2014, which will keep the unemployment rate trending downward. But as JPMorgan chief U.S. economist Mike Feroli noted in January, paychecks are "probably going to be the last area of the labor market to see a pickup."
And stagnant wage growth is "an important reason why it's been difficult to generate sustained periods of very strong consumer spending," he said. Faster growth in job creation and wages would jumpstart economic growth, as consumer spending accounts for approximately 70 percent of U.S. gross domestic product.
More From Wall St. Cheat Sheet:
Follow Meghan on Twitter @MFoley_WSCS