Marco Rubio Is Ready for 2016 With Dig on Global Warming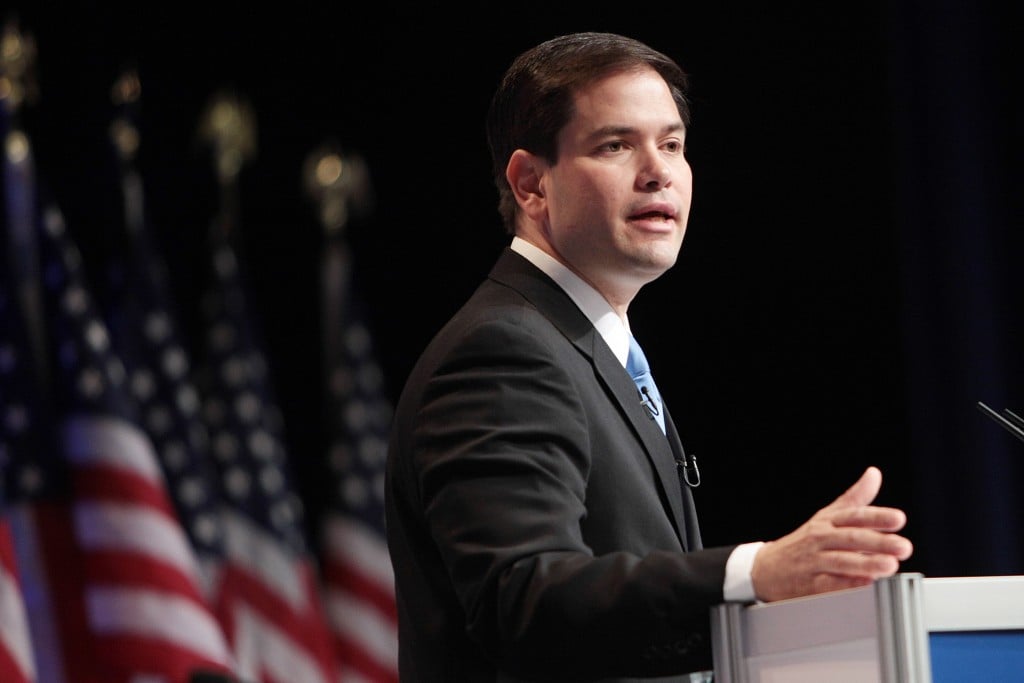 How can you tell someone's eyeing the presidency? He (or she) brings up Benghazi. How can you tell someone may be a Republican? In the case of Sen. Marco Rubio of Florida, he rejected human influence on the climate over the weekend while he announced that he was considering a presidential run. And yes, he hit on Hillary Clinton's time as secretary of state, even pausing to get in a quick remark that was probably directed at Rand Paul (R-Ky.). Clearly he's ready for a race. Now appears to be the time for candidates to announce that they're thinking of running, but so far, no one — from Jeb Bush to Clinton to Paul — is ready to commit just yet.
Rubio's views on potential opponents aren't what got everyone talking over the weekend, notable as those opinions are. Regarding Clinton, Rubio gave her an "F" for her time as secretary of state, saying to ABC: "I'm sure she's going to go out bragging about her time in the State Department. She's also going to have to be held accountable for its failures, whether it's the failed reset with Russia or the failure in Benghazi that actually cost lives." Regarding Paul, Rubio indirectly touched on Paul's desire to run for both the presidency and the Senate as a back-up, saying that if he goes out for the presidency, he won't be attempting reelection in Florida.
"I believe that if  you want to be president of the United States, you run for president. You don't run for president with some eject button in the cockpit that allows you to go on an exit ramp if it doesn't work out," Rubio said. Opponents aside, ultimately it was his discussion of global climate change that says the most about what kind of president he'd be and what kind of policy preferences he'd hold in an election.
"I do not believe that human activity is causing these dramatic changes to our climate the way these scientists are portraying it," Rubio told ABC. "I don't agree with the notion that some are putting out there, including scientists, that somehow, there are actions we can take today that would actually have an impact on what's happening in our climate." His views on the science are straightforward: "What they have chosen to do is take a handful of decades of research and … say that this is now evidence of a longer-term trend that's directly and almost solely attributable to man-made activity."
The effect that his skepticism would have on his policy preferences is similarly clear: "I do not believe that human activity is causing these dramatic changes to our climate the way these scientists are portraying it. … And I do not believe that the laws that they propose we pass will do anything about it, except it will destroy our economy," said Rubio, per ABC. The Environmental Protection Agency's recent win on state coal regulation in the Supreme Court would be one item Rubio would likely take issue with. "The policies coming out of Washington are taking our country in the wrong direction," said Rubio after the Supreme Court ruling, according to USA Today. "[T]he last thing Florida families and businesses need is unaccountable bureaucrats imposing an energy tax through regulation that will increase electricity and gasoline prices."
Of course, his stance on "mitigation activity" is considerably more positive. In Rubio's recent ABC interview, he said that the climate "is always evolving and natural disasters have always existed," noting that Florida has a number of large structures in dangerous areas that are hurricane prone, and that as such, those in charge need to ask questions on what needs to be done "about the fact that we have built expensive structures, real estate and population centers, near those vulnerable areas." This is all especially salient, as the National Climate Assessment was released last week. The report covered regional effects likely to be seen all across the U.S., and it discussed the science behind global warming and projections based on emissions.
More From Wall St. Cheat Sheet:
Follow Anthea on Twitter @AntheaWSCS