Master of Spin: Press Secretary Jay Carney Hands Off the Flak Jacket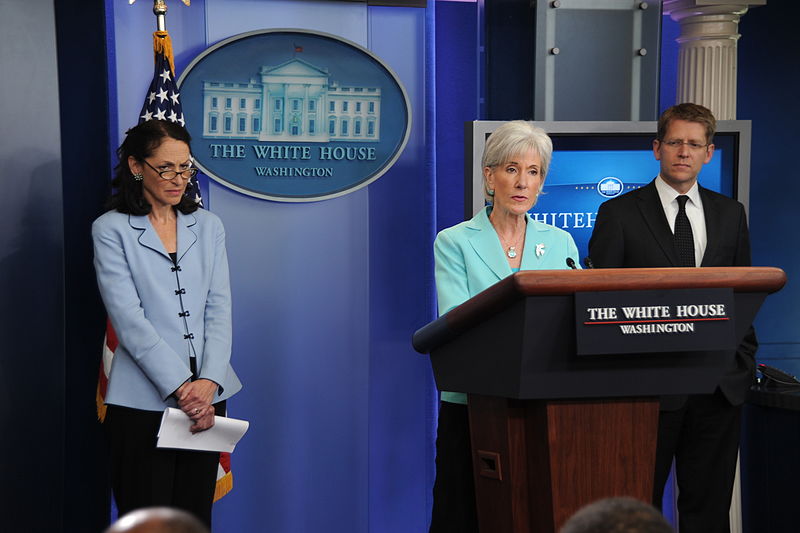 A big announcement was made today for those in Washington D.C.'s news industry — for President Barack Obama, for Democrats, and even for us little guys who spend hours reading through the White House's backlog of press releases and briefings. Jay Carney, Press Secretary to the White House, is stepping down. Carney is the 29th Press Secretary and the second to serve under Obama.
"He has been on my team since day one. For two years with the Vice President and for the past three and half years as my Press Secretary," said Obama as he cut into Carney's briefing to make the heartfelt announcement that Carney would be resigning. "In April, Jay came to me in the Oval Office and said that he was thinking of moving on, and I was not thrilled, to say the least," said Obama, according to video footage provided by NBC. "But Jay has had to wrestle with this decision for quite some time." He discussed the strain his time at the White House undoubtedly placed on Carney's family, noting that his daughter is a fine pitcher, but that Carney hasn't been able to see enough of the games.
"Believe it or not," said Obama to the crowd of journalists, "I actually think he will miss hanging out with all of you, including the guys in the front row." Audible in the background amidst laughter is, "What about the people in the third row!?"
"I'm literally picking my jaw up off of the ground," said Kristen Welker, NBC's White House correspondent, according to Mediabistro. "I was not expecting that. The rest of the press corps, to my knowledge, didn't get a heads up about this. It really was a surprise announcement. That is rare at this White House, for the press corps to be surprised."
Obama called the soon-to-be former Press Secretary a close friend and adviser, saying he'd continue to depend on him for input, and praising him for his work, judgement, temperament, and heart. "Today, the flak jacket is officially passed to a new generation," said Obama. Which begs the question: who? According to Obama, "somebody who is also a friend and adviser." Namely, Josh Earnest, who is presently the Deputy Press Secretary and Special Assistant to the President.
Josh Earnest, according to Obama, is as earnest as his name — emphasizing the Earnest's kindness and heart. "You can't find just a nicer individual, even outside of Washington … There's no task that was too small, no detail too unimportant for Josh to attend to. At the White House, he's been a mentor to many of the young people here, who I know are thrilled for him today," said Obama, according to ABC. He asked, jokingly, that the press "be nice to Josh during his initiation," and said that while the press was likely to eventually "get frustrated with him," they might even find that a little difficult "because he's a straight shooter" and such a "great guy."
Earnest has been with Obama on staff since 2007 as the Iowa communications director, following him to the capital after Obama won the election. He narrates the White House Weekly video reports in what Obama describes as a "golden voice and dulcet tones."
When it comes time for him to take over for Carney, it will hardly be the first time Earnest has stood in front of the press; he's subbed in previously in Washington and while traveling with the President. As the Deputy Press Secretary, it was Earnest's job to help prep Carney, so the process will hardly be new. In a 2012 interview with McClatchy, Earnest described his work there. "Most evenings, the first 15 minutes of the network news is composed of challenges or problems or discoveries that have been worked on by someone at the White House that day. This unique perspective is sometimes thrilling, sometimes frustrating, but most frequently, it's humbling."
Carney described Earnest at the time as "indispensable," saying that, "I depend on his judgment all the time." In 2012, McClatchy referred to Earnest as "a kid from south Kansas City." But Carney took the position at forty-six in 2011, now fast approaching fifty, while Earnest is nearly forty, and after all the article may have called him a kid, but it also called him a "political veteran" with a career comparable to a "nonstop whirlwind."
More From Wall St. Cheat Sheet:
Follow Anthea Mitchell on Twitter @AntheaWSCS