Midterm Elections: The Money Behind the Votes
We all know that our democratic system was a hard-won and long-earned process; that our votes were paid for in blood and years of stubborn fighting from civil rights activists to suffragettes. But the historical cost of the American vote is hardly the only cost; we're still paying for this right in one way or another, and as a new study from Brookings shows, the price is fairly steep. On the one hand, there's a significant cost to setting up and running election logistics, ballots, booths, staff, and so forth. On the other far more expensive hand, there's the cost of elections from the perspective of donors and overall campaign spending. In reaching out to voters leading up to elections with ads, speeches, and various other activities, they are indirectly creating a major bill for voter awareness.
If you were wondering if 2014 was as aggressive and vital an election as it seemed compared to other years, the answer can be seen in the funding. According to Brookings, the 2014 midterm election was one of the most expensive ones to date, if you look at both candidate and independent spending together. The Brookings Institution even conveniently sussed out the most expensive Senate races and how much each costs. It then divided out this amount by voters to show how much money per individual political parties, donors, and politicians spent to tell you things like "I grew up castrating hogs on an Iowa farm," and "If you have a Boehner lasting longer than 23 years, seek immediate medical attention." The fact that population size needs to be factored into individual voter cost means that the most expensive races might not be the most expensive votes once the lump sum has been divided out between a large number of people.
So while North Carolina was found to be the most expensive Senate race based on spending from candidates and from independent sources with $111,000,000, Alaska was the state with the most money spent per voter, at $120.50 per vote.The state taking second place, New Hampshire, is considerably less pricey than Alaska, with only $50 per voter, and the last of the top ten, Kansas, is a mere $14.01 per voter. Looking back at 2012, the most expensive Senate race and the most expensive state per voter can't even begin to measure up. Virginia's 2012 expenditure reached $87,900,000, just over Wisconsin's $83,600,000 (neither state made the top ten list in 2014), with Montana taking the lead for most expensive cost per voter at a mere $66.5 each. While still a significant amount, it's just over half of the cost of Alaska's per-voter price this year.
Part of the explanation for this major increase in recent years has to do with outside spending, which is a major contributor to funding across the U.S. Brookings shows the most expensive Senate races in the last four years by independent expenditures, and a majority of them were in 2014 (10 out of 20), with 2012 taking the most after this year, and 2010 taking the fewest spots on the list. Brookings' graph, provided below, also shows just how much of the exorbitant amount of money spent in each state comes from outside spending.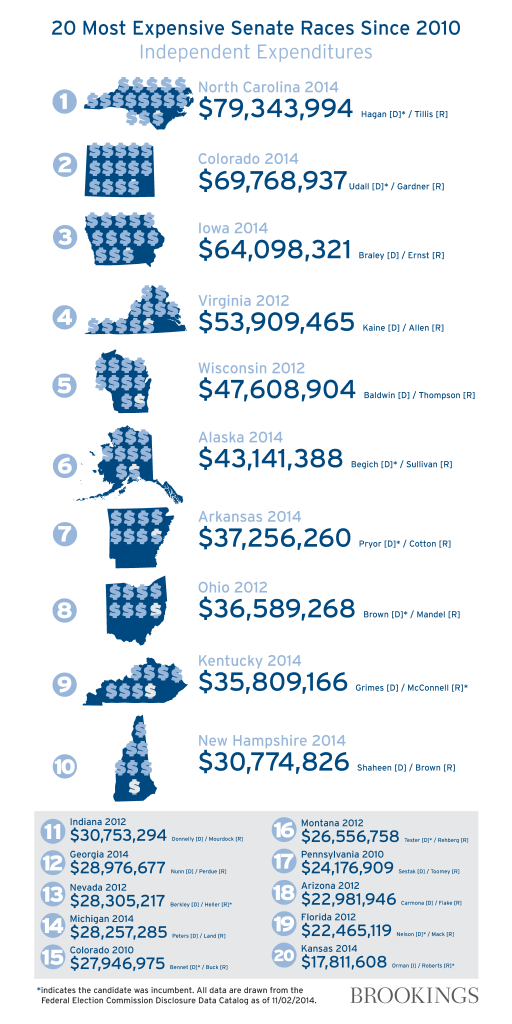 This has been a major topic of discussion as of late, and according to OpenSecrets.org, a majority of the outside spending in 2014 was from Super Political Action Committees (Super PACs) for a total of $340,716,644 out of a grand total of $788,307,099, with political parties only putting forth $228,737,546.
The Washington Post offers its own graph using information from the Brennan Center for Justice, which lines up in terms of the top outside funding numbers for six states: North Carolina, Colorado, Iowa, Virginia, and Wisconsin, as seen below.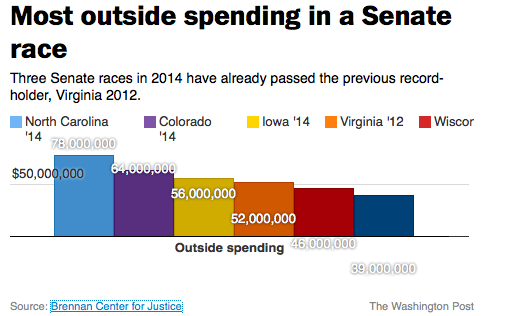 The issue of outside money has become a big one for many who argue that it puts power in the wrong hands, and it's led some states — for example Alaska this year — to place particular emphasis on where candidates obtained most of their funding; if outside money was a major influence, or native support was more instrumental in their success.
This is an appropriate concern given the important role money plays in election outcomes. Yes, there are certain candidates who have lost despite a considerable monetary advantage, but this is a rarity; money speaks, and the loudest voices often get the most votes. The current trajectory seems likely to make money a continued microphone for politics, at least based on this election's numbers. Among the top five PAC contributors were conservative groups like American Crossroads, U.S. Chamber of Commerce, and the NRA, as well as liberal groups like the Senate Majority PAC and the House Majority PAC.
More Politics Cheat Sheet:
Follow Anthea Mitchell on Twitter @AntheaWSCS