Military Money: 5 Countries That Spent the Most Last Year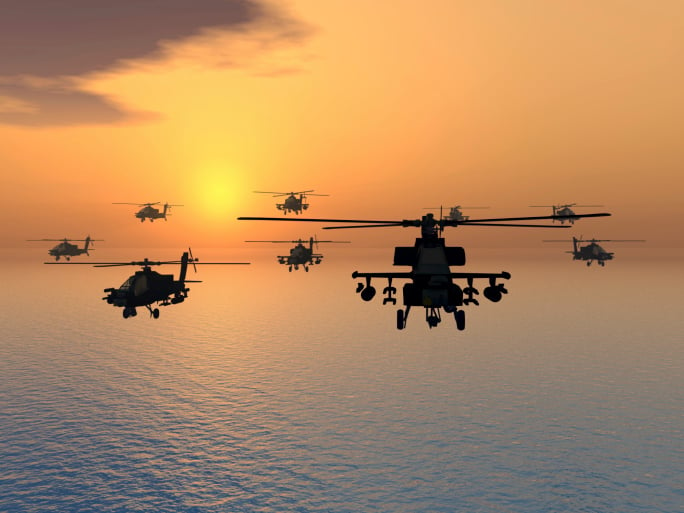 New studies of military expenditure are showing interesting global trends, and unsurprisingly a lot of money goes into nation's military forces and development. Ultimately the West proved to be the only region in 2013 that did not increase its military spending — though that doesn't mean it didn't devote a significant amount of its GDP to such interests. The Stockholm International Peace Research Institute (SIPRI) released their most recent figures on military spending for 2013, finding that in total, the world spent $1.75 trillion on its military in 2013. Let's take a look at which countries put the most money into their tanks and troops.
1. United States
That's right, even with a cut to its military spending, and even being one of the few in the West to show no increase in spending, the United States still makes the list. Back when the U.S.'s budget reduction was decided officials made it clear that while two large simultaneous military activities would not be maintainable, the U.S. would retain "a very significant-sized army," but a more "agile" one, one that would be "modern."
"You can't carry a large land-war Defense Department when there is no large land war," said a senior Pentagon official to The New York Times back in February. The U.S. military expenses decreased, as promised, at an amount that SIPRI places at a 7.8 percent reduction.
2. China
China, as well as Russia and Saudi Arabia are three of the twenty-three countries that increased their military budgets by more than two times what they spent in 2004, notes SIPRI. For its part, China accounted for a large portion of the Asia and Oceania regions military increase with the 7.4 percent increase in spending in 2013.
Other areas only increased by 0.9 percent, though South East Asia, likely driven by political issues with China, increased its own expenses by 5.0 percent, with the Philippines seeing a 17 percent increase between 2012 and 2013.
3. Russia
With tensions surrounding Russia's annexation of Crimea and its influence militarily in Ukraine, it is unsurprising to see Russia amidst the top spenders. According to the report, it upped its expenditure by 4.8 percent and "for the first time since 2003 it spent a bigger share of its GDP on the military than the USA."
Still, the expense is one that has been planned for since 2011, part of the State Armaments Plan that will continue up through 2020, putting a total of $705 billion towards upgrading its armaments to a modern set of weaponry.
4. Saudi Arabia
Spending in the Middle East overall went up by 4.0 percent in 2013, according to SIPRI, hitting $150 billion, with Saudi Arabia accounting for a total of $67 billion of that, increasing its spending by 14 percent. According to Mustafa Alani, director of security and defense studies at the Gulf Research Centre, it makes sense that Saudi Arabia feels the need to upgrade, considering the surrounding environment. "There is an unstable Iraq in the north, an unstable Yemen in the south and Iranian hegemony and intimidation," said Mr. Alani, according to The National. That increase in military financing is especially significant when viewed in light of the missing data.
"Military Spending data for Iran, Qatar, Syria, and the United Arab Emirates are not available for 2013," reports SIPRI's Dr. Perlo-Freeman. "This reflects the general opacity of military spending in the region, and even where data is available it may not cover all military spending," he said. As a result, the "estimated regional total is highly uncertain."
5. France
France military budget is significant when the rest of its economic situation is considered, as it maintained expenses despite weak growth. This, like Russia, is in keeping with its pre-planned military budget set between 2014 and 2019.
Overall, even with some countries like Jamaica, El Salvador, and Brazil seeing slight decreases, the overall military preparedness, or at least financing, saw considerable funding once again — though interestingly less considerable than in past years, dropping by 1.9 percent from expenses in 2012.
More From Wall St. Cheat Sheet:
Follow Anthea Mitchell on Twitter @AntheaWSCS