New Home Sales Plunge to Their Worst Level in 8 Months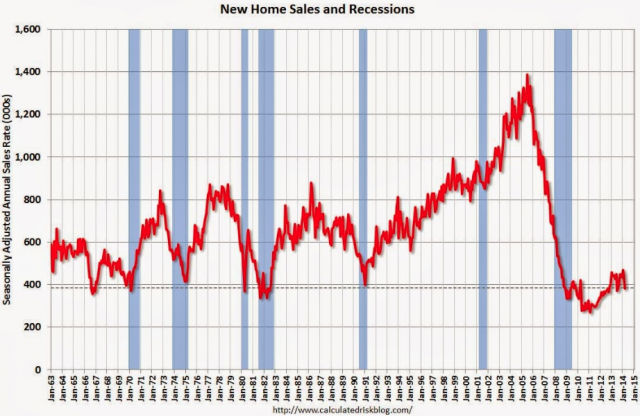 Despite warmer weather, the real estate market continues to stumble as sales of new single-family homes in the United States fell to their worst level in eight months.
On Wednesday, the U.S. Census Bureau reported that purchases of new single-family homes, measured by contracts signed, plunged 14.5 percent to a seasonally adjusted 384,000-unit pace in March, compared to the upwardly revised February rate of 449,000 units. It was the weakest month for new home sales since July 2013. Home sales were also 13.3 percent below their March 2013 level.
The results were far worse than expected. Sales have been soft for months, but economists on average estimated home sales to come in at a 450,000-unit pace. Sales have now declined in four of the past five months. In comparison, new home sales reached an annual pace of 1.39 million units in July 2005.
After dropping 32 percent in February, new-home sales in the Northeast increased 12.5 percent last month, making it the only major region in the country to post a gain. Sales in the Midwest crashed 21.5 percent, while the South and West logged declines of 14.4 percent and 16.7 percent, respectively.
Earlier this week, the National Association of Realtors announced that total existing-home sales — completed transactions of single-family homes, town homes, condos, and co-ops — fell 0.2 percent to a seasonally adjusted annual rate of 4.59 million units in March, compared to 4.6 million units in the previous month. Sales have now declined in seven of the past eight months.
Housing affordability issues are still being felt. First-time buyers accounted for only 30 percent of purchases last month, up from 28 percent in February but unchanged from a year earlier. At 26 percent, January was the worst showing for first-time buyers since the NAR started keeping track of the measurement in October 2008. A normal reading would be closer to 40 percent. Meanwhile, the median existing-home price for all housing types in March jumped 7.9 percent year-over-year to $198,500.
More From Wall St. Cheat Sheet:
Follow Eric on Twitter @Mr_Eric_WSCS