New Poll: What's in the Future for Congress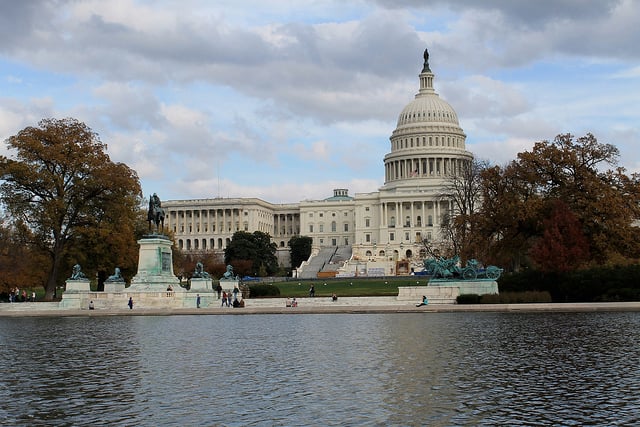 Midterm elections may be a ways off — but politician's minds tend to hop ahead when their job security is on the line. Both parties in Washington have been feeling pressure to watch themselves after all the bad PR floating around the shutdown, Obamacare, and the debt ceiling. Last month, a poll taken after Healthcare.gov's disastrous roll-out showed heavy negativity towards President Obama — a 55 percent disapproval rating compared to a 42 percent approval rating. The month before, a poll revealed that the GOP wasn't doing well with groups considered to be "key likely voter groups."
Now that a budget deal has finally been signed by both parties and the noise around the Affordable Care Act has become less of a din, let's take a look at public sentiment once more. In a new USA Today/Pew Research Center poll, respondents were asked whether or not they thought their party would do better or worse in next year's congressional elections.
Fifty-five percent of Republicans believed they'd do better, 33 percent believed there would be no real change, and 5 percent thought they'd do worse. Democrats were slightly more pessimistic, with 43 percent expectant of an upswing in success, 43 percent expect little to no change, and 9 percent expecting next year's elections to go worse.
The poll also examined job approval ratings, showing that Obama may be doing a little better in the public eye, with 45 percent approving and 49 percent disapproving. Republican Congressional leaders, on the other hand, were showing very low approval, at 21 percent, with 72 percent disapproval.
Democratic Congressional leaders, comparatively, had a 58 percent disapproval rating and a 34 percent approval rating. USA Today points out that even with such low approval ratings for Republicans, its party supporters are more enthusiastic about voting, and have more positive hopes for their party's success — which has been a predictor of success in the past. "President Obama is on the defensive. When you see that softening on the other side, it gives some encouragement to Republicans, said political scientist, James Campbell, to USA Today.
Don't Miss: 5 Reasonable Economic Predictions for 2014.