Obamacare Deadline Extended for Sickest Americans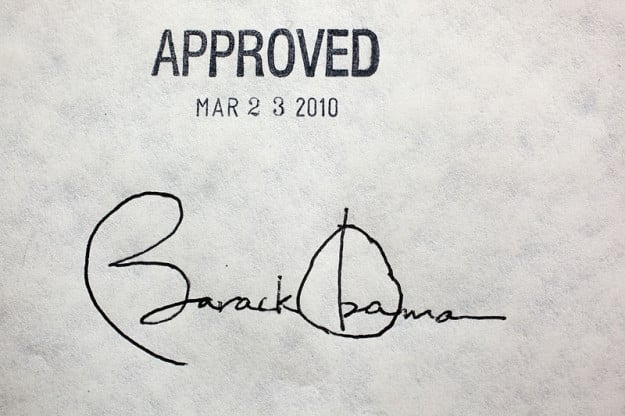 Individuals who obtained insurance through the Pre-existing Condition Insurance Plan (or, PCIP) were granted an extension of coverage for one month on Thursday. People who have PCIP, but have not yet selected a healthcare plan, will be given transitional coverage from January 1 through January 31, 2014. Kaiser Health News says the extension benefits approximately 85,000 people who have a history of serious illnesses.
The program was mandated as part of the Affordable Care Act. ACA required that the Department of Health and Human Services create a "temporary high risk insurance pool program." To operate PCIP, $5 billion were allocated. PCIP operated on the state and federal level. It allowed people with pre-existing conditions, who had been without health insurance for six months, to apply for coverage through the program. It was only intended to operate until 2014. Then the provision of Affordable Care Act that insurance companies cannot deny coverage to people with pre-existing conditions would be underway, and PCIP would no longer be necessary.
PCIP stopped taking applications on February 16, 2013 on the federal level; states ended the application procedure on March 2, 2013. The PCIP website explains that this was done to ensure there were enough funds to continue covering those already enrolled in the program until January 1, 2014. It said that more than 100,000 obtained coverage with this service.
In a hearing before the Senate Finance Committee in February, Centers for Medicare and Medicaid Services (or, CMS) Deputy Administrator and Director, Center for Consumer Information and Insurance Oversight Gary Cohen gave insight to the fiscal state of PCIP. "Running out of money before the end of the year is something we're trying to avoid," he said.
Bloomberg carried two emails that discussed the decision. One was from Aaron Albright, a spokesperson for CMS, who explained why an extension was needed. "We are taking steps to ensure that Americans enrolled in the federal PCIP insurance plan will not face a lapse when the new year begins," Albright wrote, "We are committed to providing consumers additional flexibilities while they evaluate and select a quality, affordable, health plan that meets their needs."
The second email response was from Chris Hansen, president of the American Cancer Society's lobbying office. "Extending the Pre-Existing Condition Insurance Plan will give tens of thousands of people with a history of cancer or another serious disease the security of knowing they will not face a costly gap in coverage on January 1 if they cannot enroll in a marketplace plan." The delay for individuals covered by PCIP is the latest Obamacare extension; it signals that there are potentially still problems with enrollment that need to be addressed.
Don't Miss: CFO Survey: Obamacare Will Decrease Full-Time Hiring.