Obamacare Debate Shifts Offline as HealthCare.gov Returns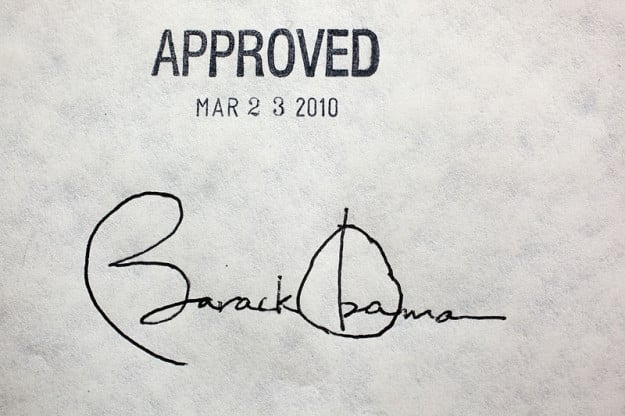 One battle in the Obamacare saga is winding down, but the war will continue. November 30 was the administration's self-imposed deadline for having HealthCare.gov up and running. In a statement by the Centers for Medicare & Medicaid Services on Sunday, it was noted that "substantial progress" had been made since the original rollout in October, but "there is more work to be done."
On CBS's Face the Nation, Senator Robert Menendez (D-N.J.) said that if the fixes are in place,"that's good news," and it will allow politicians to get back on track. "I think what we've lost sight of is that the underlying program itself, the product of the health insurance that Americans will be able to access, is critically important," Menedez stated.
Senator Bob Corker (R- Tenn.) responded, saying "there will be a few winners" under the Affordable Care Act (or, ACA), and "most Americans are going to find a less dynamic health system." A fixed website, Corker believes, will lead to more enrollments, and people who are dissatisfied with what they discover once they enroll.
Corker is not sure how to fix a program that was passed along such partisan lines, calling the law "an amalgamation of legislation that didn't have a central focus." Corker spoke of equalizing the tax code, and that there are now pieces in place that can be built on to create solutions to the insurance issues in America.
Democrats want to capitalize on what they hope is an improved website, and have people sign up for healthcare. Young, healthy individuals are the top priority so that insurance premiums will be kept low, otherwise the Affordable Care Act could be anything but affordable. The push away from the website is causing Republicans to move on to the next battle as well, returning to the basics of the law, rather than the portal through which coverage accessed.
As the political battle lines snake around the country, a shift in the public perception of the ACA is occuring. On Monday, Rasmussen Reports released the results of a telephone survey of likely voters. Now, 56 percent of voters believe that health care will be worse under the new law, in October, 52 percent believed the same thing.
The current health care system was rated as good, or excellent, by 41 percent of respondents, compared to 37 percent in the previous month. The respondents also overwhelmingly like their health care; 82 percent say their coverage is good, or excellent.
Since healthcare is President Obama's signature piece of legislation, it is logical that he is taking a political hit from the botched rollout. A poll conducted by the Washington Post and ABC from mid-November said that 63 percent of adults disapprove of how the President had implemented the law. The result was not strictly partisan. Yes, 71 percent of Democrats approved, and 93 percent of Republicans disapproved, but 72 percent of Independents who were polled disapproved as well.
The poll also indicated that only 44 percent of Americans approve how Obama is handling his job as president. When asked if they viewed the President favorably, and if he was a strong leader, each time 46 percent of respondents gave a positive answer.
Don't Miss: Cyber Monday: Hello Online Sales, Goodbye Worker Productivity.