Obamacare Enrollments Near Goal, But It's Too Soon to Announce Victory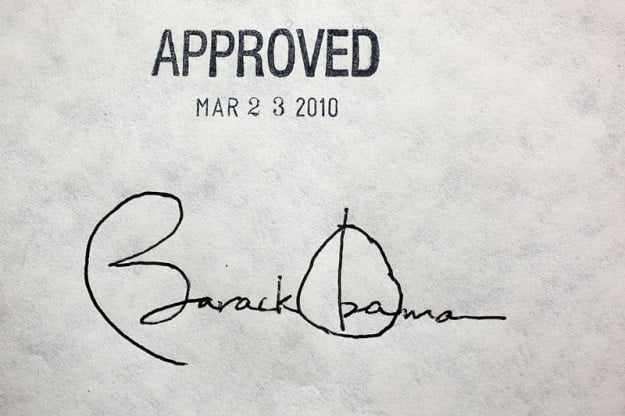 For Obamacare, the proof is in the numbers. The Obama administration announced late on Monday that so far, in March, 800,000 Americans signed up for health insurance via the insurance marketplaces created by the Affordable Care Act. That brings total enrollments to 5 million, with less than two weeks remaining for the six-month sign up period that ends on March 31. After that date, those individuals who do not purchase Obamacare-compliant policies, and do not qualify for the hardship exemption, will be fined a tax penalty amounting to $95 or 1 percent of income, whichever is greater, in 2014 — an amount that will increase through 2016.
"With only two weeks to go, we're continuing to work hard to ensure that every American who wants to enroll in affordable coverage by the deadline of March 31 is able to do so," wrote Centers for Medicare and Medicaid Services Director Marilyn Tavenner in the Monday news release announcing the enrollment figure.
Originally, before the October 1 launch of the marketplace system, the nonpartisan Congressional Budget Office calculated that as many as 7 million people would enroll by March 31. But after the federally-created online insurance marketplaces launched with software errors and design flaws that for weeks caused hours-long wait times that prevented potential customers from creating accounts and completing the 30-step enrollment process, as well as sending insurers the wrong information, the CBO lowered the estimate to 6 million. In the final months of last year, administration documents obtained by Republican Representative Darrell Issa of California showed that in the first day after the federal online marketplaces went live, just 6 people nationwide had actually enrolled for insurance plans. By the second day, that number had only risen to 248.
Those low figures not only spurred Republican criticism, but put into question whether the enrollments would reach the administration's targets. During the series of congressional hearings that followed the glitch-riddled exchange rollout, those responsible for overseeing the creation of the reform's exchanges — including Tavenner and Department of Health and Human Services Secretary Kathleen Sebelius — expressed confidence that enrollment numbers would gain momentum as the signup deadline approached.
The pace at which Americans are now enrolling is not quite as strong as in December and January, which each saw more than a million sign ups, but it does put the administration closer to its 6 million-enrollee goal, a target that many health industry experts thought was out of reach as recently as the administration's last update, which came last week.
Now, the questions is what these numbers mean for the success and viability of the reform. To some extent, a numeric target is an arbitrary measure of success. At a very simple level, the Affordable Care Act will be a success if its main objective is achieved: bringing affordable healthcare to the currently uninsured. But at this point, numbers are not available to shed any light on how many enrollees were formerly uninsured. One thing that is clear is that as enrollments have gained momentum, the tenor of the political debate has evolved. Critics of the healthcare reform not only have to considered that 5 million Americans have insurance through policies purchased using the exchanges, but new polling numbers as well. According to a recent Bloomberg National Poll, 66 percent of Americans want to keep the Affordable Care Act with either some "small modifications," 51 percent, or in its current state, 13 percent. Only 34 percent of respondents said they want the law repealed.
Another measure of success is anecdotal evidence. But unfortunately, anecdotal evidence provides, as it so often does, a muddy picture. Conservative-sponsored political ads show a grim reality of  policy holders whose insurance coverage were canceled because of Obamacare, while public relations campaigns organized by the Obama administration highlight those chronically ill insurance customers that can now find coverage.
The truth is somewhere in the middle. Critics may claim that premiums jumped this year because of the healthcare reform, but it is true that premiums have been increasing for years. Not all the ills of the American healthcare system were brought on by the Affordable Care Act. Furthermore, some anti-Obamacare advertisements — including the one featuring a leukemia patient in Michigan who claimed her insurance was canceled and her new policy was unaffordable  — have proven to be bogus. The success of the healthcare reform is difficult to analyze because it is so shrouded in politics. But it is also true that opinions are so divided about the Affordable Care Act is because of the simple fact that the healthcare reform impacts the lives of individuals in different circumstances very differently.
More From Wall St. Cheat Sheet:
Follow Meghan on Twitter @MFoley_WSCS