Obamacare Numbers: What Does the Falling Uninsurance Rate Mean?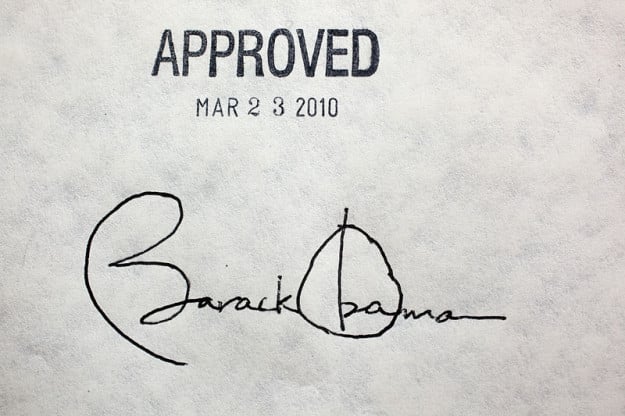 Unsurprisingly, the Affordable Care Act was used as the punchline of more than few jokes at Saturday night's 100th annual White House Correspondents' Association dinner. With the deadline for the first enrollment period passed and a total of eight million Americans enrolled in health plans purchased through the state-based exchanges, President Barack Obama was able to poke fun with a certain amount of ease at the design flaws and technical errors that plagued the federal healthcare website for weeks after it launched at the beginning of October. In an admission that the rollout of HealthCare.gov could have progressed much more smoothly, Obama noted that, "In 2008, my slogan was 'Yes, we can!' In 2013, my slogan was 'Control-Alt-Delete.'" But "on the plus side," he continued, while video screens on either side of the podium showed the title of the Disney film Frozen, "they did turn the launch of HealthCare.gov into one of the year's biggest movies."
What is far less simple to pass off as a concern of the past is the degree to which the healthcare reform will be successful over the long-term.
When the six-month enrollment period of the Affordable Care Act's insurance exchanges came to a close on March 31, not much time or media energy was devoted to dwelling on the fact that the Obama administration's target of 7 million sign ups had been reached. Overshadowing that victory were claims that hitting the enrollment target was not a real sign of success; according to critical analyses, more important to the viability of the marketplaces system created by the healthcare reform was who enrolled. If a majority those who signed up were previously uninsured, then Obamacare successful expanded coverage as the president intended.
Gallup has now confirmed that the country's uninsurance rate is declining as a result of the healthcare reform. Data shows that across the entire United States, the share of Americans without health insurance has steadily declined since reaching a peak at 18.0 percent in the third quarter of 2013 and now stands at 13.4 percent. "This downward trend in the uninsured rate coincided with the health insurance marketplace exchanges opening in October 2013, and accelerated as the March 31 deadline to purchase health insurance coverage approached — and passed — for most uninsured Americans," noted the firm's Jenna Levy.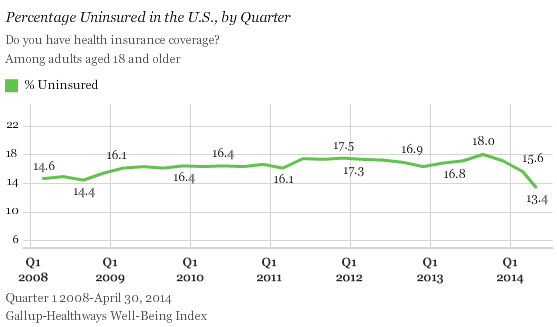 More specifically, the uninsured rate among lower-income Americans — those with an annual household income of less than $36,000 — dropped 5.5 percentage points to 25.2 percent so far this year, while the insurance rate for young Americans between the ages of 18 and 25 has declined 4.5 percentage points to 19.0 percent. Americans in all demographic groups are increasingly insured as well. Yet, it is important to note that even though the insurance rate is dropping for younger Americans, it has declined at a faster rate for Americans between the ages of 35 and 64 and the uninsurance rate among 26- to 34-year-olds has fallen no faster than the rate for other groups.
This data does suggest that Obamacare has taken a big step closer to accomplishing its goal of increasing the percentage of Americans with health insurance coverage. It is hard to argue against the achievement that a massive decrease of the uninsured population of the United States would be. Data compiled by the research firm Gallup has shown that the uninsured rate has fallen to the lowest levels recorded since 2008. But while the uninsurance rate is an important measure of the impact of the Affordable Care Act, the healthcare reform law does have numerous hurdles to leap over before it can be deemed a success. Future appraisals of Obamacare's success will depend on the criteria used, therefore, defining short-term and long-term performance projections is key. Plus, because the Affordable Care Act was such a disruptive force in the American health care system, its measurement of success cannot end with an overview of the uninsured rate.
Analysts argue that the Obama administration's numerical targets have very little importance beyond the obvious political benefits of a goal met. Still, it is true that the measure of short-term performance for the insurance exchanges is the degree to which enrollment numbers meet official targets as of the March 31 enrollment deadline. The fact that more than than the administration's targeted 7 million Americans signed up for coverage via the exchanges suggests at least a small measure of success. Experts have said between 5 million and 7 million individuals will need to enroll for health insurance coverage via the exchange for the system to work, meaning only with enrollments of that magnitude will the exchanges have risk pools broad enough to balance out the proportionally higher medical costs of the sicker and older individuals who will likely be among the first to sign up. Furthermore, if enrollment numbers had been low, the healthcare law would have failed its most basic mission: to increase the number of insured Americans. "Obviously, the more enrollees there are, that's a measure of success," Press Secretary Jay Carney said in January 6 news conference.
But comparatively, over the long-term, analysts think the number of individuals who select a marketplace plan relative to the population size of those eligible to enroll is a much more important gauge of success. It is very easy to show the validity of that argument. When analyzing state-by-state enrollment numbers based on whether targets were hit, a clear pattern emerges. As a group, states with conservative governors and Republican-dominated legislatures exceeded their targets by 41 percent, while politically balanced states met 96 percent of their total targeted enrollment figure and solidly Democratic states only hit 91 percent, which is not a poor performance in absolute terms. But the reason why Republican states were the only exchanges to surpass enrollments is telling; many of those conservative states had far less ambitious targets. All but three states that set their own enrollment targets lean Democrat, and generally those states made aggressive projections. That means when the Centers for Medicare & Medicaid Services deducted those figures from the 7 million total calculated by the Congressional Budget Office, the targets for the remaining states were necessarily less ambitious.
By comparison, when first-year enrollment targets are compared against the maximum number of individuals qualified to enroll in the exchanges, the 35 percent total for Democrat-controlled states is nearly twice as high as the 19 percent for Republican-controlled states.
The most telling examples are Massachusetts and Oregon. Both states set some of the most aggressive targets, ranking number two and number four, respectively. But when assessing states by their enrollment figures as a percentage of potential enrollment those two states did very poorly, placing 48th and 33rd, respectively. In fact, Oregon's exchange failed so completely that it has been discarded, and that failure can be measured in hundreds of millions in wasted federal and state taxpayer dollars. Even more concerning is the fact that every single one of the seven states with extremely problematic websites, except Nevada, were Democratic states: Oregon, Maryland, Massachusetts, Vermont, Minnesota, Nevada, and Hawaii.
It may seem surprising that exchanges set up by Democrat states performed so poorly. After all, many red states, whose leadership generally disapproved of the coercive manner in which Obamacare set out healthcare reforms, chose to participate as little as possible — leaving the set up of the insurance exchanges to the federal government (originally only a backup option) and declining to expand Medicaid. But the fact that those states chose not to expand Medicaid actually helped them reach enrollments.
Take North Carolina for example. As Obamacare was originally drafted, Medicaid would provide healthcare for more than 10 million of the poorest uninsured Americans, a majority of whom are childless adults. But the Supreme Court ruled that the Obama administration could not mandate that states increase the income cutoff to 138 percent of the federal poverty level, rather that requirement was made optional, leaving a number of individuals whose incomes were too low to qualify for subsidized insurance through the exchanges and too great to qualify for Medicaid in what has been called the coverage cap. However, those earning between 100 percent and 138 percent do qualify for subsidies, and that fact is important for enrollment targets. The 183,000 residents of North Carolina in that income bracket increased the state's pool of eligible individuals, thereby helping the state to hit its enrollment target of 191,000. Plus, as Don Taylor — an associate professor of public policy of Duke University — explained on his health and budgetary policy blog, volunteers were likely also key.
Still, enrollment numbers give an incomplete picture of how well the exchange system and the entire reform will perform over the long term. As critical analyses have shown, the Affordable Care Act's success cannot solely be judged on the strength, or weakness, of enrollment numbers.
To the Obama administration, reaching 7.1 million enrollments meant success; a target hit. As President Barack Obama said in a statement released on March 31, of the last day of the enrollment period, "Now, millions of our fellow Americans have the comfort and peace of mind that comes with knowing they're no longer leaving their health and well-being to chance. For many of them, quality health insurance wasn't an option until this year — maybe because they couldn't afford it, or because a pre-existing condition kept them locked out of a discriminatory system." In his opinion, "regardless of your politics, or your feelings about the Affordable Care Act, millions more Americans with health coverage is something that's good for our economy and our country."
There is no denying that point. But what is unknown about those who have enrolled is very important. What percentage of exchange enrollees were previously uninsured? How many exchange enrollees have paid the first month's premium? The White House has yet to give any answers to those questions, but some data is available. According to a recent RAND Corporation, only about 36 percent of exchange enrollees were previously uninsured. Conversely, the government's sixth and final enrollment report stated that 87 percent of those applying for financial assistance self-reported having no previous health insurance. While those two measures cannot be directly compared, given the high number of exchange enrollees who qualify for subsidies, there still appears to be a great disparity. Meanwhile, the number of enrollees who have paid their first month's premium stands at 65 percent, according to the House of Representatives' Energy and Commerce Committee. Although insurance industry experts like Avalere President Dan Mendelson have said the payment rate will eventually stabilize at 90 to 95 percent.
Which of those very divergent numbers end up characterizing the market is very important to the survival of the exchange system. Obamacare will have only fulfilled its purpose if it significantly reduces the number of uninsured Americans and makes healthcare more affordable. That means that the rates insurers implement for 2015 will be incredibly important. Plus, if individuals find Obamacare coverage to be inadequate — leaving them underinsured, narrowing provider networks, or costing far too much thanks to an expensive monthly premium or high deductibles — the reform would have failed a key test.
More From Wall St. Cheat Sheet:
Follow Meghan on Twitter @MFoley_WSCS