Obamacare On Trial: Do For-Profit Companies Have Religious Rights?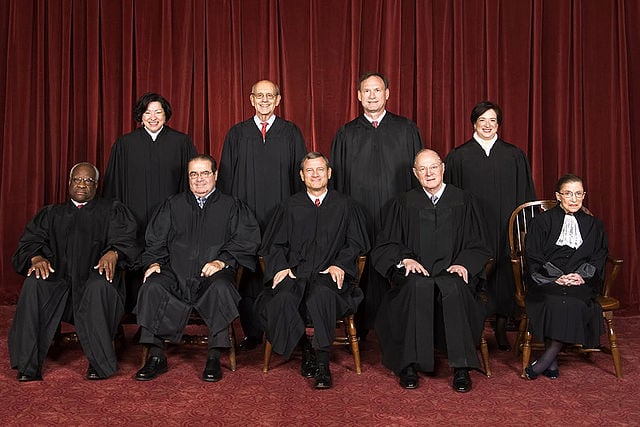 Oral arguments held Tuesday morning before the Supreme Court made clear that the nine-judge panel's interpretation of the Religious Freedom Restoration Act will guide the ruling on whether the Affordable Care Act's mandated contraceptive coverage is constitutional. Already, it appears the court is divided on the issue after the first day's proceedings, with the more conservative justices — Antonin Scalia, Samuel Alito, and Clarence Thomas — appearing sympathetic to the challengers' arguments, while the three female justices — Elena Kagan, Sonia Sotomayor, and Ruth Bader Ginsburg — are seemingly supportive of the government's case. Justice Anthony Kennedy will likely cast the deciding vote.
"How does a corporation exercise religion?" asked Justice Sotomayor during the 90-minute court session, summarizing what might be the key constitutional question in the lawsuit. "This is a religious question," said Justice Samuel Alito, suggesting that for-profit entities have such a right. "You want us to provide a definitive secular answer."
One of the explicit purposes of the healthcare reform was to improve the quality of health insurance policies. To guarantee that insurers no longer offer the so-called bare bones plans, the Affordable Care Act mandated the policies provide ten essential benefits, including mental healthcare and contraceptives. While ostensibly a sweeping attempt to ensure all Americans have access to the services they need without having to pay an unaffordable premium, religious groups have seen the mandated insurance coverage of contraceptives as a threat to religious freedom.
At the most basic level, the court's ruling will decide whether employers with religious objections to birth control may refuse to provide their workers with insurance that offers contraceptive coverage. But the case will also provide the Supreme Court with an opportunity examine complex legal and constitutional questions about religious freedom, the equality of female workers, and whether any protections exist in the constitution or in federal statutes that excuse private, for-profit corporations from complying with the law because of their owner's religious beliefs.
Currently, nearly 50 pending lawsuits have been filed in federal court from various corporations challenging the birth control coverage mandate, and three federal appeals courts in Chicago, Denver, and Washington D.C. have struck down the contraception coverage rule while two other appeal courts have upheld it. The fact that there was a "circuit split" at the district court level made a Supreme Court review necessary. Late last year, the court agreed to hear two particular cases involving for-profit corporations; the craft store chain Hobby Lobby Stores Inc. and Conestoga Wood Specialties Corp. Kathleen Sebelius, the Secretary of the Department of Health and Human Services, is named as the defendant in both suits.
Questions posed by the justices to Paul Clement and Donald Verrilli — lawyers representing the plaintiffs — suggested the Supreme Court may allow corporations to make religious objections to government action, a decision that would allow companies to avoid providing insurance that covers birth control, especially IUDs and emergency contraceptives like Plan B or ella.
Hobby Lobby and Conestoga are arguing that the mandated coverage of birth control services is a "substantial burden" on their free exercise of religion — a right protected under the First Amendment of the Constitution — by forcing them to provide a service that violates their religious beliefs. Even though employers pay for the insurance policy and not the pills themselves, and the use of contraceptives is a private medical decision, the plaintiffs stated in court briefs filed February 10 that the mandate still restricts their religious rights. They "object to being forced to facilitate abortion by providing abortifacients, and that objection does not turn on the independent decisions of their employees."
The Religious Freedom Restoration Act, which was passed in 1993, is key in determining whether non-religious companies should be exempt from the contraceptive insurance mandate. Originally, the law was passed in response to a 1990 Supreme Court decision, Employment Division v. Smith, which made it more difficult for individuals and groups to obtain exemptions from laws and government actions that may burden religious practice. Prior to that court decision, the government needed to prove there was a "compelling interest," like protecting public safety, before applying a law that burdened the freedom of religious practice.
After that court case, the government was required to only show that it had a "legitimate interest," a much less rigorous standard. But justices still have to decide whether the federal law's protections apply to companies, churches, and universities, or only to "persons." Other Supreme Court cases — including United States vs. Lee  — will have important bearing as well.
Not only did the Court decide in United States v. Lee that commercial activity limits the degree to which companies can use their religious beliefs as an excuse for refusing to comply with government law, other court rulings have gone so far as to knock down the "facilitate" argument.
In both cases – Sebelius v. Hobby Lobby and Conestoga Wood v. Sebelius — the role of independent choice is at issue. The insurance benefits that Hobby Lobby and Conestoga contend violate their religious freedom are a payment for their employees' labor just as are wages. The companies pay for the insurance policies — not the contraception or abortion drugs. Neither the government nor the employers control how workers make use of their insurance policies; whether the policies are used for contraception are a matter of independent choice.
Of course, both plaintiffs would contend that the independent choice should be theirs to make. Writing in an editorial for USA Today, Republican Representative James Lankford of Oklahoma — who represents the district where the owners of Hobby Lobby live — and Tony Perkins, president of the Family Research Council, which filed an amicus brief in support of Hobby Lobby — argued that business should not be "forced to violate their conscience as a condition for placing the sign, 'Open for Business,' on their front doors."
 "We believe that Americans don't lose their religious freedoms when they open a family business," Barbara Green, one of Hobby Lobby's owners, told reporters from Reuters after the hearing. "We were encouraged by today's arguments."
The government argues that RFRA does not protect for-profit corporations like Hobby Lobby and Conestoga because Congress gave no indication when passing that statute that it was intended to cover for-profit businesses, nor is there any tradition of courts extending religious liberty protections to businesses or their owners.
Of course, these two cases have far more significance for religious freedom in the United States than the success of the Affordable Care Act; if the requirement is removed, the impact on the healthcare reform would be minimal.
During the arguments, liberal-leaning justices, as well as the government's defense team noted that allowing Hobby Lobby and Conestoga Wood to successfully claim the contraceptive coverage was a violation of their religious freedom would clear the way for other corporations to make similar claims against other laws, which could lead to a myriad of challenges to government regulations, from Social Security to health coverage for immunizations.
"If your argument were adopted … then you would see religious objectors come out of the woodwork with respect to all of these laws," Justice Kagan told lawyer Paul Clement. The more conservative judges did not appear to share Kagan's concerns. But, in the same vein, Justice Stephen Breyer commented that a company must have a substantial burden of proof to avoid government regulations; a church cannot just argue, "I want a Sunday morning reduction in the cost of municipal parking" because it impacts attendance of church services.
Justice Kennedy suggested that objecting companies had more options to avoid providing the contraceptive coverage than simply accepting the fine levied against businesses that violate the employer mandate. Instead of paying the fine for not providing the contraception coverage, employees could be paid more more to buy their own health insurance, thereby circumventing their religious objections, the justice theorized. "How is the employer hurt? He can just raise the wages," Kennedy asked Clement.
More From Wall St. Cheat Sheet:
Follow Meghan on Twitter @MFoley_WSCS