Obamacare Remains the Elephant in the Room for Healthcare Costs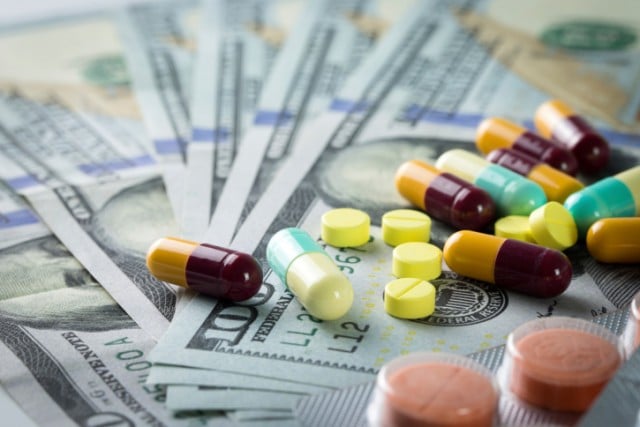 In his 2013 State of the Union address, President Barack Obama proclaimed that "Already, the Affordable Care Act is helping to slow the growth of healthcare costs" in the United States. "And the reforms I'm proposing go even further. We'll reduce taxpayer subsidies to prescription drug companies and ask more from the wealthiest seniors. We'll bring down costs by changing the way our government pays for Medicare, because our medical bills shouldn't be based on the number of tests ordered or days spent in the hospital; they should be based on the quality of care that our seniors receive."
But whether the Affordable Care Act will bend the rising curve of health care spending is a matter that has been much debated in the years since the healthcare reform law was passed in March 2010 and much argued in the months since its key provision — the individual insurance exchanges — launched on October 1. For Republicans, evidence abounds that supports the party's argument that Obamacare has not delivered on that key and oft-made promise.
Unfortunately for Republican critics, explaining why healthcare costs have risen sharply over the past several decades is exceeding complex, meaning that determining if the Affordable Care Act has slowed or fueled cost increases in any appreciable way requires a great deal of analysis, leaving room for politicians to argue a number of possible scenarios. Factoring into the equation are pharmaceutical pricing, the high administrative costs for medical payments, labor problems with medical professionals, and the high level of per capita income, among many other issues.
It is true that overall health care spending in the United States, which includes money directed to publicly funded programs like Medicare and Medicaid, has been increasing at 4 percent annually for four years running, a historically low pace. However, the "why" part of that equation has a much is less straightforward answer.
Shedding light on the debate are data released this week by benefits consultant firm Millman. Research shows that healthcare spending for family covered by a common employer-sponsored health plan has more than doubled over the past decade. In the past year alone, costs have rise 6 percent.
That means that a typical American family of four will spend an average of $9,695 on healthcare in 2014, according to the actuarial projections in the 2014 Milliman Medical Index. That figure includes contributions made toward insurance premiums, co-payments for doctor's appointments or medication, and even bottles of aspirin purchased at the drugstore. By comparison, annual healthcare spending was an average of $4,443 in 2004.
Meanwhile, the total cost of household healthcare, including both an employer and worker's premium contributions, will reach $23,215 this year, an increase of just 5.4 percent from 2013. That jump represents the slowest year-over-year growth in the 14-year history of the Millman Medical Index. However, that rate of growth is still well above the broader rate of inflation.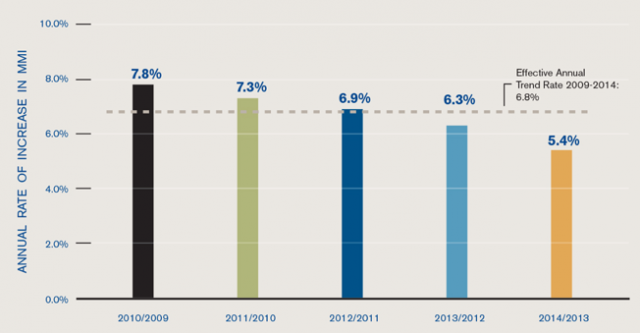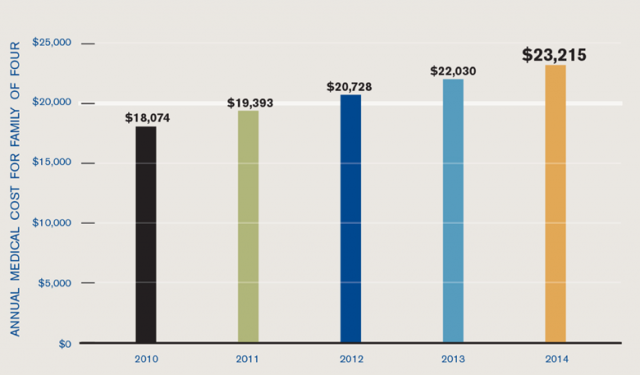 Those actuarial projections are confirmed by other research. Kaiser Family Foundation's annual employer benefits survey found that the United States is "in a prolonged period of moderation in premiums, which should create some breathing room for the private sector to try to reduce costs without cutting back benefits for workers," Kaiser President and CEO Drew Altman said in a press release accompanying last year's report on employer-sponsored family health premiums.
Millman's data contained both good and bad indicators for the future direction of the healthcare cost curve.
The good news
"The good news is that the annual rate of increase has been declining for years," said Chris Girod, co-author of the Milliman Medical Index. Data show that the annual increases of healthcare costs are growing smaller for the 171 million Americans, or more than half the country, who receive health insurance through their employers.
This year's slowdown in health care spending is of no surprise to Millman; typically, after millions of people lose their job, as was the case in the Great Recession, households have less money to spend on healthcare. And because certain costs are less flexible, like insurance premiums, the slowdown of recent years has been largely driven by decreasing use of policy benefits.
However, it also true that the full impact of the healthcare reform has yet to be quantified. Economists have not conclusively proven whether the slowing increase in healthcare costs is simply an extended hangover from the recession or whether efforts made by employers, the federal government, and the healthcare industry to control costs have actually worked.
The bad news
The fact remains that health care costs continue to rise, and faster than any other household expense. If a worker could ill-afford healthcare expenses last year, 2014's smaller-than-typical increase still means healthcare is unaffordable. "The bad news is that this represents yet another $1,100 jump in costs for this typical family. Even if we are bending the cost curve, there are few other household expenses that increase at four figures per year," said Girod.
According to Sue Hart, another co-author of the Millman report, costs have increased a total of 107 percent since 2004, and both employers and workers "have shared the burden of this cost increase." But the employee share of health insurance costs has grown more quickly, rising 73 percent since 2007; the employer contribution has climbed 52 percent over the same time period. Milliman's report only considered family coverage under preferred provider plans, not consumer-driven health plans, in which employees pay a higher share of the costs.
And while employer healthcare spending has risen much more slowly than workers' costs, greater expenses have fueled a major and ongoing transition in employer-sponsored health insurance. Increasingly, policies offered through employers mirror those offered on private insurance exchanges, where responsibility is placed on the policyholder to control their own healthcare costs. Of course, strategies used by employers to keep down costs are still evolving.
But so far, with the employer mandate portion of the Affordable Care Act delayed until next year, the healthcare reform has had little impact on large employer plans. In 2018, Obamacare's excise tax on "Cadillac" plans — policies valued at $27,500 or more for family coverage — will go into effect. That surcharge is expected to be a motivating factor for employers to scale back health plans.
The future
A November 2013 White House report titled "Trends in Health Care, Cost Growth, and the Role of the Affordable Care Act" found that healthcare spending growth was at the lowest level on record, with real per capita healthcare spending growing an average annual rate of 1.3 percent from 2010 to 2013. "The slowdown in health care cost growth is more than just an artifact of the 2007 -2009 recession: something has changed," read the report.
White House economists attributed the slowdown to "structural" changes. "The ACA is contributing to the recent slow growth in health care prices and spending and is improving quality of care. ACA provisions that reduce Medicare overpayments to private insurers and medical providers are contributing to the recent slow growth in health care prices and spending," the report maintained. "In addition, ACA reforms that aim to improve the quality of care are reducing hospital readmission rates and increasing provider participation in payment models designed to promote high-quality, integrated care."
But in August, the journal Health Affairs published a report based on analysis conducted by the Centers for Medicare & Medicaid Services actuaries that drew a different conclusion. "Improving economic conditions, combined with the coverage expansions in the Affordable Care Act and the aging of the population, drive faster projected growth in health spending in 2014 and beyond," the report said in its opening paragraph. In just the first year that the insurance exchanges are open, national healthcare spending is projected to grow 1.6 percentage points faster than would be expected in the absence of Obamacare.
In total, healthcare expenditures on hospital visits, medications, and other care will grow an average 5.8 percent annually through 2022, according to the report — that is about 1 percentage point faster than the projected rate of increase in gross domestic product. By then, healthcare spending will amount to more $5 trillion, accounting for close to one-fifth of the economy.
Before the United States entered an 18-month recession in December 2007, healthcare spending growth averaged 8 percent annually, but the economic downturn and subsequent weak recovery has kept growth rates slow. Even in 2013, consumers remained sensitive to rising health costs and used health care services sparingly as a result of sluggish income growth and the expiration of the payroll tax holiday. But "once the economy improves substantially we would expect health spending to respond in kind," Gigi Cuckler, an economist who tracks actuarial information at CMS, told Bloomberg. "We're not convinced that that relationship has been broken in the past couple of years."
More From Wall St. Cheat Sheet:
Follow Meghan on Twitter @MFoley_WSCS