Obama's Approval Rating: Bush and Nixon Had Worse 5th Years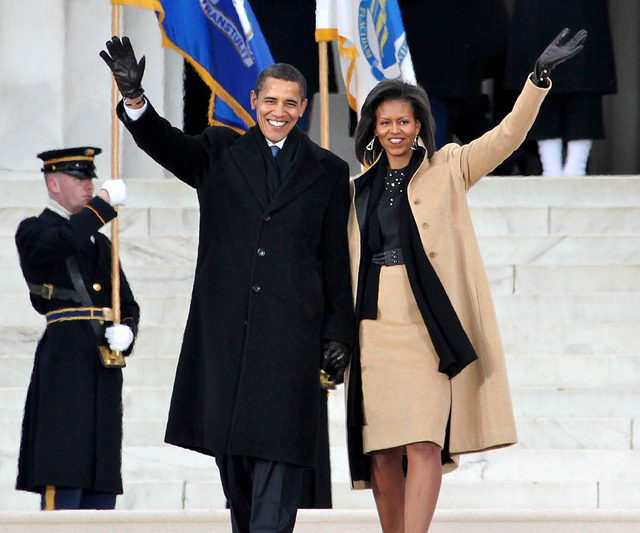 President Barack Obama's approval rating has continued its downward decent in his fifth year to 45.8 percent. Still, his rating is significantly up since last quarter's approval of 41.2 percent, and he managed to stay floating above his all time third year low of 44.4 percent — according to a Gallup Poll.
Compared to Eisenhower, Reagan, and Clinton — with job approval ratings of 62.8 percent, 60.4 percent, and 57.9 percent, respectively — President Obama isn't sitting very comfortably in the hot seat of leadership. But how do presidents facing similarly steep approval obstacles compare? Nixon and G.W. Bush may have had tougher fifth years than even Obama, all things considered. Nixon faced the Watergate scandal and a politically controversial climate with the Arab-Israeli war in his fifth year, plus the forced resignation of his Vice President, Spiro T. Agnew, who also publicly dodged a prison sentence.
George W. Bush, on the other hand, had Hurricane Katrina and the Iraq war on his hands. Now, Obama's approval ratings may be ringing in above the two former presidents — but it isn't by much. According to Gallup, Obama's recently concluded twentieth quarter as president was not a good one in terms of public approval — in the wake of government shut down, the National Security Agency privacy scandal courtesy of former contractor, Edward Snowden, and the unfortunate roll-out of Healthcare.gov.
The twentieth quarter showed an average approval rating of 41.2 percent, only a 0.2 percent lead on his worst quarter of all time, the eleventh, in which he averaged 41.0 percent approval rating. Nixon's twentieth quarter average was the lowest recorded, according to Gallup, at 28.0 percent during the height of the Watergate scandal.
George W. Bush's approval ratings for his twentieth quarter in office was a perfect tie for Obama's, whereas Clinton, Eisenhower, and Reagan all showed approval averages of approximately 60 percent during their twentieth quarters. Obama's post re-election approval has followed very much a similar pattern as that of other presidents facing similar troubles in office — a temporarily stronger approval just post re-election, followed by a steady decrease in approval.
His sixth year needn't hit the lows of Bush and Nixon's year, with Nixon being impeached soon after, and Bush hitting the wall of a financial recession. According to Gallup, that doesn't make approval improvements particularly likely; all presidents with the exception of former-president Clinton had approval declines in their twenty-first quarters and lower approval in their six year averages than their fifth year.
More From Wall St. Cheat Sheet: