Here's Why Obama's Improving Job Approval Rating Can't Help His Party
President Barack Obama's job approval rating has marginally improved. Based on the results of Gallup's daily tracking interviews conducted between January 20 and April 19, 42.4 percent of Americans, on average, believe Obama did a good job in the 21st quarter of his presidency, which spanned the reporting period. His approval rating now stands slightly higher than the 41.2 percent rating recorded in the prior quarter, but it remains among his lowest quarterly averages. This modest improvement represents the first uptick in public approval after the four consecutive quarters of decline that followed Obama's November 2012 re-election, when 51.9 percent of the American public believed he was doing a good job as president.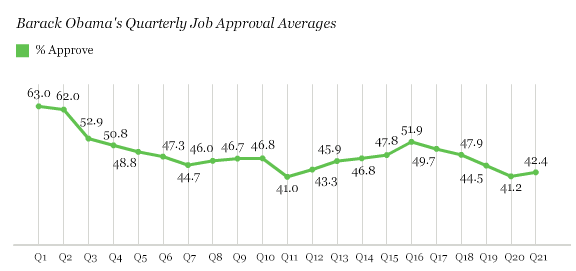 For a comparison, polls conducted by NBC News/Wall Street Journal, Bloomberg, and CNN/ORC International put Obama's presidential approval rating at 41 percent, 48 percent, and 43 percent, respectively.
At its most basic level, the presidential job approval rating is just a grade, represented as percentage rather than a letter. While that percentage may seem outwardly symbolic — having few actual ramifications, especially in a president's second term — the rating does reflect the pulse of the American people. Obama's job approval rating has far broader implications than measuring his success as the nation's chief executive. More importantly, with congressional midterm elections scheduled for this November and the Republican party leadership framing the upcoming fight for control of the House of Representatives and Senate as a referendum on President Obama's administration and his signature healthcare reform law, the Affordable Care Act, Obama's approval rating will be an important reference point for campaigning politicians.
It may seem that how Americans judge the president would have very little bearing on congressional elections, even if it does speak to how the public views the direction the current administration is taking the United States. However, data shows that there is in fact a correlation between presidential approval ratings and the success of his party in congressional elections. For example, when Democrats lost control of the House of Representatives in the 1994 election, President Bill Clinton's job approval rating stood at 46 percent in the final Gallup poll conducted before Americans went to vote. Similarly, a Gallup survey conducted just before the 2006 midterm elections put George W. Bush's approval rating at 38 percent and Democrats gained 31 seats in the House of Representatives and 6 seats in the Senate. Of course, it is important to remember that those approval ratings reflect opinions just before the election, and the United States is eight months away from the midterms. The question is whether Obama's approval rating will improve in the next few months, and the prognosis is not good.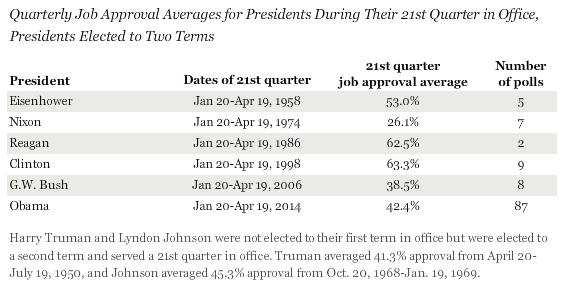 As Gallup's Jeffrey M. Jones noted, the fact that Obama's average approval rating remains low by historical standards "could be troublesome for the Democratic Party heading into this fall's congressional elections." It is not unusual for the president's party to lose seats in the second midterm elections, but losses tend to be much greater for less popular presidents than for more popular presidents. When compared to all presidents who served two terms in office during the post-war era, Obama ranks fourth in terms of job approval ratings. In his 21st quarter of office, 63.3 percent of Americans gave Clinton a positive assessment; 62.5 percent approved of Ronald Reagan's job performance, and 53.0 percent approved of Dwight D. Eisenhower. Meanwhile, 38.5 percent of Americans approved George W. Bush's job performance and 26.1 percent of Richard Nixon's. Harry Truman and Lyndon Johnson both were not elected to their first term in office, assuming office after the death of their predecessors, but they were elected to a second term and served a 21st quarter in office. Truman averaged a 41.3 percent approval rating from April 20 to July 19, 1950, and Johnson averaged a 45.3 percent approval rating from October 20, 1968 to January 19, 1969.
"Obama's party may be spared big losses in the House given the large number of seats that flipped from Democratic to Republican during his first midterm election in 2010, but many Senate Democrats remain vulnerable to defeat after having been elected in 2008, a strong Democratic year," Jones wrote. "The prospects for Obama's rating to improve significantly in the next quarter are not good, at least based on history." According to Gallup's statistics, of the five prior presidents elected to a second term, only Ronald Reagan showed even marginal improvement — edging up from an approval rating of 62.5 percent in his 21st quarter to 64.0 percent in his 22nd.
Unfortunately, Gallup's poll does break down the specific reasons for why the president's job approval rating is so low. However, several other surveys shine a light on how Americans judge Obama's ability in domestic and foreign policymaking.
A different poll – conducted by a Quinnipiac University — showed that American voters are equally divided (42 percent to 42 percent) over whether U.S. President Barack Obama or Russian President Vladimir Putin is a better leader. This rating is telling about Obama's administration on several levels. It is not a strong assessment of Obama's skills as president given that 80 percent of respondents said that Putin is neither honest nor trustworthy, and just 48 percent said they believe he is mentally stable. But while Americans do not speak highly of Putin's morality, they also do not judge Obama's foreign policy abilities very highly either. More specifically, the nation generally believes the president has not dealt with the growing tensions in Ukraine well, with only 39 percent of Americans approving how he has handled the crisis. That poor opinion is likely indicative of a larger problem: that Obama does not approach the rest of the world with enough force. While almost seven in 10 Americans support the sanctions imposed by the U.S. and the European Union on Russia, only 45 percent of voters responded that his handling of Ukraine and Russia has been "about right."
Meanwhile, a second Gallup poll found that Americans are not confident that their leaders can further strengthen the economy. Less than half of Americans, or 42 percent, believe Obama can create or recommend the right economic policy, and that is the lowest figure Gallup has on record for his presidency. The survey also reflected record lows in the public's confidence in Democratic leaders, which has fallen to 35 percent, while Republican leaders in Congress received the lowest mark on record for either party, with confidence levels at 24 percent. By comparison, Americans have more confidence in business leaders and state governors than federal political leaders.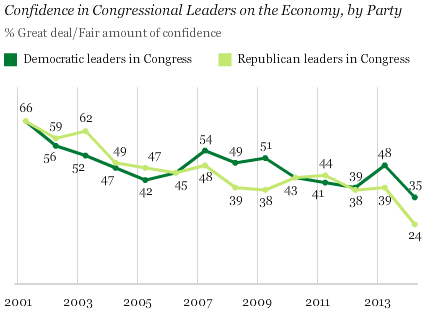 "It has been six months since the federal government shutdown, and its aftermath still creates tremors throughout the collective American psyche," noted Gallup's Justin McCarthy. As the numbers show, confidence in the economy itself has rebounded since the shutdown. But the public's confidence in the elected officials who guide economic policy has not appeared to have  recovered. Many pollsters expect the 2014 midterm elections will return strong results for the Republican party. Yet, Gallup's data does not give a similar indication, as congressional Republicans received the lowest confidence ratings for either party on a range of economic issues. The fact that Americans' confidence in Democrats, including the president, has dropped as well reflects a "national loss of confidence for elected officials across the board as all remember Congress' willingness to play political chicken with the U.S. economy."
More From Wall St. Cheat Sheet:
Follow Meghan on Twitter @MFoley_WSCS