Obama's Pen and Phone Are Now Tackling Education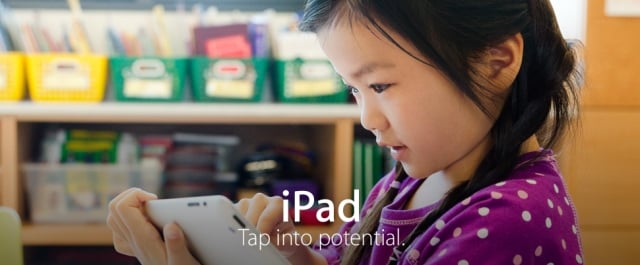 "In his State of the Union address, President [Barack] Obama set an ambitious agenda to make 2014 a year of action: using his pen and phone to take steps that increase prosperity and opportunity for America's middle class — including helping more kids prepare for college, gain career-ready skills, and compete in a global economy," noted a Tuesday White House press release. According to the statistics cited in the official fact sheet, fewer than 30 percent of schools have the "broadband they need to teach using today's technology." The president's ConnectED program seeks to rectify that problem by partnering with United States technology company to expand connectivity to 99 percent of American students within five years.
Tuesday saw the president give a report on the ConnectED program at a middle school in Maryland. The support of companies like Apple (NASDAQ:AAPL), Microsoft (NASDAQ:MSFT), AT&T (NYSE:T), and Verizon (NYSE:VZ) — which will total $750 million in direct commitments and "many times more in discounted products and services" — was announced by the White House Tuesday as "major progress toward realizing the ConnectED goal to get high-speed Internet connectivity." In addition, the Federal Communications Commission plans to put $2 billion over the next two years toward expanding high-speed Internet connections in schools and libraries, a figure double the agency's current annual spending on academic connections. The additional funds are a down payment on an ambitious initiative, as Director Gene Sperling of the president's National Economic Council told the Wall Street Journal. In his opinion, Tuesday's announcement of $750 million in contributions from the private sector plus additional spending from the FCC constitutes "breakthrough progress." Internet connectivity is "an example of an area where the president feels there's a compelling national need that we can meet," Sperling added.
Officially, the program was announced last June in Mooresville Middle School in North Carolina. "Today, we're going to take a new step to make sure that virtually every child in America's classrooms has access to the fastest Internet and the most cutting-edge learning tools," he proclaimed. "And that step will better prepare our children for the jobs and challenges of the future and it will provide them a surer path into the middle class. And, as a consequence, it will mean a stronger, more secure economy for all of us."
Obama's state of the Union address made passing reference to the ConnectED program. Following a brief sketch of the importance of preparing "tomorrow's workforce, by guaranteeing every child access to a world-class education," he reminded listening Americans of the pledge he made his 2013 speech to connected nearly every single American student to high-speed broadband. "Tonight, I can announce that with the support of the FCC and companies like Apple, Microsoft, Sprint (NYSE:S), and Verizon, we've got a down payment to start connecting more than 15,000 schools and twenty million students over the next two years without adding a dime to the deficit," he said.
"What is painfully clear — and what compels the need for ConnectED — is that a vision of students on individualized learning devices, getting the most up-to-date content, and reaping the benefits of stronger assessment tools is not possible in the majority of classrooms around the country today," stated Sperling in a September 2013 blog post. "When it comes to connectivity, our schools are at the back of the pack. Connections are hundreds of times slower than our homes, our workplaces, and most of all, the classrooms of our top economic competitors." The President said it best: "in a country where we expect free Wi-Fi with our coffee, why shouldn't we have it in our schools?"
He also noted that ConnectED will pay "huge dividends to the nation." The increased use of Internet-connected "individualized learning devices" will enable the educational system to be revolutionized in much the same way as "technology has changed industry after industry across our economy," he wrote Primarily, it will allow "advanced students learn at an accelerated pace without distinguishing or separating their students in a way that can send negative messages that limit their aspirations or self-esteem or sense that they can be gifted," according to Sperling. So far, ConnectED and the slew of initiatives listed by the president during last week's speech as examples of political action that could be implemented without congressional approval, has been met with a chilly reception in Congress.
Many experts in the educational field have been equally unimpressed with the president's education initiatives. The problems and proposed fixes to the United States educational system are near as complex, if not more, than reforming the nation's healthcare system. Presidential rhetoric can distill those problems and fixes into a simple list of goals — more teachers, greater broadband connectivity, and higher standards — that sound very appealing because they are meant to ensure today's children can become accomplished adults. However, solutions are far less simple, and if the passage and implementation of the Affordable Care Act can prove one thing, it is that change is easier said than done. Furthermore, critics see the list of educational pledges the president makes during his annual State of the Union essentially as a jumble of different ideas — each presented as a panacea to the problems of the American public school system with an accompanying anecdote — rather than a cohesive solution.
More From Wall St. Cheat Sheet:
Follow Meghan on Twitter @MFoley_WSCS