Senate Majority Is Up For Grabs, But Is the GOP Ready?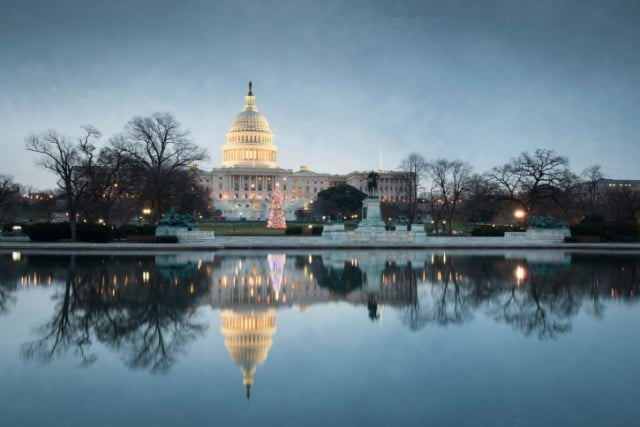 Congressional midterm elections are approaching in November, and primary season has commenced. Candidates — Republicans and Democrats, incumbents and challengers — are facing a formidable wall of negative public opinion. And to further complicate primary races, the entire House of Representatives and more than a third of the Senate are up for election.
The approval ratings of Congress began the year at a dismal 13 percent, well below the historical average of 33 percent but just up from the 9 percent recorded in the wake of the federal government shutdown, an event that symbolized just how partisan the legislative branch had become. Partisanship is far from the nation's only concern, though: Much of the public not only believes that Congress has failed to accomplish anything of legislative value, but that lawmakers are leading the country in the wrong direction.
Chief among voters' worries is the ability of Congress to pass legislation to strengthen the economy. And those criticisms extend to the Oval Office, as well. President Obama's approval rating for the first quarter of 2014 was low by historical standards; according to the latest ABC News/Washington Post poll, just 41 percent of Americans approved of his job performance in March.
As these figures suggest, the nation's dissatisfaction with the highest level of government is immense. But this negative sentiment could very well be a greater problem for congressional Democrats than Republicans. That same survey showed that Americans favor a Republican Congress to act as a check on the president by a margin of 53 percent to 39 percent.
For midterm elections, control of the Senate is the ultimate endgame. Come November, Republicans are not only expected to maintain their majority in the House of Representatives, but political analysts also see the party as having the best chance to take control of the Senate since the GOP lost the majority in the 2006 elections.
In the upper house of Congress, Democrats hold the majority by a 55-45 seat majority that includes 53 Democrats and two independents who caucus with them. If just six seats change hands, the party will lose its control. And if such a change occurs, the American government will be truly divided. With a Democratic president in the White House and a Republican Congress, Obama would face two choices: allow the GOP to pass its legislative agenda or reach for the executive veto.
Representing two seats likely to be won by Republicans are South Dakota and West Virginia. According to the Cook Political Report, voters in those states — where the current Democratic senators are both retiring — are likely too conservative to elect a new Democrat. That leaves the party fighting seven battles in blue and purple states: Louisiana, Arkansas, North Carolina, Alaska, Michigan, Montana, and Iowa. Republicans are also looking to secure seats in Colorado and New Hampshire by beating Democratic incumbents.
"Democratic control of the Senate is at considerable risk, with the party at no better than even money to retain control in November," said Stuart Rothenberg, editor and publisher of the nonpartisan Rothenberg Political Report, in an early March analysis.
Of course, Republican-held seats are not all safe. Senate Republican leader Mitch McConnell of Kentucky, where the president's job approval rating is particularly abysmal, is facing a tough fight against Alison Lundergan Grimes, who has the resources to mount a formidable campaign, Rothenberg writes. Meanwhile, Democrat Natalie Tennant of coal-dependent West Virginia is at a disadvantage thanks to the White House's negative stance on that form of energy.
Comparatively, the House is likely to experience a far smaller shift. Republicans have a strong advantage, with 234 seats to the Democrats' 201. Plus, history shows that the party that holds the presidency, in this case the Democrats, typically loses seats in the midterm elections.
By their nature, primaries say very little about what November's congressional races will look like, but they do set the stage. Tuesday's primary elections in Indiana, North Carolina, and Ohio represent the beginning of a two-month period period that will greatly define the landscape of the midterm elections. There were little surprises in the results of these early competitions.
North Carolina state House Speaker Thom Tillis won, a victory for the establishment faction of the Republican party. Every incumbent GOP representative won reelection, including Walter Jones of North Carolina and David Joyce of Ohio, who both overcame tough challenges despite the nation's widespread displeasure with its leadership. And in spite of Speaker of the House John Boehner's national unpopularity, shaped by the ongoing fights over immigration with his own party and the fallout of October's government shutdown, he beat his two Tea Party opponents. No doubt that victory will give him some measure of political capital.
These primaries were always expected to be a test for the GOP, and perhaps what is most interesting about the results is that voters showed a clear preference for establishment candidates. That reflects the fact that a number of Tea Party organizations are fading.
Of course, money helped, as did the low voter turnout. Midterm elections typically draw fewer voters, and this year's primaries proved to be no exception, with slightly less than 16 percent of North Carolina's 6.5 million registered voters casting a ballot on Tuesday. Ohio numbers were also low, and early figures suggest Indiana was light on voter participation, too. In addition to a generally apathetic constituency, the state of North Carolina also serves as a key case study in how campaign donations can dramatically elevate a candidate's visibility.
Just five months ago, Tillis had 16 percent name recognition across the state, even though he worked in North Carolina's most populous county and lives in its second-most populous region. But American Crossroads, a super PAC that raises funds from anonymous donors for the Republican Party, then spent $1.6 million on pro-Tillis ads.
Given that voters who turn out for midterm elections are generally those who have strong opinions about the issues — immigration, the Affordable Care Act, the economy, Obama's foreign policy — and that Republican voters turn out in greater numbers than their Democratic counterparts in midterm elections, a partisan Republican candidate is not necessarily a handicap. Partisan Republican candidates were one reason for the Tea Party's 2010 success.
It is important to note that Tallis is by no means a moderate Republican candidate in the mold of former presidential nominees John McCain and Mitt Romney. As speaker of the North Carolina House of Representatives, Tallis launched legislative campaigns against the expansion of Medicaid and abortion while pushing for cuts to education funding and voter identification cards. Some political analysts have argued that these successful primary wins are evidence of the GOP establishment's efforts to test a conservative candidate's ability to win votes on the national stage.
More From Wall St. Cheat Sheet:
Follow Meghan on Twitter @MFoley_WSCS