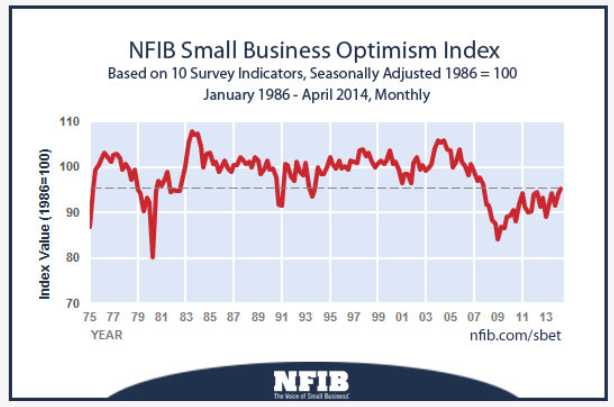 While the current rebound in economic activity is the weakest recovery on record, small businesses across the country felt more optimistic last month. In fact, their optimism reached a new high as business conditions are expected to improve.
The National Federation of Independent Business, the leading nonprofit small business association representing small and independent businesses, reported that its Small Business Optimism Index increased 1.8 points from March to 95.2 in April, representing the highest reading for the index since 2007. At the beginning of 2013, the index posted a reading of only 88.9. The pre-recession average of the index is 100.
"April's Index did pass the 95 mark that seemed to block any progress in optimism for the past five years. However, the Index is still 5 points below the average reading from 1973 to 2008, and far from what is considered expansion levels. This reading can only be characterized as a high end recession reading," said NFIB chief economist Bill Dunkelberg. "Small business confidence rising is always a good thing, but it's tough to be excited by meager growth in an otherwise tepid economy. Washington remains in a state of policy paralysis. From the small business perspective there continues to be no progress on their top problems."
Overall, seven of the index components improved in April, only two declined, and one was unchanged. Small businesses did not experience any change in their views on whether now is a good time to expand. Expectations for the economy to improve jumped 9 points to log the biggest gain, followed by earnings with a 4-point gain.
Small businesses are still most concerned with taxes and government regulation, with both remaining mostly unchanged from a year earlier. In fact, 22 percent of businesses say taxes are their top problem, while 20 percent say government red tape. Only 15 percent are most concerned about sales.
"The President most recently touted policies such as raising the minimum wage, extending unemployment benefits and passing some sort of equal pay for equal work legislation as his plan to boost the economy. He also mentioned one billion in his budget for climate change and a Keystone delay that will surely boost the economy. This makes it quite clear that politics drives policy recommendations, not common sense. And governing through politics will not improve owner optimism. It's going to be another nasty election. Most of the policy changes that would improve small business owners' views of the outlook won't happen," said Dunkelberg.
More From Wall St. Cheat Sheet:
Follow Eric on Twitter @Mr_Eric_WSCS