Sunshine Makes All the Difference: Retail Sales Show Improving Economy
Some economists have postulated that once the cooling effects of this winter's harsh weather have completely worked their way out of the U.S. economy, consumer spending will gain momentum and perhaps even post its strongest annual growth in nearly a decade. The reason for this optimistic outlook is the combination of an improving job market, the release of pent-up consumer demand, and the easing of certain government policies.
After the weaker growth recorded in December and January, retail sales numbers from the past two months have shown the U.S. economy to be accelerating. In February, for the first time in three months, retail sales increased on a month-over-month basis, rather than decreasing. Then, in March, retail sales expanded by the largest percentage since September 2012 and exceeded November's growth rate, which was the last month before the winter chill began. These strong two months have dispelled worries that consumers keeping discretionary spending low was a sign of additional structural problems with the U.S. economy.
Retail sales increased 1.1 percent last month to a seasonally adjusted $433.9 billion, according to data released by the U.S. Department of Commerce on Monday. That gain surpassed the 0.8 percent rise expected by economists; government officials also reported greater growth for February than originally calculated. The department also upwardly revised February's retail sales to 0.7 percent from a 0.3 percent rise. As evidence that the broader U.S. economy accelerated throughout 2013, and that growth began to strengthen once again after the winter lull, March's year-over-year improvement amounted to a 3.8 percent increase.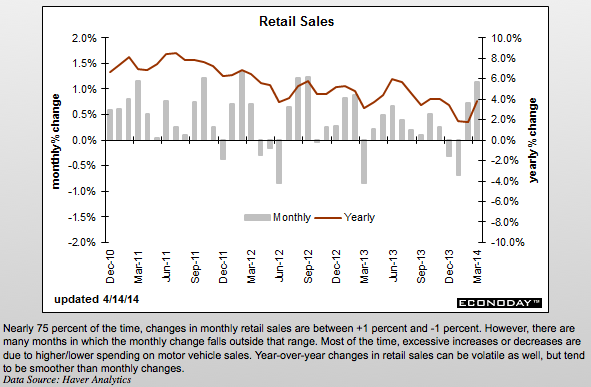 March's retail sales growth reflects a comparable pickup in consumer spending, a measure that accounts for approximately 70 percent of GDP in the United States. Given that consumer spending accounts for such a large portion of gross domestic product growth, stronger economic growth is closely linked with the health of the American consumer. Earlier in the year, as retail sales remained stagnant, economists postulated that the extremely cold and wintry weather was responsible for low consumer spending and the many other problems of the economy, including weak job creation.
"It's amazing what a little sunshine can do," noted Wal-Mart (NYSE:WMT) Chief Financial Officer Charles Holley at an early March industry conference. After experiencing slow sales in the first two weeks of the fiscal year, the world's largest retailer saw much improvement, he said.
Consumer spending numbers ended 2013 on a strong note. The Department of Commerce released its third and final calculation of fourth-quarter gross domestic product growth at the end of March, which showed the economy grew at a 2.6 percent annual rate in the last three months of 2013. That expansion was propelled by the most robust increase in consumer spending for any quarter in the past three years.
The momentum consumer spending had going into the year sparked economists to predict a strong 2014. The harm January and February's exceedingly cold weather had on the job market and consumer spending did worry some analysts, but as recent economic data have shown, consumer spending is likely to regain that momentum.
Even though GDP likely slowed to an annual rate of 2 percent or less this quarter, a number of economists now expect the economy to grow at a 3 percent annual rate this year. That level would represent the strongest expansion for any year since 2005, before the Great Recession began. After Monday's retail sales report was released, economists at Morgan Stanley calculated that GDP grew at a 1.2 percent annualized rate in the first quarter and will expand at a 3.5 percent pace from April through June.
While the overall picture of consumer spending has been one of improvement, a closer view reveals more conflicting indicators about the health of the American consumer. Sales of big-ticket items like cars and houses were strong for much of last year, likely the result of pent-up demand, but spending has generally been more sluggish in retail stores and restaurants.
That pattern suggests that American consumers are more confident purchasing longer-term big-ticket items than they are increasing everyday expenditures. In March, that pattern of consumer spending remained somewhat true. Cars led March's gain, with sales at automobile dealers rising 3.1 percent after increasing 2.5 percent in February. But it is also important to note that automobile sales were not the only source of strength in the Commerce Department's retail sales report, and that fact has important implications for the U.S. economy.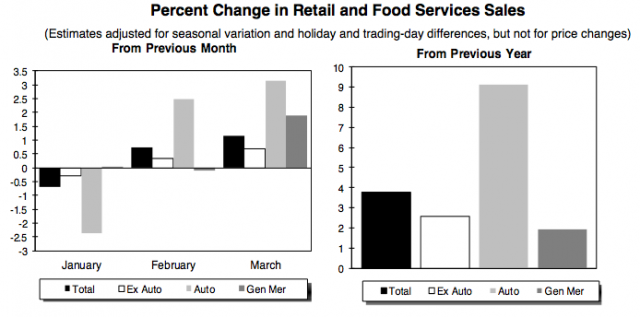 The figures used to calculate GDP — also known as the core measure of retail sales, which excludes spending on autos, gas, and building supplies — showed a strong increase, too. Economists believe that figure is a better proxy for Americans' confidence in the economy because it does not include those volatile categories. Last month, the core measure climbed 0.8 percent, a gain that represented the largest increase since January 2013 and doubled the previous month's 0.4 percent increase.
Customers spent more at furniture stores and sporting-goods outlets; Internet sales increased and Americans dined at restaurants more frequently; and, more notably, sales at department and general merchandise stores climbed the most since March 2007. Even though the growth recorded by the core measure will not be enough to significantly boost GDP growth in the first quarter, it does show that momentum is increasing.
"It really is a story of pent-up demand," Ameriprise Financial senior economist Russell Price told Bloomberg. "As employment levels continue to improve at a modest pace, so too should consumer spending." And it is true that both the civilian labor force and total employment increased in March.
Last month returned steady but not great job growth. After several months of slow job creation in December and January — when exceedingly cold temperatures kept consumers at home, blanketed construction projects with snow and ice, and caused supply-line disruptions for manufacturers — employers began hiring in February at a stronger pace, one that March nearly equaled.
The 192,000 jobs added by employers to payrolls last month was a sign that the U.S. economy had withstood the difficult winter. But that gain, while almost exactly in line with the 200,000 jobs expected by Wall Street, was hardly the early spring jump that many economists expected. Labor force participation still remains near a record low, and underemployment is high.
With job seekers still dropping out of the labor force and millions of workers underemployed, employers have not been pressured to increase wages, and that is problematic for consumer spending. The decline in unemployment has not helped raise wages for workers, as in past recoveries. In March, average hourly earnings for all employees on private nonfarm payrolls edged down by 1 penny, to $24.30, following February's 9 cent increase. Over the past year, average hourly earnings only rose 49 cents, or 2.1 percent, a very small increase by historical standards.
More From Wall St. Cheat Sheet:
Follow Meghan on Twitter @MFoley_WSCS