Super Bowl May Be Big Money, But Here's Why Stadiums Are Not
It's an issue that begins small, but is the same across sports: In high schools, it's a question of whether to put funding toward the theater and art department or the school's athletic team, which can sometimes help students get scholarships if it's a strong enough program. At the university level, schools with big football teams like the University of Michigan and Michigan State University pour a considerable amount of their funds into their teams, stadiums, and security and logistics of holding the sort of sporting events that draw so many people and so much revenue.
When you expand to major league and NFL team leaders, the financial demands begin to fall on tax payers quite heavily. Yes, it's a pretty flawed comparison. Public schools use tax money for certain athletic programs, but this issue gets foggy with private schools and universities. But in the end it comes down to the same issue: how funds are allocated and who pays for what based on what priorities (and whether those are the correct priorities). At the state level, this question is particularly pressing given the extent of funds used and debt accrued. Domes for various teams have cost a great deal to states who have helped pay for their construction, repair, and eventual destruction.
A good example of this lies with the Seahawks' Kingdome. According to the Washington Policy center, the Kingdome cost taxpayers a total of almost $135 million: $25.8 million to build it, $109 million for upkeep, with some $43.5 million still needing to be covered by January 1 of next year. The most common argument is that the city gains a great deal of revenue from professional teams, making it a worthwhile investment with payback coming in the form of business and tourism. According to a number of studies, however, that is not the case. In fact, so many studies are showing subsequent revenue to be below the initial and follow up cost, that it's safe to say stadiums are not a priority because they're money makers.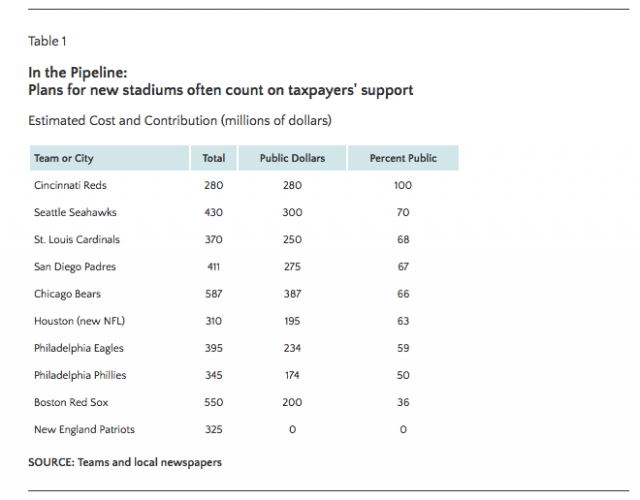 How often do stadiums draw on taxpayer for funds?
According to a study from the Federal Reserve Bank of St. Louis, it's quite common for a majority of the cost of a stadium to come from the pocketbook of the public, and the cost is usually in the hundreds of millions for taxpayers. As shown in the FR's table above, it's incredibly common for the percentage of the cost covered by public funds to exceed 50%.
Proof these costs don't make a return on the expense:
The St. Louis FR reports that "when studying this issue, almost all economists and development specialists (at least those who work independently and not for a chamber of commerce or similar organization) conclude that the rate of return a city or metropolitan area receives for its investment is generally below that of alternative projects." Costs of stadiums also tend to be higher than cities are expecting, especially long term costs, since upkeep and unexpected costs aren't always considered carefully. This is hardly a new topic. In 1997, Brookings considered four economic arguments for stadium construction: job creation and economic boost, tourism, the "multiplier effect," and construction jobs for the actual building. However, even then, the research group found "these arguments" to "contain bad economic reasoning that leads to overstatement of the benefits of stadiums." According to Brookings, this concept exaggerate the likelihood of outside business being drawn there, and for the city in question to gain an economic boost, it would have to increase exports of its own products. "In reality, sports has little effect on regional net exports," it reports.
What's more, "the cost of big stadiums have gone up exponentially in the last two decades," according to Robert Boland, professor of sports management with Tisch Center for Hospitality, Tourism, and Sports Management at New York University. "That has created a challenge for officials to make revenue projections, which are getting harder and harder to meet," said Boland to AJC.com.
How do sports team owners convince states and city politicians to pay for stadiums?
Most project what ultimately turns out to be inaccurate revenue and job creation. Plus owners can always fall back on a threat to move to another city. In order to retain a sports team, some politicians will shell out a great deal of money to keep them in the area. "In return, taxpayers receive nonpecuniary benefits in the form of increased civic pride and image, as well as other unmeasured consumption benefits," suggests a report on "The Stadium Gambit and Local Economic Development" from professors of economics, Dennis Coates and Brad R. Humphrey, of the University of Maryland. Amusingly, they quote Bill Veeck, once owner of the Chicago White Sox, as saying, "We play the Star Spangled Banner before every game — you want us to pay taxes too?"
But it brings us back to the question as to whether stadiums should be the priority they are so often made by politicians, allocating so much of city and state funds toward structures that add a great deal to the city for sports-lovers, but apparently little in terms of definitive, reliable, economic or fiscal advantages. Why should money go toward sport stadiums, rather than a number of other areas, from education, to job and business programs, that could help the local economy.
Yes, many cities are incredibly passionate about their sports teams, but not all members of those cities or states share the enthusiasm, and clearly the justification for that prioritization may be lacking. It's weakly comparable to funding construction of a public park — a very, very expensive public park that not all members of the community have an interest in walking in if they have to pay $85 for a ticket. What it is not similar to is supporting the arts, which the government does as well. The reason the two examples diverge is because arts receive considerably less funding, and the arts often need that support badly, whereas sports team franchises could absolutely pay, or find alternative funding, for their own stadiums — just as the Patriots did when Robert Kraft, the owner, used only private funding to pay for Gillette Stadium, not relying on taxpayers for a penny, according to Economics21.
Follow Anthea Mitchell on Twitter @AntheaWSCS
More from Politics Cheat Sheet:
Check out Politics Cheat Sheet on Facebook