Syrian Airstrikes, Obama Addresses UN: What's Happening in America?
Congressional midterm elections are little more than two months away; liberals want Supreme Court Justice Ruth Bader Ginsburg to retire; President Barack Obama addressed the United Nations Wednesday on the need for global cooperation; the United States-led airstrikes targeting Islamic State militants in Syria began this week; and now fears are growing of a terrorist retribution from other groups. Each of these narratives serve as important determinants of United States history. But the complexities of each story make it difficult to keep updated with new developments. Here is a look at this week's major developments in United States politics and American military involvement in Iraq and Syria.
American Political Dysfunction
Gallup found (unsurprisingly) that Americans continue to believe a third political party is needed to alleviate current dysfunction in Washington. A majority of adults, 58 percent to be exact, said another party is needed because Republican and Democratic parties "do such a poor job" representing the American people —  a figure little changed from last year's high of 60 percent, which was recorded during the October 2013 16-day shutdown of the federal government. Since 2007, a majority of Americans have expressed a desire for an additional political party.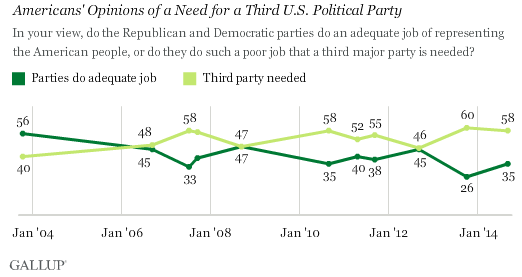 Americans' desire for a third political mirrors their dissatisfaction with both the Republican and Democratic parties. Gallup data shows that public opinion on both parties is negative overall. "Americans now view the Republican Party as favorably as they view the Democratic Party. While the Democratic Party's rating has been steady, the GOP's rating has improved, restoring their image to what it was prior to the federal government shutdown in the fall of 2013," wrote Gallup's Jeffrey M. Jones. "But neither party is viewed positively overall, and thus voters may be choosing between two unappealing options this fall rather than between two appealing ones." Currently, only four in 10 Americans view each party positively.
America's problems are multifaceted and complex. But from the results of polls and anecdotal evidence, it is clear the nation is in crisis and the federal government is most often cited as the problem. Gallup's annual Mood of the Nation poll, conducted in the first week of the new year, gave a snapshot of how American citizens view the government, its efficiency, and its leadership. The results were staggering. One in five respondents said they were dissatisfied with how the American governmental system works. The government's perceived inefficiency outstripped the economy, healthcare, low job creation, national defense, and the federal budget as the greatest problem with the United States.
It is fair to say that the numerous problems plaguing the country — slow economic growth, lagging job creation, the faltering healthcare reform — all shape how Americans view the government. But there is an important distinction to make. The nation does not feel that its leaders have been hit with insurmountable obstacles that they are trying to solve, but instead, Congress and the President appear to have become sidetracked by partisan battles that have taken on more importance than the myriad of issues at hand.
2014 Elections
Congressional midterm elections are six weeks away, and for the first time, polling data suggests that Republicans have just as much of a chance at seizing the Senate majority as the Democrats have of retaining it. Or in other words, the Senate majority is actually a toss up, despite the fact that a number of pollsters have predicted the Republicans will capture enough seats to control the upper house of Congress.
Earlier this month, Pew Research found that among voters most likely to cast votes in November, 47 percent support the Republican candidate on the ballot, while only 44 percent support the Democrat candidate; the FiveThirtyEight forecast model gives Republicans a 64 percent chance to secure a majority in the Senate; and The New York Times has calculated that the GOP has a 60 percent chance of gaining control of the upper house. While election models still suggest that Republicans have an an edge, it has decreased in recent weeks, making the ultimate winner too close to call.
More to the point, the election map does favor Republicans and survey results show that a small majority of Americans favor a GOP majority, but sentiment on the state level tells a more nuanced story. Republicans face close competitions in a number of states, and as The Times' Nate Cohen noted, the party has not only made "few, if any, polling gains," but its "position might have even deteriorated." To grab the majority, the party needs to win six seats held by Democrats. Now, recent numbers indicate that voters in Michigan and North Carolina have shifted more toward the Democratic candidates.
The race has become competitive in Kansas, where Republican Pat Roberts is running a lethargic, half-hearted campaign despite the threat posed by independent Greg Orman. Public opinion in both Colorado and Iowa is close. Even though Republicans have an advantage in Louisiana and Arkansas, states where Obama lost by 23 percentage points in 2012,  incumbent Democrats Mary Landrieu and Mark Pryor remain competitive. Of course, President Barack Obama remains a problem for the Democrats.
Ruth Bader Ginsburg
The Democrat party doesn't appear too concerned about losing the Senate because Republicans are expected to lose control of the upper house of Congress in 2016, when the Senate class of 2010 will be up for reelection. That year saw a Tea Party wave propel a number of conservative lawmakers into office, meaning Republicans will be defending a quite a few seats in 2016. Democrats will be defending 10 seats to the GOP's 24, and the Democratic party will also have the more favorable voting turnout of a presidential election year as an aid. Since the 2016 election will likely reverse this year's results, FiveThirtyEight's Nate Silver called the 2014 midterms "the least important election in decades."
Still, a change of power dynamics in Congress means Republicans will have substantial veto power over any future Obama appointments to the Supreme Court. Given the average age of the Supreme Court is 68 — with Ruth Bader Ginsburg at 81, both Antonin Scalia and Anthony Kennedy at 78, and Stephen Breyer at 76 — it is likely one justice will retire in the near future. Liberals want that to happen while the Obama administration has a better chance of having its Supreme Court nominations confirmed by Congress, meaning before power (potentially) changes hands in the Senate.
However, Ginsburg indicated in an interview with Elle that she will not cave in to pressure. "Who do you think President Obama could appoint at this very day, given the boundaries that we have? If I resign any time this year, he could not successfully appoint anyone I would like to see in the court," she told Elle's Jessica Weisberg. The Senate Democrats "took off the filibuster for lower federal court appointments, but it remains for this court. So anybody who thinks that if I step down, Obama could appoint someone like me, they're misguided. As long as I can do the job full steam … I think I'll recognize when the time comes that I can't any longer. But now I can."
Ginsburg argued, as she has on many other occasions, that she can still do her job at "full steam."
Airstrikes in Syria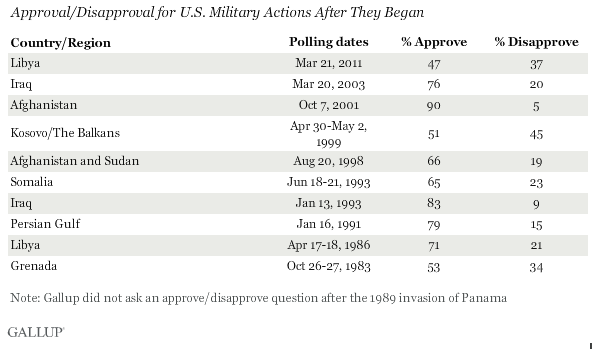 With the bombing of ISIL targets inside Syria beginning this week, the United States significantly escalated the war against the Islamic militant group that has taken control of large swaths of land in Iraq and Syria. Yes, it is a war; White House spokesperson Josh Earnest essentially confirmed that earlier this week. One reporter asked him about the cost of the "war," and Earnest did not dispute the term. "I haven't heard you use the word 'war,'" the reporter said. "Yeah, I have — a couple of times," Earnest replied. "But you're raising an important issue." Obama believes that "ISIL has declared war on the broader international community," he said. "And that means that the international community is at war with ISIL and the United States is at war with ISIL in the same way that we're at war with al-Qaeda and its affiliates around the globe."
The expansion of airstrikes into Syria means the United States has committed to an open-ended military engagement that could last quite a long time. United States military officials say Tuesday's launch of bombing missions in Syria was just the beginning of a "prolonged campaign" that could last, intermittently, for months. In fact, the air attacks could last years.
Already, a new name has joined ISIL on the list of targets: the Khorasan Group. Scant information about the organization is known, including its exact numbers. But still, it has become a main concern of the United States intelligence officials. As U.S. Central Command explained in a recent press release, the al-Qaeda cell group has "established a safe haven in Syria to develop external attacks, construct and test improvised explosive devices, and recruit Westerners to conduct operations."
More specifically, airstrikes were simultaneously tailored to wipe out both ISIL fighters and the leadership of the Khorasan Group, which the White House announced Tuesday was planning an "imminent" attack against the United States or Europe. One intelligence official told The Times that the group was "reaching a stage where they might be able to do something," while Attorney General Eric Holder told Yahoo News' Katie Couric that the United States has been monitoring the Khorasan group for two years. "I can say that the enhanced security measures that we took," including the banning of uncharged electronic devices on some flights, were "based on concerns we had about what the Khorasan group was planning to do," he said.
Obama's Speech to the United Nations
At a Wednesday meeting of the 69th General Assembly in New York, President Obama threw out some ideologically heavy rhetoric in his 40-minute annual address. Essentially, his speech was a plea for international support of the U.S.-led campaign to "degrade and destroy" Islamic extremists in Syria and Iraq, but it was clothed in an idealistic narrative of global cooperation.
"There is a pervasive unease in our world — a sense that the very forces that have brought us together have created new dangers, and made it difficult for any single nation to insulate itself from global forces," Obama said. "As we gather here, an outbreak of Ebola overwhelms public health systems in West Africa, and threatens to move rapidly across borders. Russian aggression in Europe recalls the days when large nations trampled small ones in pursuit of territorial ambition. The brutality of terrorists in Syria and Iraq forces us to look into the heart of darkness."
His focus was on the threat extremism poses to world order, and he emphasized that the United States cannot offset the "brutality of terrorists" alone. "Collectively, we must take concrete steps to address the danger posed by religiously motivated fanatics, and the trends that fuel their recruitment," he said.
More From Politics Cheat Sheet:
Follow Meghan on Twitter @MFoley_WSCS