The One Major Problem With the Economic Recovery
The February jobs report
The headline unemployment rate — the share of jobless Americans who are actively looking for employment — has fallen to its lowest level since the middle of 2008, nearly seven years ago. The February Employment Situation Report released Friday by the Department of Labor showed private-sector employers expanded payrolls by 295,000 workers, pushing the jobless rate down two-tenths of a percentage point to 5.5%, far exceeding expectations. Analysts predicted last month's numbers would be relatively weak because of the unusually snow weather experienced by much of the country, which would keep hiring low in construction and similar sectors. That February numbers beat expectations will likely be taken as evidence the U.S. economic recovery is strengthening. "We were all on guard for signs of a February freeze-up, but this is a barn burner of a jobs report," Bankrate.com analyst Mark Hamrick told The New York Times. "The Fed will say the pieces are coming together."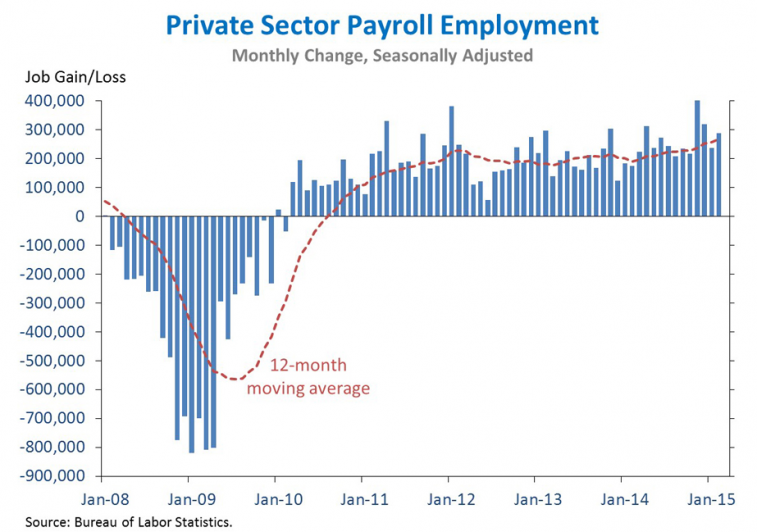 For most of the past five years, the predominant labor market question was when job growth would pick up strength. It was not until the beginning of last year that solid and regular growth began. This February was the 12th consecutive month where job creation exceeded 200,000 the first time that has happened since 1977. In years past, job growth has vacillate around this level; economists consider the addition of 200,000 jobs a key benchmark of labor market health. A year ago in February, the economy added 175,000 jobs, and employers expanded payrolls by 236,000 in February 2013 and 227,000 in February 2012. And over the past year, the unemployment rate has ticked down 1.2%. But between those peaks came lows. Months where job creation failed to match that of the previous month or missed expectations served as reminders of the underlying weakness in the recovery. The unemployment rate has steadily ticked down from the recession of 10%, but the headline numbers hide a number of ills, and other calculations of joblessness tell a more nuanced story.

When will wage stagnation end?
Wages tell a particularly compelling story of how incomplete the labor market recovery is. Not all employment numbers are rosy; there is still the problem of the sluggish recovery of wage growth. Stagnant wage growth has persisted since the recession ended in the summer of 2009 and gross domestic product resumed growth. For the past several years, the average hourly wages for private-sector workers have been growing at pace of about 2% — a very slow rate, by historical standards. Wages did rise a higher-than-average 0.5% in January, according to Labor Department data, but that growth was not the start of a trend. In February, wages increased just 0.1%, and the take-home pay of the average workers is just keeping up with inflation. It is the lack of significant wage growth that makes many Americans feel as if the economic recovery has passed them over. The ongoing stagnation of wages has lead to a second question: If the economy is capable of creating several hundred thousand jobs a month, why is it not strong enough for companies to give workers raises.
Some economists have theorized wage stagnation is about to end as the labor market tightens. "We're facing a turning point, and we're going to see more pressure on wages," Tara Sinclair, chief economist at the job search site Indeed.com, told the Times. But for now, strong hiring is not bring higher wages.
However, Mark Zandi, chief economist of Moody's Analytics, argues that the lack of wage growth is more than just a function of the recession hangover. To him, the data looks more gloomy than the reality because of demographic factors; younger workers, who are paid starting salaries, are replacing the high-earning baby boomers who are retiring."That's biasing down the measure of wage growth," Zandi explained. This dynamic is beginning to change, he added, pointing to a turning point in the labor market, just as Sinclair did. One sign of this shift is the increasing number of younger workers who feel confident enough in their employment prospects to change jobs, he said. On average, workers who switch jobs receive a 14% increase in salary.
Other interpretations of labor market data still see reason for gloom. The argument can be made, and is being made, that so many people are looking for jobs that companies are under little pressure to lift wages. That may sound problematic, but such scenario would be good new for the economy because it would mean that the strong job growth has encouraged workers who had previously given up the job search and dropped out of the labor force to return. And as the economy continued to improve, the pool of job seekers would shrink and companies would have to increase wages to attract workers. But as FiveThirtyEight's Ben Casselman claimed that argument is growing more improbable. The February jobs report contained no evidence that job seekers returned to the labor force in great numbers. Rather, the opposite happened; the share of the population that was employed or actively looking for employment, a measure known as the labor force participation rate, dropped last month after increasing in January. Even more concerning, that measure remains near a three-decade low, indicating that structural forces are keeping wages down.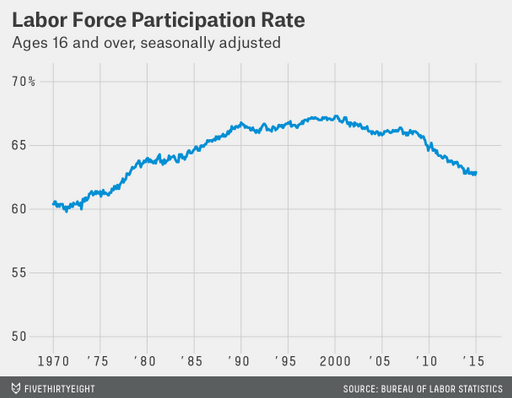 For a particular set of American workers, the one sure bet for higher wage growth are recent increases in minimum wage implemented by giants in the retail sector as well as states and local governments. Last month, Walmart, the largest private-sector employer in the United States, announced it would increase minimum hourly pay to $9 by April and $10 by next year, increasing incomes for a half-million employees. TJX Companies, owner of Marshalls and T.J. Maxx, announced similar minimum-wage hike. In 2014, lawmakers in Connecticut, Delaware, Hawaii, Maryland, Massachusetts, Michigan, Minnesota, Rhode Island, Vermont, West Virginia, and D.C. enacted legislation lifting the minimum wage, while voters in Alaska, Arkansas, Nebraska, and South Dakota approved minimum wage increases through ballot measures. At the beginning of 2015, workers in a total of 21 states saw their minimum hourly pay rise, meaning, for the first, more than half of U.S. states will require employers to pay workers for than the federal rate. And in certain cities — like San Francisco, Seattle, and Chicago — wages will be even higher. The White House estimates that 7 million workers will see their incomes grow thanks to wage hikes enacted since 2013.
But there is bad news here as well. The debate among economists is whether these increases will put a damper on job growth. And labor advocates, like the National Employment Law Project say employers like Walmart should also focus on increasing hours for workers, as well as pay. The Labor Department's February data does show that the number of people employed part time for economic reasons fell slightly from 25.6% of all part-time workers to 25.1%, but workers' activists argue that too many people — a sizable share of whom are women, and specifically women from minority groups — would prefer to be employed full time. Yet, economic uncertainty and stagnant wages also hurts the economy. Faster growth in job creation and wages would jump-start economic growth as consumer spending accounts for a large portion of GDP.
Still, as Bankrate.com analyst Mark Hamrick's comments suggest, the release of the February jobs report will not only feed renewed optimism about economic growth but may also prompt Wall Street to speculate that the Federal Reserve might decided to lift interest rates sooner than the fall date Chair Janet Yellen named in her recent Semiannual Monetary Policy Report to the Congress.
Follow Meghan on Twitter @MFoley_WSCS
More from Politics Cheat Sheet: