This Housing Indicator Hits Worst Level Since December 2000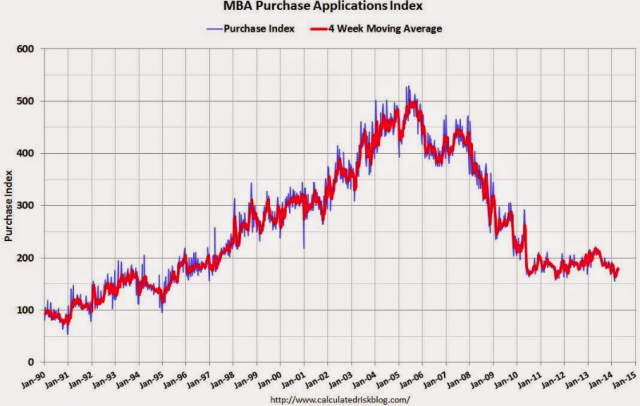 The mortgage market continues to deteriorate. Despite historically low interest rates, the mortgage composite index reached its worst level in over a decade. In the latest update from the Mortgage Bankers Association, for the week ended April 25, applications for home loans sank 5.9 percent on a seasonally adjusted basis from one week earlier. The index fell 5 percent on an unadjusted basis.
Housing affordability issues and a small rebound in interest rates have caused a steady slide in mortgage applications over the past year. As the chart above shows, applications are near their worst level in years. The Refinance Index plunged 7 percent from the previous week, while the Purchase Index declined 4 percent and remained 21 percent below year-ago levels on an unadjusted basis.
"Both purchase and refinance application activity fell last week, and the market composite index is at its lowest level since December 2000," said Mike Fratantoni, the Mortgage Bankers Association's chief economist. "Refinance activity also continued to slide despite a 30-year fixed rate that was unchanged from the previous week. The refinance index dropped 7 percent to the lowest level since 2008, continuing the declining trend that we have seen since May 2013."
Overall, the refinance share of mortgage activity accounted for 50 percent of total applications, its worst level since July 2009 and down from 51 percent a week earlier. In fact, the refinance share of mortgage activity has now dropped for 11 of the past 12 weeks.
The average interest rate for a 30-year fixed-rate mortgage held firm, at 4.49 percent. Meanwhile, the average rate for a 15-year fixed-rate mortgage edged lower, from 3.55 percent to 3.53 percent. Although mortgage rates are still near historic lows, the housing recovery story will likely draw more skepticism this year as higher prices and stagnant wages cause affordability issues. In the prior report, the MBA revealed that the average loan size for purchase applications had reached its highest level in the history of the survey, at $280,500.
More From Wall St. Cheat Sheet:
Follow Eric on Twitter @Mr_Eric_WSCS