U.S. Aid in Haiti: Behind Schedule and Over Budget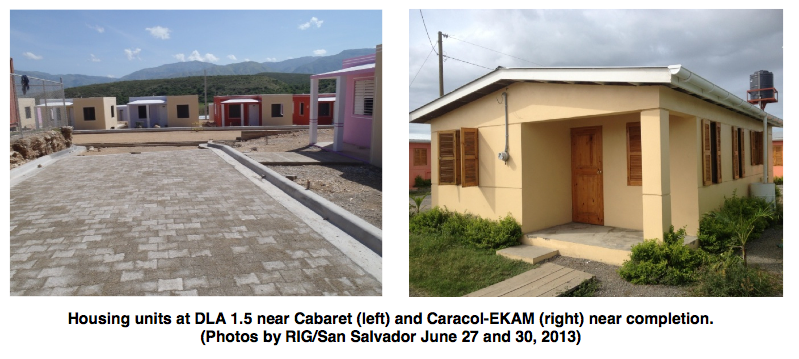 Following the earthquake in Haiti in 2010, when over 200,000 individuals lost their lives, the United States promised contribution to recovery in the form of $3.6 billion. Now, four years later, $2.8 billion of that has been spent, but the U.S. is uncertain where some of it has gone or what interest it was used for. Therefore, the U.S. Office of Inspector General conducted an audit of U.S. aid to "Haiti's New Settlement Construction Activities," looking specifically at the Northern and St. Marc development corridors.
The audit found the efforts for housing construction to be considerably behind schedule as of August 2013, with only 816 of the 4,000 expected homes completed, 21 percent of the goal, according to the report. On top of that, services and infrastructure had not yet been provided, despite completion of engineering and design requirements for about 2,300 home sites out of the eventually required 11,000. Despite a subsequent increase in funding, those conducting the audit found there to be problems with logistics, including an issue coming to a consensus on land ownership, design changes, work interruptions, added time and effort needed to utilize local labor in a struggling economy, and hurdles in partnerships with other organizations.
"The delays have hampered the delivery of the intended benefits, and thousands of Haitians are still living in temporary shelters waiting for permanent housing," reads the report, which gives a list of recommendations. The first recommendation includes assessing whether or not targets are realistic, and possibly adjusting deadlines in order to make meeting them more viable. The report also criticized the record keeping of projects so far, saying that test records were unfinished, quality control activities and tests "were not well documented" and "deficiencies were not always tracked."
The biggest criticism outside the report seems to be that the programs meant to aid a suffering population are not doing their jobs. "There have been aid programs for such a long time here," said Harmel Cazeu, information manager of Haiti's National Coordination for Food Security, according to The Global Post. "But when you evaluate it, they don't have durable impacts."
Another concern mentioned in the report was of an environmental nature, with emphasis to absence of environmental procedures of import. These included not properly recycling oils and lubricants, poorly disposed of drainage and potential, and badly stored pollutants, among other items.
John Groarke, the mission director in Haiti for USAID, told The Washington Post that the program there for housing displaced or in need Haitians is "succeeding despite the many challenges of working in Haiti." He noted that more than 328,000 individuals have seen the aid of housing support from USAID since the earthquake. This is the third such audit to outline shortcomings of aid efforts, but USAID said that audits of this nature are "welcome standard practice" for all of its programs, and help to fix problems and increase productivity.
More From Wall St. Cheat Sheet:
Follow Anthea Mitchell on Twitter @AntheaWSCS