U.S. Economy Enters Second Quarter With This Bad News
"Retail sales were very weak," Cantor Fitzgerald interest rate strategist Justin Lederer told Bloomberg after the U.S. Department of Commerce released April's figures. "It's not a good start for retail sales for the second quarter." And if retail sales began the current quarter weak, it is also likely that gross domestic product began the April-through-June period with little momentum, as well. In the first quarter of the year, GDP expanded an anemic 0.1 percent, the worst pace since the end of 2012.
Consumers were big spenders in the first quarter, propping up growth as they have for much of the recovery. But other sectors of the U.S. economy that have buoyed the recovery in recent quarters slumped in the early months of this year, dragging down growth substantially, with much of the hurt brought on by frigid winter weather. That reality left personal consumption expenditures as the single biggest boost to economic output in the first three months of the year.
However, consumers spent significantly less at malls and restaurants last month than they did in March, meaning receipts at those retailers were less. Reflecting that reality, retail sales amounted to just $434.6 billion, an increase of 0.1 percent. That growth, which reflects an equally meager pickup in consumer spending, represented a far smaller gain than analysts expected and a far more modest jump than March's upwardly revised 1.5 percent.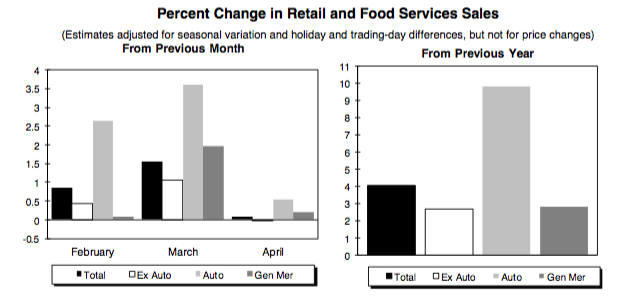 Automobile sales, a nearly perennial driver of consumer spending growth, grew 0.6 percent last month, while sales at clothing stores grew 1.2 percent. However, those gains were nearly wiped away by declines in spending at restaurants, online retailers, and furniture and electronics stores. Excluding the volatile categories of automobiles and gasoline, retail sales fell 0.1 percent in April. As the above spending breakdown suggests, consumers are directing most of their spending dollars to immediate necessities, a pattern that has characterized much of the recovery.
Earlier in the year, as retail sales remained stagnant, economists postulated that the extremely cold and wintery weather was responsible for low consumer spending and the many other problems with the economy, including weak job creation. But by and large, economists remained unconcerned, arguing that spending patterns would strengthen when the cold weather dissipated and job creation regained momentum. That assessment proved to be correct.
In March, retail sales expanded by the largest percentage since September 2012. Of course, a significant portion of the growth was attributed to what is known as pent-up demand, meaning consumers held back on purchasing when the weather was poor and bought items they had postponed, like cars and clothing, when conditions improved. Because that effect of pent-up demand was unique to March, April's growth was naturally weaker. But does that fully explain why retail sales growth was so anemic last month?
When retailers like Macy's (NYSE:M), Wal-Mart (NYSE:WMT), and Kohl's (NYSE:KSS) report earnings later this week, analysts will have a better picture of the health of that sector.
Even though growth was slow, economists are still optimistic about the coming months. And despite the fact that employment gains have yet to reach many sectors of the American population, most notably the long-term unemployed, the headline numbers of the April Employment Situation Report were staggering, with employers adding 288,000 jobs to payrolls.
Housing values have also continued to rise, giving homeowners more equity, while stocks are once again touching new highs. Of course, those economic gains impact a limited portion of the American public — the homeownership rate in the United States is 65.5 percent, according to 2012 census data, leaving between 35 million and 40 million renters, many of whom lost their homes in the financial crisis. Furthermore, just 54 percent of Americans own stock, according to a recent Gallup poll: That's just up from the 52 percent, a 16-year low, recorded last year.
With increasing home equity and rising stock values stabilizing the financial position of many Americans, economists expect consumer spending to further boost economic growth this year.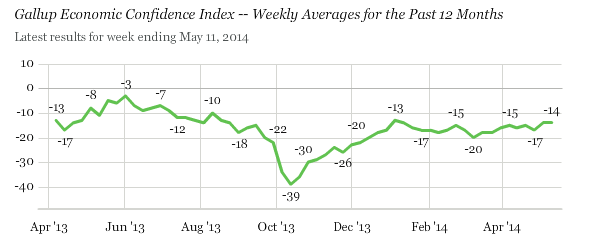 The problem is that economic confidence is far from strong. Sure, Gallup's Economic Confidence Index is posting stronger results than the reading of -65 recorded during the depths of the financial crisis or even the reading of -46 recorded during last year's partial government shutdown. And it is also true that economic confidence has remained largely unchanged so far in 2014.
But the fact remains that the index remains in negative territory,at a reading of -14, with Americans' outlook for future economic conditions growing marginally worse. The Economic Confidence Index averages how Americans rate current economic conditions with their expectations for the future, and currently, 54 percent of Americans perceive the economy to be "getting worse," while 41 percent say it is "getting better.
Dragging down consumer confidence are stagnant wages and higher payroll taxes, which affected spending patterns for lower-income earners. Over the past year, average hourly earnings rose a less-than-stellar 2.1 percent, a very small increase by historical standards. With wage growth stagnating while unemployment remains stubbornly high, households have been forced to dip into their savings in order to maintain spending. That reality can hardly be described as ideal for an economy heavily dependent on consumer spending.
More From Wall St. Cheat Sheet:
Follow Meghan on Twitter @MFoley_WSCS