U.S. Military Policy Outdated: Transgender Ban Will Be Reviewed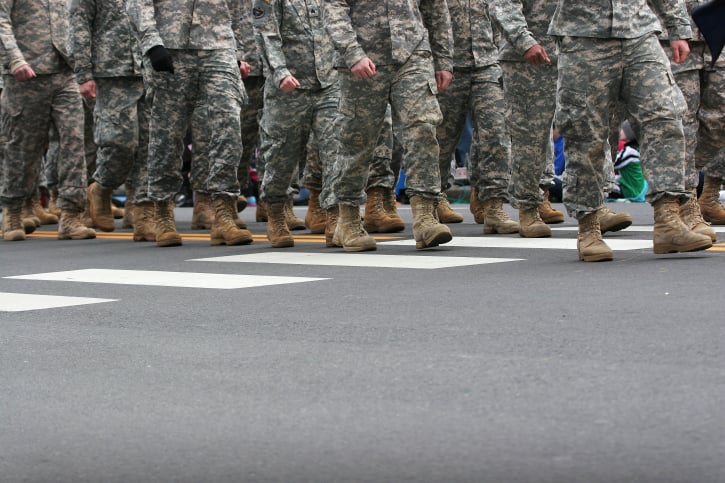 When it comes to LGBTQ issues, some would argue that transgender individuals find themselves with less awareness and support than others. When it comes to the military, this is certainly the case. While Don't Ask, Don't Tell has been ended within military service, protection rules for transgender service members or applicants are not in place to the same extent.
Progress for transgender Americans in the military has not come as far. The March 2014 Report of the Transgender Military Service Commission highlighted this, explaining that while the Military updates its regulations to stay in keeping with the Diagnostic and Statistical Manual of Mental Disorders (DSM), the universal psychology manual, it has failed to do so when it comes to the classification of gender non-conformity. The DSM no longer classifies transgender individuals as having a mental illness, but the military still does.
Secretary of Defense Chuck Hagel briefly addressed the subject recently in an interview with ABC, not long after his announcement on necessary improvement in sexual assault cases in the military for both genders. "Every qualified American who wants to serve our country should have an opportunity if they fit the qualifications and can do it," said Hagel to ABC.
According to the same study, there are approximately 700,000 transgender adults in the U.S., and about 15,450 service members who identify as transgender — 8,800 active, 6,650 in the National Guard and reserves, and 134,350 veterans. The study found a disproportionate enrollment rate from transgender Americans compared with other Americans, which the study explained as possibly attributable to either a MTF desire to lessen feminine impulses, or a FTM desire to exert masculinity.
Where Hagel and the report come into conflict is in how they define whether or not transgenders "fit the qualifications." In his interview, Hagel notes that when it comes to the disparity in service inclusiveness between gay and lesbian versus transgender individuals — with transgenders subject to dismissal without question — he said, "The issue of transgender is a bit complicated, because it has … a medical component to it. These issues require medical attention. Austere locations where we … put our men and women — in many cases, don't always provide the kind of opportunity." The report also addressed the issue of both mental and physical health requirements seen in some cases of transgenders in the service. It points out that the concern over hormone treatment and surgery requirements are not always applicable, and that many individuals need neither, while others may require hormones, but not surgery, or vice versa. "Fewer than 2 percent of transgender service members, a total of 230 individuals, would seek gender-confirming surgery in any particular year." While it notes the statistical prevalence of suicidal behavior in very high in transgender individuals, it suggests consideration of a British regulation. "Although transsexual people generally may have an increased risk of suicide, depression, and self-harm … Transsexual applicants with no history of mental health problems or deliberate self-harm who meet other fitness standards should be passed as being fit to join the Armed Forces," it read.
Most importantly, the report notes that, "Unlike other medical disqualification, which are based on modern medical expertise and military experience, transgender enlistment bar is based on standards that are decades out of date." With this, Secretary Hagel appears to sympathize. "I do think it continually should be reviewed," said Hagel of the policy regarding transgender people. "I'm open to that, by the way. I'm open to those assessments, because, again, I go back to the bottom line," that all who desire to serve and are able, should be allowed.
More Wall St. Cheat Sheet:
Follow Anthea Mitchell on Twitter @AntheaWSCS