Wal-Mart Joins the Club in Slashing 2,300 Jobs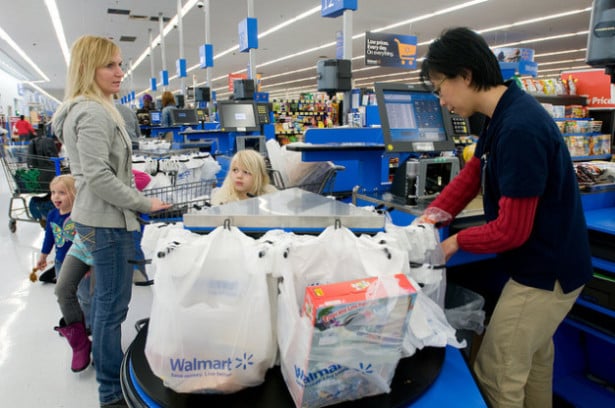 The mid-January retail report may have been encouraging for the country's biggest stores, but Wal-Mart Inc. (NYSE:WMT) is joining the club in slashing jobs to improve efficiency ahead of expansion plans. According to CNN Money, the world's largest retailer is laying off 2,300 employees at Sam's Club stores, which amounts to 2 percent of the workforce.
According to reports, the 2,300 job cuts will affect salaried assistant managers as well as salaried employees at the six hundred Sam's Club locations in the U.S. A spokesman for Sam's Club said many of the cuts will come in the stores' fresh foods section, where managerial presence will be trimmed in half, CNN Money reports. The managers will take on more responsibilities and receive higher salaries in return.
Employees forced out of work at the Sam's Club stores will have sixty days during which they can look for a job at any location of parent company Wal-Mart Those who cannot find a job will receive some measure of severance, Sam's Club spokespeople said. While the move reflects an effort to achieve greater efficiency within its operations, Wal-Mart is following the lead of the country's other big retailers.
On January 22, Target (NYSE:TGT) announced it was cutting 475 jobs as well as slashing healthcare benefits in hopes of finding savings in a period of slow growth and even decline in some locations. In addition to the 475 jobs it will shed, the nation's third-largest retailer said it would not fill 700 positions becoming available in coming months. While some of the slump at Target may be attributed to bad press following its data breach, the main issue seems to be declining retail business overall.
Financial markets cheered the mid-January retail report that showed better-than-expected growth in the fourth quarter, but companies such as Best Buy (NYSE:BBY) suffered a drop in sales despite aggressive holiday price-cutting in hopes of outflanking Wal-Mart and other competitors.
The wave of bad news hitting Best Buy and Target did not affect Wal-Mart in the same fashion. Target plans to close eight stores by spring in addition to the job cuts and reduction in healthcare benefits. Wal-Mart said it would open as many as fifteen stores by January 2015, CNN Money reports.
Best Buy stock plunged over 35 percent following its bad holiday sales report, but Wal-Mart has managed to hold steady for the six-month period leading up to January 27. At its worst, Wal-Mart has not dropped lower than 5 percent. At $74.42, it is hanging almost directly in the mid-range of its prices for the previous 52 weeks.
More from Wall St. Cheat Sheet: