Want Jobs? Congress Must Look to Highways and Bridges
Transportation in the U.S. is badly in need of repair, from highways to bridges to other major infrastructure. According to the American Society of Civil Engineer's 2013 report, the U.S. infrastructure grade sits at a D+ with an estimated investment cost of $3.6 trillion by 2020. Roads and Transit earned D's, with Rails and Bridges each receiving a C+ in transportation. A White House Report finds that 65 percent of the major roads in the U.S. are in "less than good condition," 25 percent of bridges incapable of handling the current transit demands and need "significant repair," and 45 percent of Americans do not have proper access to transit.
The report comes alongside a suddenly increased emphasis on the transportation needs in the last few weeks. The increase is a result of the soon to be expiring Highway Trust Fund, which has a few weeks before it expires. Refilling the trust fund's coffers would be possible via a tax reform, directing government income into the infrastructure repairs, construction, and upkeep. Unfortunately, while the White House has emphasized the need for Congress to pass a bill, the Legislature remains gridlocked, with the House/Senate partisan split only exacerbated by midterm elections.
What's more, while the White House may be pushing for keeping the Trust Fund afloat, it doesn't necessarily agree with any and all methods of doing so. The Obama administration specifically wants the money to come taxes to businesses by closing loopholes. "It … is the kind of thing that should earn support form Democrats and Republicans," said White House Press Secretary Josh Earnest, adding that the administration is trying to "appeal to the wisdom of members of Congress in this proposal, but also to remind members of Congress that the economic consequences for allowing the trust fund to expire would be dire."
Others in Congress are friendly to a bill that would pull the funding from a gas tax, but would keep the net tax increase flat more generally. Both are arguably related, at least based on the White House's own report. Gas expenses are very obviously related to roadway and transit system use. But for businesses that ship goods to various markets around the U.S., having transportation systems in good repair ends up being a major business issue as well; a monetary item rather than one of convenience. For example, the report states that PGE has to put around $500,000 per year to cover "additional travel time for its maintenance crews," and Nike has an added cost of $4 million every week in order to transport one to two weeks worth of supplies in case of shipping delays.
"The president believes so strongly in the importance of keeping the Highway Trust Fund solvent that we would certainly entertain other proposals," said Earnest, according to The Washington Post. "We've been very clear about what we think is the best way to do this. We'd like to see some support from members of Congress for it. But if there are other ideas that people want to put forward, [we're] open to considering them as well."
Wherever the funds are pulled from, repair and construction on the U.S. transportation system is about more than just improvement and installation. At a time when unemployment remains a major concern, it's also about the jobs that this work would create. According to The Bureau of Labor Statistics, for the month of June total nonfarm employment rates jumped by 288,000, the unemployment rate dropping to 6.1 percent — overall good news. However, the population of part time employed for economic reasons went up to 7.5 million, an increase of 275,000, and discouraged workers — workers not looking for w0rk because they do not think employment is out there — were at 676,000.  Construction was an industry hit particularly hard by the economic downturn, and remains well below pre-recession rates of employment, as you can see from the BLS table below.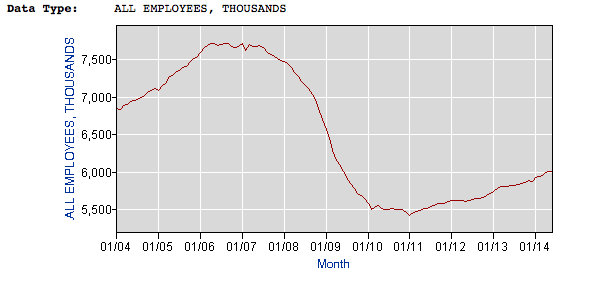 Compared to the average unemployment rate it becomes especially clear that construction saw major employment losses. "Investing in infrastructure now would not only help those workers for whom unemployment remains unacceptably high, but would also allow state and localities to address their critical needs at a time when costs for building and financing projects are very low," reads the report.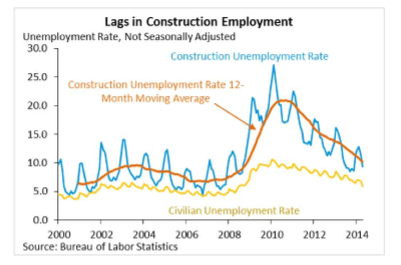 The White House report projects the number of jobs that certain investments would create, putting an enormous majority in construction, at 68 percent. Job creation is, of course, not the only concern. An increase to the Highway Trust Fund could give more hiring power, but should the fund run out — potentially as early as August — and be unable to even just maintain, job losses will take place, not to mention the infrastructure problems that will inevitably follow.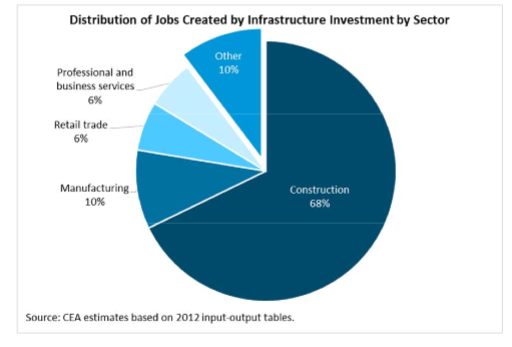 More from Wall St. Cheat Sheet:
Follow Anthea Mitchell on Twitter @AntheaWSCS