Warren Buffett's Berkshire Hathaway Bets Big on Healthcare
In case you didn't notice, the world is growing older by the day. The United States and other developed nations will see their populations age significantly over the coming decades. This will serve as a major catalyst to the healthcare sector, which has already been one of the strongest areas of the market in recent years. Investors seeking out a long-term position for this trend may want to consider one of Berkshire Hathaway's (NYSE:BRKA)(NYSE:BRKB) least-discussed holdings.
The baby boomers are fueling the changing demographics in America. In 2012, there were 22 people age 65 and older for every 100 working-age people in the country. In 2030, there will be 35 people age 65 and older for every 100 working-age people, according to a recent analysis from the Census Bureau. After 2030, the number continues to increase slightly to 36 people by 2050 — when the nation's 65 and older crowd is projected to reach almost 84 million, double its size from 2012.
"The United States is projected to age significantly over this period, with 20 percent of its population age 65 and over by 2030," said Jennifer Ortman, chief of the Census Bureau's Population Projections Branch, in a press statement. "Changes in the age structure of the U.S. population will have implications for healthcare services and providers, national and local policymakers, and businesses seeking to anticipate the influence that this population may have on their services, family structure, and the American landscape."
Investors are certainly taking notice of the growing population. A recent filing with the Securities And Exchange Commission revealed that Warren Buffett's Berkshire Hathaway added about 1.1 million shares to its stake in DaVita Healthcare Partners (NYSE:DVA) during the first quarter. Berkshire's total position in the company at the end of March totaled 37.6 million shares, worth nearly $2.6 billion. That makes DaVita one of Berkshire's largest equity positions.
The Denver-based company provides a variety of healthcare services throughout the United States and abroad. It is a leading provider of kidney care in the United States, delivering dialysis services to patients with chronic kidney failure and end-stage renal disease. As of the end of 2013, DaVita Healthcare Partners operated or provided administrative services at 2,074 outpatient dialysis centers located in the country, serving approximately 168,000 patients. The company also operated 73 outpatient dialysis centers located in 10 countries outside the United States.
DaVita continues to innovate and expand its operations. Earlier this month, the company announced that its kidney care division is now delivering hemodiafiltration treatments to select patients in Colorado Springs as part of a six-month trial program. This marks the first delivery of hemodiafiltration in the country. This new method has an extra step that is designed to remove larger toxin particles from a patient's blood supply.
"DaVita has a culture of clinical innovation which has driven second-to-none patient outcomes throughout the country," said Dr. Robert Provenzano, MD, FACP, vice president in DaVita's Office of the Chief Medical Officer. "We are constantly evaluating the efficacy of kidney care treatments and hemodiafiltration has shown potential benefits internationally."
Although Berkshire has been buying DaVita shares since 2011, and Buffett is typically responsible for the firm's billion-dollar positions, Ted Weschler is the likely buyer of DaVita. Weschler is one of Buffett's hand-selected portfolio managers and a major bull behind DaVita. Weschler joined Berkshire in early 2012, but records show that he has been investing in DaVita for more than a decade.
As the chart below shows, shares of DaVita have outperformed the broad market over the past five years. DaVita hit an all-time high of $70.68 per share on March 21 but has since remained in a tight range between $67 and $70.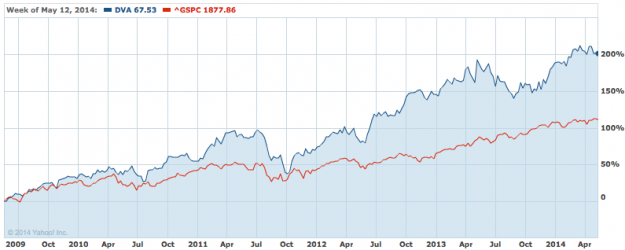 More From Wall St. Cheat Sheet:
Follow Eric on Twitter @Mr_Eric_WSCS
Disclosure: Long DVA