What Areas of America Will Suffer Most From Climate Change?
Where do you live in the United States? New York? California? Florida? Wherever you may have your roots, the newest report from the U.S. Global Change Research Program — the 2014 National Climate Assessment — has bad news for you. By taking a look at specific regions, the report highlights the changes expected and already being felt on a much more personal level. There's a difference between looking at photos of the polar ice caps melting and actually considering how your own region may be changing or may change in the future.
Of course, born of fear and an innate tendency for comparison, it seems logical to ask next, "Who is going to suffer the most?" There isn't a simple answer to that question, but there are clear areas that will have bigger problems sooner — but more on that later.
The report as a whole also explains overall and nationally relevant changes. It projects for changes in average annual temperatures expected, changes in precipitation, and retroactively notes the temperature changes as seen in the last 22 years nationwide and broken down into regions — shown below.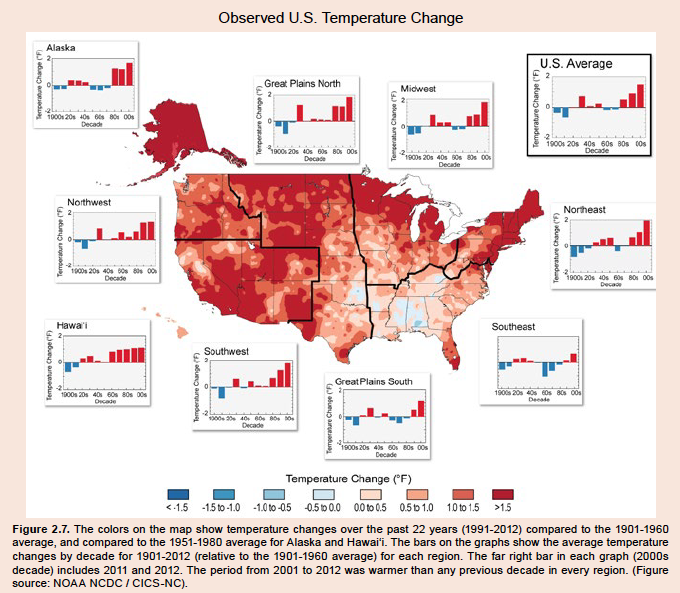 It also looks at the Northeast, Southeast, Midwest, Great Plains, Southwest, Northwest, Alaska, Hawai'i, and Pacific Islands, as well as a look at the U.S.'s coasts. What the report also allows readers to consider is a zoomed in view of each of these areas, and the effects they'll see. The report lists sea level rising, extreme heat and its effects on agriculture and health, and reduced availability of water as main concerns for the Southeast and Caribbean. It notes that big cities in the region are, in some cases, placed in positions that will make them more likely to feel the effects of extreme weather.
"The region has two of the most populous metropolitan areas in the country (Miami and Atlanta) and four of the ten fastest growing metropolitan areas. Three of these (Palm Coast, Florida; Cap Coral-Fort Myers, Florida; and Myrtle Beach area, South Carolina) are along the coast and are vulnerable to sea level rise and storm surge." It also notes that Puerto Rico has one of the highest population densities across the globe, and that over half of that population is located on the coast.
The Midwest can expect similarly extreme heat and flooding, though not from rising sea levels but instead from heavily increased precipitation that will have major effects on agriculture, forestry, transport, and other areas. It also notes that the Great Lakes, the largest surface fresh water lakes on earth, will likely see a continued rise in risks such as pollution — a concern that will majorly effect important industries in the area, such as fishing and tourism.
The report emphasized natural disasters and drought for the Great Plains regions, as well as greater possible storm surge damage for Texas due to rising sea levels. States like Wyoming, Montana, Kansas, and North Dakota will likely see extreme temperatures, with water shortages in many ares.  In the Southwest, "heat, drought, and insect outbreaks, all linked to climate change, have increased wildfires," while water supplies are likely to have their own detrimental effect on agricultural industries.
Alaska is warming two times as fast as the rest of the U.S., states the report, and marine life will suffer as a result while wildfires will become more of a problem as permafrost thaws. Hawai'i and the Pacific Islands are expected to see flooding, erosion, and tuna fishery destruction. The Northeast is expected to see infrastructure issues flooding and heat in large populations and aging cities, something the report notes is being dealt with in part with new planning. The Northwest is likely to see erosion, infrastructure issues, wildfire, tree disease, and a decrease in available water.
While each area presents its own concerns — some likely to see shortages of water while others deal with flooding or water quality issues, some dealing with fire, and others with heavy flooding from precipitation — those in large cities will likely face the most unmanageable infrastructure problems. The Environmental Protection Agency reports that the Southwest is likely to have greater air quality issues on top of that.
"For example, more than 90 percent of California's population lives in areas that violate state air quality standards … with air pollutants causing an estimated 8,800 deaths and over $1 billion in healthcare costs." Coast regions and areas with low water resources will see major issues, and some areas, such as the Sacramento-San Joaquin River Delta in California, will see major flooding — according to the EPA.
Meanwhile, as we wrote last week, the past winter's extraordinary cold and high-levels of precipitation have put the issue of global warming into the cross-hairs of the national political debate. Here's a recap:
Skeptics used the biting cold as evidence that global warming was a hoax after all; in a series discussions with Fox News, Donald Trump used the cold snap as proof that scientists are wrong, referring at one time to a global warming study being conducted in the arctic that found its ship frozen. He also bemoaned the impact environmental legislation has had on the coal industry, which is particularly relevant given the Supreme Court's recent ruling in favor of the Environmental Protection Agency's coal plant emission reduction requirements. What this whole mess really highlighted in the end was a new emphasis on word "choice," with some being more careful to say "climate change" rather than "global warming" to avoid misunderstandings from those who do not understand the distinction between climate and weather.
It should be noted that confusion over statistics and terms are not the only arguments given against climate change. There are other reasons that some disagree on just what international weather events — such as increased national disasters — are connected to the issue at large. But putting those aside, general concern and belief regarding global warming is at 39 percent for the U.S., reports Gallup. There is then a "Mixed Middle" group who ring in at 36 percent of Americans, and finally the 25 percent who say they are not worried about global warming "much or at all."
Gallup, acknowledging the recently highlighted phrasing implications of "warming" for certain groups by examining how the public responded based on party and terminology. Interestingly, the poll found that in general, 60 percent worried either a great deal or a fair amount about climate change, while 56 percent felt the same for global warming — a 4 percentage point difference that is not statistically significant. The difference is a little bit more striking when examined based on party and political ideology, but ultimately the greatest difference is unsurprisingly seen between parties, rather than between words.
Between global warming and climate change, respectively, conservatives show 37 percent to 42 percent are concerned, moderates show 58 to 64 percent, and liberals show a close 79 to 78 percent. Thirty-six percent of Republicans are concerned about global warming versus the 39 percent that are worried about climate change. Independents see 49 percent and 56 percent concern for both, and Democrats do not distinguish between the two, tied at 83 percent worried about both global warming and climate change.
A number of subsequent studies found similarly comparable responses to both terms, but did eventually see that, "Democrats and liberals are somewhat more likely to view global warming as more problematic than climate change," possibly because of the degree to which that term has been politicized and used over time compared with climate change. So while using climate change may avoid some of the problems seen this winter, ultimately reactions between the two don't really necessitate making that change in rhetoric, especially considering the long history of rhetoric surrounding "global warming."
More From Wall St. Cheat Sheet:
Follow Anthea Mitchell on twitter @AntheaWSCS