What Evils Did March's Retail Sales Report Hide?
Gallup's Economic Confidence Index is relatively stable, but well below year-ago levels; President Barack Obama's job approval rating has inched up but remains woefully low by historic standards; and Americans remain wary of his ability to craft strong economic policy. Further, U.S. employers are steadily creating jobs, but over the past year average hourly earnings rose a less-than-stellar 2.1 percent, which is a very small increase by historical standards; and, consumers have indicated a greater preference saving than spending. This set of truths that encompasses the nation's economic well-being and political satisfaction speak a great deal to the tenuous nature of the United States' economic recovery. In fact, according to a recent Gallup poll, 55 percent of Americans believe the economic outlook is getting worse, while only 39 percent believe it is improving.
"Americans' confidence in the economy has leveled off, showing little positive movement in 2014 after recovering in the latter half of 2013 from the government shutdown," noted Gallup's Justin McCarthy in the April 20 reading of the Economic Confidence Index. "While scores earlier in 2013 flirted with moving into positive territory, Americans so far this year are consistently negative on where the nation's economy currently stands and whether it is likely to improve." Of course, this is not to say confidence won't improve in the weeks to come, but whether confidence improves depends both of greater job creation, wage growth, and strong leadership. For now, the economic recovery — which is hugely dependent on consumer spending — appears to be accelerating, but it remains susceptible to minor disruptions such as this year's unusually cool winter.
Some economists have postulated that once the cooling effects of this winter's harsh weather has completely worked its way out of the U.S. economy, consumer spending will gain momentum and perhaps even post its strongest annual growth in nearly a decade. The reason for this optimistic outlook is the combination of an improving job market, the release of pent-up consumer demand, and the easing of certain government policies. After the weaker growth recorded in December and January, retail sales numbers from the past two months have show the U.S. economy to be accelerating. In February, for the first time in three months retail sales increased on a month-over-month basis, rather than decreasing. Then in March, retail sales expanded by the largest percentage since September 2012 and exceeded November's growth rate, which was the last month before the winter chill began. These strong two months have largely dispelled worries that low discretionary spending by consumers was a sign of additional structural problems with the U.S. economy.
March's 1.1 percent-increase in retail sales reflects a comparable pickup in consumer spending, a measure that accounts for approximately 70 percent of gross domestic product in the United States. Given that consumer spending accounts for such a large portion of GDP growth, stronger economic growth is closely linked with the health of the American consumer. Earlier in the year, as retail sales remained stagnant, economists postulated that the extremely cold and wintery weather was responsible for low consumer spending and the many other problems with the economy, including weak job creation. Yet, the fact remains that structural problems within the labor market are impacting the confidence of consumers a great deal, which in turn keeps employers from creating more jobs and hurts the broader economy.
"America's real job creators are consumers," economist Robert Reich — University of California, Berkeley professor and a former Labor Department secretary — wrote for the Detroit Free Press earlier in the year. "If average people don't have decent wages, there can be no real recovery and no sustained growth. In those years [following World War II], business boomed because American workers were getting raises and had enough purchasing power to buy what expanding businesses had to offer." He continued that, "Between 1946 and 1974, the economy grew faster than it has grown since, on average, because the nation was creating the largest middle class in history. The overall size of the economy doubled, as did the earnings of almost everyone. CEOs rarely took home more than 40 times the average worker's wage, yet they were riding high."
But times have changed; in 2013, for the fourth consecutive year, the real median weekly earnings for full-time workers fell slightly, while corporate profits soared. In the third-quarter of last year, the most recently available data, corporate profits accounted for 14.6 percent of national income. Except for the last quarter of 2011, it was the highest share recorded in any quarter since 1947, when economists began tracking that data. While it is not unnatural for corporate profits to increase in advance of wages, but the growth disparity between profits and earnings is by no means a new trend; it is 55 months old, meaning it is middle-aged given that the average lifespan of the past five economic expansions is 76 months. Plus, according to data compiled by the American Federation of Labor and Congress of Industrial Organizations, chief executive officers of United States-based companies earned an average of 331 times more than the American worker, and 774 times more than a minimum wage salary. For clarity, the average American worker took home $35,239 last year, while a full-time worker making the federal minimum wage earned $15,080.
Further, because income is the major determinant of spending with U.S. consumers spending roughly 95 cents of each new dollar, stagnant wage growth is keeping economic growth stagnant as well.
Snapshot of retail sales compiled by the industry trade groups — the International Council of Shopping Centers and Johnson Redbook reflect this stagnation. Both indices provide a much narrower snapshot of consumer spending habits, excluding such categories as automobile purchases, which primarily drove March's strong retail sales growth. While the overall picture of consumer spending has been one of improvement, a closer view reveals more conflicting indicators about the health of the American consumer. Sales of big-ticket items like cars and houses were strong for much of last year, likely the result of pent-up demand, but spending has generally been sluggish in retail stores and restaurants. That pattern suggests that American consumers are more confident purchasing longer-term "big ticket" items than they are increasing everyday expenditures. That is why the ICSC-Goldman Sachs and Johnson Redbook indices reveal important trends in consumer spending habits beyond these "big ticket" items.
The ICSC-Goldman Sachs index — one of the most timely indicators of consumer spending — has recorded extremely weak readings recently. While year-over-year same-store sales growth has rebounded from the recovery low of 0.0 percent hit last month, the four-week moving average remains near its recovery low, recording growth of just 1.6 percent in the week ended April 19. Same-store sales growth lost ground on a year-over-year basis, expanding at a 1.9 percent rate after the previous week's 2.3 percent rate of expansion. The index also inched up 0.4 percent on a weekly basis, a significant reversal from the 0.3 percent drop recorded in the previous week.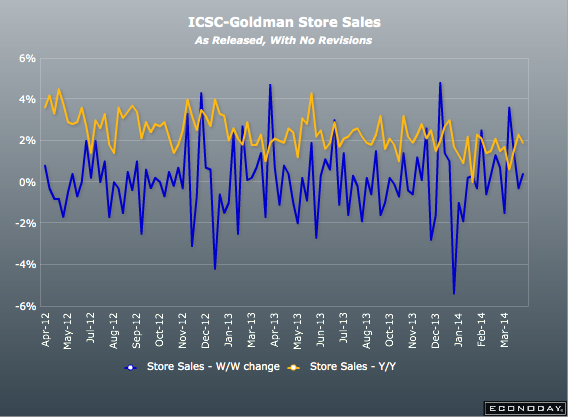 "Sales during the pre-Easter week posted a moderate gain, with retailers stepping up their promotions, but Mother Nature refused to cooperate as another bout of unseasonably cool weather hit much of the country," ICSC Chief Economist Michael Niemira explained in a Tuesday press release. "Even so, the gain marks the second straight solid performance from a yearly standpoint, good news for when the weather finally turns," he added. For April, ICSC Research forecasts that monthly comparable-store sales will increase by as little as 3.5 percent or as much as 4.0 percent, with positive contributions coming from the later Easter holiday and drag provided slow approach of warmer weather.
Johnson Redbook's weekly reading has also been trending low — although its numbers have been strong than ICSC-Goldman Sachs, especially last week. In fact, the Johnson Redbook measure reflected some strength in same-store sales during the April 19 week. The index has expanded 3.7 percent over the past 12 months, which compares with the previous week's 2.6 percent rate of growth. However, Redbook's monthly comparison pointed to lingering weakness, contracting at a 0.5 percent rate.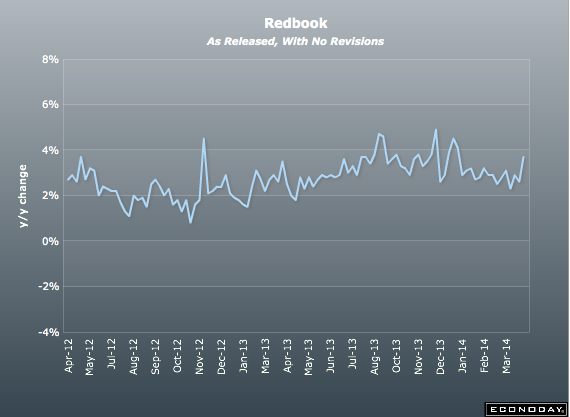 More From Wall St. Cheat Sheet:
Follow Meghan on Twitter @MFoley_WSCS