What Is the Hidden Problem With Recent Food Stamp Cuts?
The Supplemental Nutrition Assistance Program — known more commonly as food stamps — has been in smaller demand as of late as the economic situation in the United States has improved. Following the initial downturn and the beginning of the recession, there was a significant increase in applicants, as is easily seen in the graph below — provided by the Christian Science Monitor.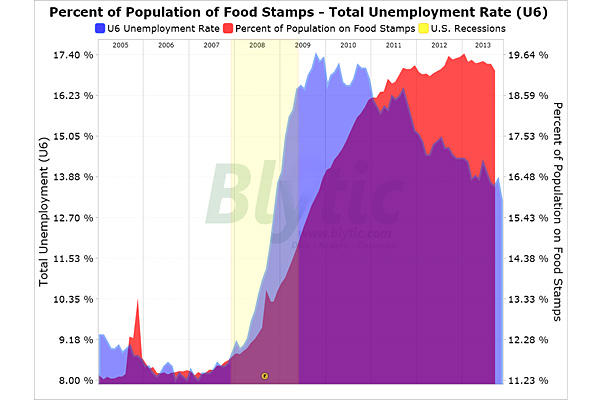 In 2012 the number of enrollees jumped to 47 million, up from the 31.9 million who were receiving stamps when President Barack Obama came into office in January 2009. Obama was promptly labeled by some as the food stamp president, with the Washington Times reporting in March 2013 that enrollment went up 70% since he took office. Whether it's fair to blame Obama for the increase is debatable. It's possible to argue — as Republicans claim Democrats too often do — that much of the demand for aid was a result of economic and job market problems inherited from Obama's predecessor.
It's arguable that by failing to mitigate the effects of poor economic performance with other policy efforts and programs, he is to blame for the dependence on social programs like SNAP. It's also been argued that these programs are in need of reform, and that without it they've grown into monsters. It seems more likely that the difficult job market conditions nation wide caused the increase, and a recent decrease is a result of the improving economy in America. Because there has been a decrease.
Compared year over year, 2013 and 2014 show the beginnings of a decrease in participants of SNAP, according to the USDA. From October 2013 to October 2014, there has been a cumulative 1.6% decrease in participants — though from September to October 2014 there was a .5% increase, so it hasn't been a continual downtrend, but, still, it's the first we've seen in a long while.
This drop is particularly worth considering given the upcoming cuts to the SNAP program. The cuts are automatic, a result of state waiver expiration. The effect, according to the Center on Budget and Policy Priorities, is that almost 1 million unemployed adults without children would be cut from benefits. "These individuals will lose their food assistance benefits after three months regardless of how hard they are looking for work," reports the CBPP, noting that many will not be able to apply for other programs, and these include some of the poorest U.S. citizens in need of aid. Of these 1 million, approximately 40% are women, and nearly 33.3% over 40. "Agriculture Department (USDA) data show that the individuals subject to the three-month limit have average monthly income of approximately 19 percent of the poverty line," reports CBPP, adding that "they typically qualify for no other income support."
The real problem is not perhaps that the benefits are cut after three months — which even the most staunch conservative would have to admit may not be long enough to find employment even at the best of times. No, the real problem is that this is true even in states that have little to offer in the way of employment, work, or training programs, CBPP reports. This means that rather than pairing a very quick deadline with employment aid — to prevent dependence or people taking advantage of the system — some states simply cut off help rapidly without facilitating more empowering individuals to no longer need aid. And while unemployment rates are falling, underemployment is still a problem. The total cost of SNAP has gone done in 2014, from 79.9 million to 73.7 million, falling below 2011 and marking a considerable decrease from the record-breaking 2013, according to a report published in January 2015.
What this ends up demonstrating is the distinct need for programs outside SNAP and the important role they take in getting people back on their feet. The population in question with this particular cut is significant in part because it includes people across age and race demographics who do not have children and who do not have mental of physical disabilities. However, many of these individuals are reported to have poor education and few opportunities, demonstrating a very clear and obvious need not being fulfilled.
This is not a surprise of course, politicians on both sides of the aisle have recognized the need to offer training and work programs for unemployed Americans for some time now, each with different preferred policy initiatives of course, but both clearly cognizant of the principle of the thing. The issue is that, with cuts like these, it's clear that what has so far been accomplished state to state is not enough, and some states in particular need more help than others.
Follow Anthea Mitchell on Twitter @AntheaWSCS
More from Politics Cheat Sheet:
Check out Politics Cheat Sheet on Facebook