What Recovery? GDP Barely Grew Last Quarter
First-quarter gross domestic product growth — or lack there of — will shine a new light on the state of the United States' economic recovery.
"Here's why I'm not so worried about Q1 GDP: The components that are weak aren't persistent, while those that are strong tend to persist," tweeted Justin Wolfers, a senior fellow at the Brookings Institution, ahead of the Department of Commerce's Wednesday release of its initial estimate of first-quarter gross domestic product growth, which is arguably the most important indicator on the health of the country's economy. But regardless of Wolfers' confidence that strong economic trends persist, the winter's harsh weather did have its expected impact on the quarter. United States GDP growth slowed to just 0.1 percent from January through March, which is the weakest growth on record since the end of 2012.
The initial estimate of first-quarter GDP is also far lower than the 1.2 percent rate expected by economists and a significant decline from the 2.6 percent rate of growth recorded in the final three months of 2013. Back in January, the Department of Commerce calculated that gross domestic product — the broadest measure of economic activity — expanded at a 3.2 percent annualized rate, with a significant increase in real personal consumption expenditures driving the growth. But upon further analysis, using "more complete source data" than was available when the advanced estimate was made earlier this year, government economists determined that consumer spending was not as strong in the fourth-quarter as previously thought, forcing a downward revision of fourth-quarter GDP.
Still, even at that lowered level, the nature of the quarter's growth suggested underlying strength in the economy, especially as consumer spending increased significantly and the pace of business restocking was not as robust as previously estimated.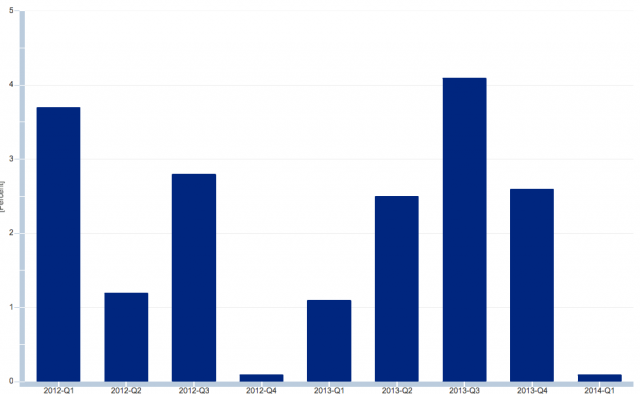 In a sense, first-quarter data proved that point. Or, as Wolfers tweeted, "It's a measure of how robust the recovery is that even an extremely weak Q1 won't revive talk of a double-dip [recession]. The recovery will continue." Consumers were big spenders in the first-quarter, propping up growth as they have for much of the recovery. But other sectors of the U.S. economy that have buoyed the recovery higher in recent quarters slumped in the early months of this year, dragging down growth, with much of the hurt brought on by the frigid winter weather. That reality left personal consumption expenditures as the single biggest boost to economic output in the first three months of the year.
Strong consumer spending is essential for the recovery of the American economy. Since government and business spending have largely remained remained weak in recent quarters, the economy has been heavily dependent on consumer spending — which accounts for approximately 70 percent of gross domestic product in the United States — to fuel growth. That key measure did slow slightly in the first-quarter, growing at a 3 percent pace — as compared to the previous quarter's 3.3 percent expansion, which was the greatest increase recorded in three years. However, while consumer spending was relatively strong in the first three months of the year, it is important to note what Americans purchased in order to gain a better understanding of the health of consumers.
From January to March, spending on goods slowed to a 0.4 percent pace, while spending on key services — like healthcare and energy — accelerated to a 4.4 percent pace. As this spending breakdown suggests, consumers are directing most of their spending dollars to immediate necessities, a pattern that has characterized much of the recovery. Still, that increase in consumer spending was good news for an economy dealing with decreasing government spending, a softening housing recovery, and months of worse-than-usual winter weather.
Comparatively, the housing sector was a significant drag on the first-quarter. The cold weather was a major culprit; in January, housing starts — a measure of residential construction — dropped to the lowest level experienced in almost three years. Yet, there are other factors at play in the slowdown of the U.S. housing market. As data from the S&P/Case-Shiller home price index of property values for February revealed, ongoing increases in mortgage rates have caused demand for both new and existing homes to slow. Rising prices and borrowing costs have also priced out many prospective buyers, and consumers still remain cautious. These factors contributed to a chilling effect on the housing market, with residential fixed investment lowering GDP growth by 0.18 percentage points in the first-quarter after contributing 0.33 percentage point to U.S. economic output for all of last year.
While consumer spending was an economic strong point, business spending was exceedingly weak. Fixed nonresidential investment decreased at a 2.1 percent annual rate in the first-quarter, a noticeable slowdown from the 7.3 percent increase recorded in 2012 and 2013's 2.7 percent jump. Spending on equipment also declined, dropping to an annual pace of 5.5 percent in the first three months of this year, which represents the worst quarter since the second quarter of 2009. In comparison, equipment spending rose at a 10.9 percent pace in the fourth-quarter. With consumers still hesitant about increasing expenditures beyond everyday necessities, keeping sales weak for a number of industries as the Federal Reserve's Beige Book report has shown, business have been equally cautious investing — especially in new employees.
Similarly, both exports and business inventories subtracted points from GDP growth in the first-quarter after substantially contributing to economic output in final three months of 2013. Net trade lowered GDP growth by 0.83 percentage points as exports lagged and the trade gap widened. Exports decreased 7.6 percent in the first quarter, the greatest decline recorded since the recession ended in 2009. Of course, March's trade data has not yet been released, and it could lead to a significant revision of GDP. The reversal in business inventory growth almost equaled the economic drag caused by the widening trade gap. In the third-quarter of last year, a large buildup in private business inventories helped the United States economy expand by an annual rate of 4.1 percent. But, in the first three months of 2014, slowing inventories subtracted 0.57 percentage point from GDP growth. Illustrating just how big of an impact that slowdown had on economic growth, stripping out inventory changes, GDP grew at a 0.7 percent rate in the first quarter.
While it has been nearly five years since the United States economy began expanding after the seventeen-month recession, in many ways, this recovery is unique and lop-sided. The stock market rally of 2013 was record breaking; home prices in many regions of the country are returning to pre-recession levels; and, corporate profits hit new highs last year and accounted for 11.1 percent of the nation's economic output. But many companies are not putting back that cash into the economy by hiring new workers. With hiring trending below pre-recession levels, leaving unemployment and underemployment exceedingly high and labor force participation near record lows, workers have little leverage to push for higher wages.
Still, the Federal Reserve has predicted the economy will expand at between a 2.8 percent and a 3.0 percent rate this year, with the unemployment rate falling to between 6.1 percent and 6.3 percent. After the release of the first-quarter's GDP figure, analysts now believe that even if growth picks up, 2014 economic growth is unlikely to surpass 3 percent. Since the recession ended, GDP growth very rarely has achieved what economists call ideal growth. Looking back to the first-quarter of 2009, when GDP decreased 6.4 percent, recent data shows the extent to which the economy has rebounded, even if the recovery has both failed to gain consistent momentum and remained slowed by historical standards. On average, the United States economy has grown at an annual rate of 3.3 percent since 1929. Generally, economists say a healthy rate of growth for GDP is between 2 percent and 4 percent.
The fact remains that the country's economy has a huge hole from which to climb out. The nonpartisan Congressional Budget Office has quantified the damage; the agency now predicts that by 2017 GDP will be 7.3 percent, or $1.2 trillion, lower than estimated in 2007, which is equivalent to more than 10 million jobs. That projection, plus the volatility of recent GDP growth, has given birth to theories that the problem is structural stagnation, and Brown University economists Gauti Eggertsson and Neil Mehrotra devoted a recent paper to the possibility that stagnation is the "new normal."
But the new normal is still very weak. "We've been living in sub-3 percent land, and people have gotten used to that as the new normal," Euler Hermes economist Dan North told The New York Times in an interview before the Commerce Department's announcement. "But it's not. It's anemic."
More From Wall St. Cheat Sheet:
Follow Meghan on Twitter @MFoley_WSCS