Where Are America's Immigrants From? (Hint: It's Not Just Mexico)
When the topic of immigration in the United States comes up, the thoughts of most Americans and politicians jump to people crossing the border from Mexico. Everyone knows that immigrants stem from all over the world, but very little focus is diverted beyond the Hispanic population in cursory discussions.
An interesting set of maps was published by Slate this week. Using data from the U.S. Census Bureau, Slate examine the most common languages used in each state, starting first by filtering out English and then filtering out Spanish.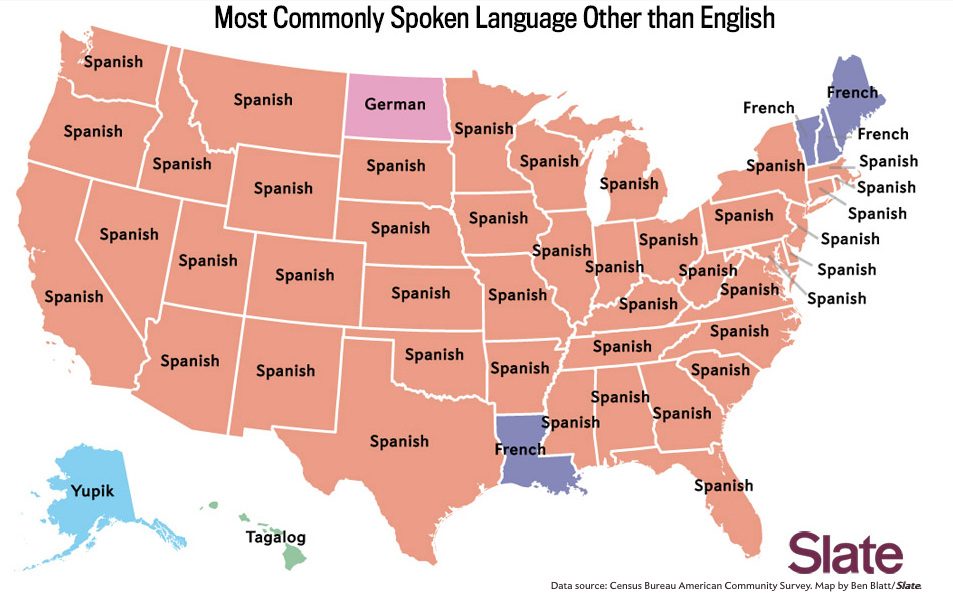 What's left revealed are those languages that often get overlooked. What you end up with is a bombardment of languages from Russian, German, and Polish to Navajo, Vietnamese, and French, as you see below.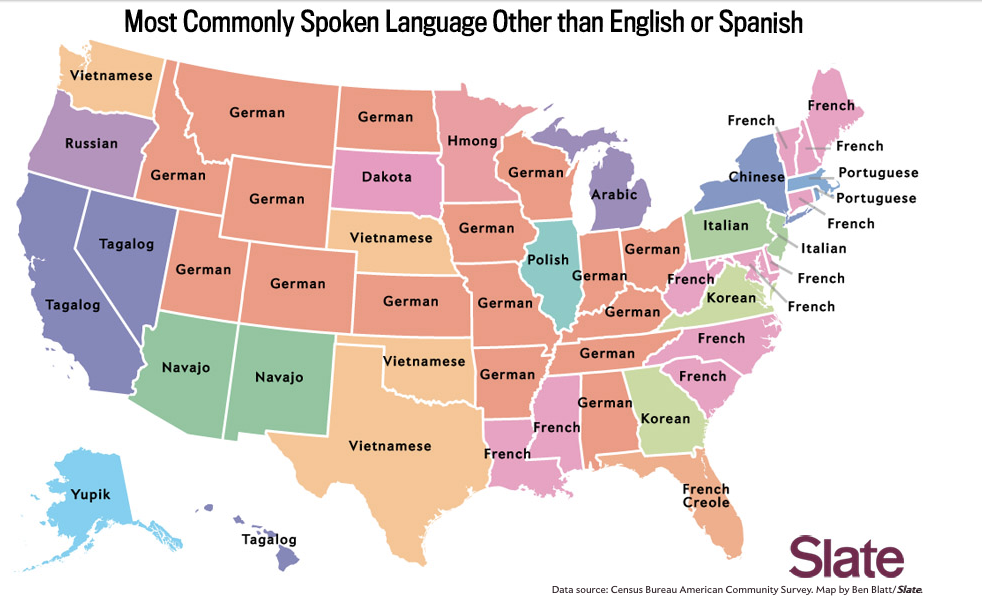 Of course, the map doesn't directly relate to immigration statistics as they are occuring today. Rather, it has an historical aspect to it as well; we see Navajo being spoken most in states like New Mexico — hardly an immigration topic — and the prevalence of French along the east coast likely reflects an entrenched statistic rather than recent immigration there. Even so, Slate's maps act as a good reminder of just how varied and eclectic the U.S. population is — and when you look at actual immigration statistics, it's clear that modern day influx is equally varied. Let's take a look at the breakdown.
According to the U.S. Department of Homeland Security's Office of Immigration Statistics, 2012 showed a total of 1.03 million legal immigrants with permanent resident status, with 11.4 million unauthorized immigrants estimated for January 1, 2012, in a separate report. In terms of legal residents, the vast majority are from Asia, a total of 429,599, compared to the second greatest region, North America, at 327,771. The largest country of origin for legal immigrants is predictably Mexico with 146,406 in 2012. Excluding that stat — and overwhelming it when combined — the largest numbers come from China, at 81,784, followed by India and the Philippines at 66,434 and 57,327 respectively.
What's interesting and often unrecognized about America's immigrant population — politicized as it often is — is that the population is considerably more diverse than it was fifty years ago, at least according to The Center for American Progress. Back in the 1960s, 75 percent of foreign born residents were from Europe, leaving 12 percent from outside the region.
Comparatively, in 2010 the center reports a large portion, 29 percent, were from Mexico. That's still hardly comparable to a 75 percent majority; 2.2 million came from China, 1.8 million from India, 1.8 million from the Philippines, 1.2 million from Vietnam, 1.2 million from El Salvador, and 1.1 million from Cuba and Korea respectively. That's considerably more diversity in America's foreign-born population, which includes a wider variety of statistics than just examining illegal immigrants.
The CAP also noted that "immigrants today are putting down roots across the United States, in contrast to trends we saw 50 years ago." Specifically it says that in 2010 two out of three states had over 5 percent of their population made up of immigrants. While the '60s showed a concentration of immigrants in the Northeast and Midwest, 2010 showed an enormous shift in concentration to the West and South.
In 2012, California had the highest number of illegal immigrants, at 2,820,00 — 25 percent of the total illegal immigrant population according to the U.S. Department of Homeland Security report. Texas followed after with 1,830,000, and Florida and New York took third and fourth. The Migration Policy Institute shows similar high concentrations of immigrants, looking at both legal and illegal populations, totally 10,105,000 in California and 4,099,000 in Texas. Of California's immigrants, approximately 6.6 percent were from Europe, 36 percent from Asia, and 50 percent from Central America. New York showed approximately 18 percent from Europe, 27 percent from Asia, and 12 percent from Central America.
Immigrants' reasons for coming to the United States are as varied as the populations and the regions they arrive in. The most common immigrant statistics considered deal with illegal immigrants — which makes sense if your interest is political or policy-based. But when examining the overall makeup of the U.S., it's important to also consider other groups for a full picture. For example, the Migration Policy Institute looked at America's largest diaspora groups in 2011 — meaning groups not necessarily born in another country, but having cultural heritage or roots there and having been forced to leave for social or economic reasons. German Americans made up the largest group when broken down in that sense, followed by Irish Americans and Mexican Americans.
That said, it's difficult to keep the discussion entirely out of politics. The Obama Administration has discussed immigration as it applies to skilled workers and scientific and technological growth, saying America needs to attract that kind of talent from overseas in order to make competitive strides across industries. The Center for American Progress estimates that 68 percent of the U.S. foreign-born population had a GED, high school diploma, or above in 2013, well below the U.S. norm. However it also showed an advantageous 11 percent holding a master's, doctorate, or other professional degree over the native born 10.2 percent.
"When President Obama and I met last month wit the new Presidential Ambassadors for Global Entrepreneurship, these top entrepreneurs spoke passionately about the contributions of immigrants and the importance reform for growing our economy," said U.S. Secretary of Commerce Penny Pritzker, saying they'd "agreed that we undermine our economic competitiveness when we make it harder, not easier, for talented immigrants to stay here and contribute to our economy."
In the past, the argument has even been made that America may be reducing its own security by limiting hiring capacity when it comes to foreigners in the defense industry. "For the most part, in defense we are not permitted to hire foreign nationals. I cannot help but wonder if hobbling our ability to hire top scientists, mathematicians, programmers, and engineers who happen to have been born on foreign soil doesn't carry national security risks of its own," said Linda Hudson, chief executive officer at BAE — an international defense contractor — according to The Washington Post.
More From Wall St. Cheat Sheet:
Follow Anthea Mitchell on Twitter @AntheaWSCS