Where Did Liberal Interests Survive Republican Election Sweep?
Following the midterm election results, with Republicans overwhelmingly taking the majority in both houses of Congress, many liberal Democrats have been in a mourning of a sort. The necessity or purposefulness of this disconsolate state is debatable; after all, there's no guarantee that a split Congress would have accomplished more than a solid red Congress, and there's a chance that leaders in the GOP and President Barack Obama can find common ground and pass important reforms.
But the news wasn't all bad for Democrats this week — far from it. A shocking number of liberal initiative passed this week in parallel with the election loss that should have left leaning interests celebrating. From marijuana legalization, to gun control, four major items passed in favor of leftist stances.
America's current atmosphere calls to mind something Kurt Vonnegut continually referenced in his novel, Mother Night. He often describes characters who believed one thing, but acted on another; for example claiming someone a friend, but betraying them to the Russian government. He referred to this as an "attack of schizophrenia." But in ways electing a Republican Congress while voting in favor Democratic policy initiatives isn't so shocking; frustration with the Senate as it was before elections need not conflict with a more socially liberal stance.
In other words, passing a pro-gun-control initiative in favor of background checks in Washington does seem to clash with the number of Republican campaign ads with candidates blowing away everything from a TV to a stack of Obamacare legislation. Background checks
In Washington, former New York Mayor and businessman Michael Bloomberg, a major gun-control advocate who has poured a great deal of funding into becoming the NRA's antithesis, successfully launched a campaign for background checks on gun purchases. His organization, Everytown for Gun Safety, made a statement following the victory, saying, "something extraordinary happened on Election Day that all of us can and should be proud of: Washington State has become the first state ever to close the background check loophole by popular vote."
Washington is considered by some to be a test run for the legislation which may now spread to other states with the efforts of Bloomberg and his various organizations and funding. According to RT, the NRA's Catherine Mortensen voiced concern about the initiative prior to its passage, saying, "If he (Bloomberg) is successful in this ballot initiative in Washington, we are very concerned that he will replicate this across the country."
Marijuana legalization
Voters in three states chose to legalize marijuana, with initiatives passing in Alaska, Oregon, and the District of Columbia. In 2016 a number of other states will add it to their ballots, including California, Massachusetts, Maine, Nevada, and Arizona. Many states allow for legal medical marijuana, shown cleverly in the Washington Post's map below alongside data on same-sex marriage, another major legalization effort at the state level.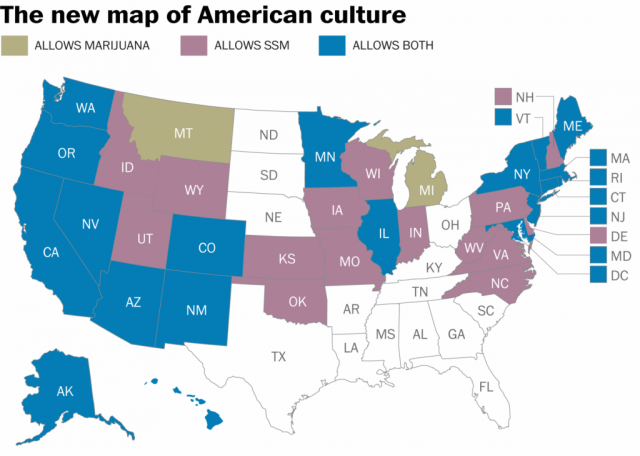 The new pro-pot legislation allows for production and sale for those over 21, with tax laws and regulation added in. Alaska is an interesting exception, because while D.C. and Oregon are both known for having liberal voters, Alaska is historically a strongly red state. Minimum wage
While President Obama's ill favor may not have been good news for many senatorial candidates running on a Democratic ticket, that hasn't stopped states from pursuing his highly public efforts for a higher minimum wage at the local level after Congress failed to pass wage legislation.
This includes a number of right leaning pro-Republican states, with ballot initiatives passing in Arkansas, Nebraska, South Dakota, Alaska, and in both Oakland and San Francisco, Calif.
Proposition 47
California also saw a Democratic victory with the passage of Proposition 47 in California. The initiative made it so that drug possession and non-violent crime charges would no longer be considered felony charges, instead reduced to misdemeanors with considerably lighter sentencing.
"They were felonies yesterday. They're misdemeanors today. This is the law now," said Los Angeles County Public Defender Ron Brown to the LA Times. The result of the law change will be a major reduction in prison population as drug users are released rather than imprisoned. Some have voiced concern that it will lead to fewer forced rehabilitations and that addicts in need of drug rehab may not have as easy a time.
"I can't say I agree with Proposition 47. It should have mandated treatment," LA County District Attorney Jackie Lacey told LA Times. "Most of the oney from the initiative will go to mental health and substance abuse treatment, but how we will get people to accept that treatment is the question." Still, overall the passage was a victory for liberals and will go a long way toward changing the way laws handle drug abuse and addiction.
More from Politics Cheat Sheet:
Follow Anthea Mitchell on Twitter @AntheaWSCS