BREAKING: Obamas Purchased House in Asheville, NC for Post-Presidency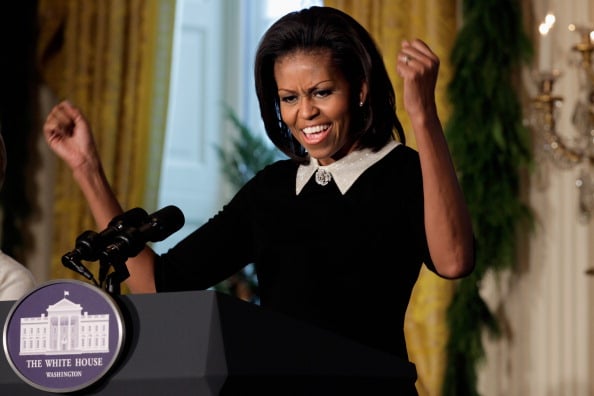 Sources have confirmed the Obamas purchased real estate in Asheville, NC. The White House has not yet confirmed.
It seems all the bookmakers sending the Obamas to New York City or back to Chicago after the end of the President's second term are wrong by a few thousand miles.
A source close to Wall St. Cheat Sheet has confirmed that the Obama family have purchased property in the city of Asheville in North Carolina as a post-Presidency residence. A call to get an official confirmation from the White House wasn't immediately returned.
The President discussed retirement there last year during his trip to North Carolina during a speech in Asheville. "Love coming to Asheville," said Obama. "Michelle and I always talk about how after this whole presidency thing, we're looking for a little spot to –" here an audience member said, "Come on down" — "Come on down? Play a little golf, do a little hiking, fishing, barbecue," said Obama. "There's two things that keep bringing me back here. Number one is I really like the people. And number two is 12 Bones, which I will be stopping on the way back to the airport." On the one hand, a smaller city like Asheville doesn't offer the same enormous population to lose oneself in as does New York or Chicago. On the other, the president and his wife clearly like the area.
"The president first visited the Asheville area during the campaign, and he liked it so much that he vowed to take his family there. The president and first lady are planning to spend a quiet weekend enjoying some of the many things this beautiful part of the country has to offer," reported the White House. This, of course, led to a great deal of "vacation like the president" slogans from the city's tourism industry. "Find out for yourself what makes the Asheville area a vacation destination worthy of a president!" reads an Asheville Chamber of Commerce posting.
However, in the past few days, more than one possible retirement location has been batted around. Some expect to see the family head back to Chicago where Obama taught law and served during his time as a senator. He also worked there as a community organizer and has called the city home for a good chunk of his life. "Whenever I come to Chicago and I see great friends, it reminds me of why I got into politics — because a lot of people here played a role in me becoming a state senator, becoming a U.S. senator, and ultimately becoming president," said Obama in a speech in Chicago last month, joking about his changed appearance: "So the job has been wearing me down a bit, I admit, grey hair and all that."
As friendly and positive as the speech was about his old stomping grounds in Chicago, that right there might be one reason not to head there when his tenure is up. According to Politico, friends of the president were told he might be headed for New York City where a greater degree of privacy might still be possible. Valerie Jarrett, senior adviser and confidant, said that the president missed walking on the city streets, forced now to take limousines and make careful stops. "What he cherishes and misses is the serendipity — you don't know who you're going to bump into or what they're going to say. He hungers for that. It's on us to make sure he has more of those moments," said Jarret to Politico. 
Ultimately, the choice may also be out of Mr. and Mrs. Obama's hands, and in their daughters'. Their youngest daughter, Sasha, now 12, will likely have a major influence on the move, according to Obama. "We've got to make sure that she's doing well … until she goes off to college," he told ABC. "Sasha will have a big say in where we are … Obviously they — and Michelle — have made a lot of sacrifices on behalf of my cockamamie ideas, the running for office and things," he said humorously. So it's entirely possible the family with remain in Washington, D.C., where Sasha is presently enrolled in school.
Of course, many former presidents have summer homes around the country apart from their primary residence. George W. Bush lives in Dallas, Texas, but spends a great deal of time at his ranch in Crawford. This is not an uncommon practice for retired presidents and their families, and is another possible explanation for the property in Asheville. Given their daughter Sasha's schooling, it may also be a home bought in preparation for when the couple finds themselves with an empty nest a few years down the road.
More from Wall St. Cheat Sheet:
Follow Anthea Mitchell on Twitter @AntheaWSCS