3 Countries With the Worst Records on LGBT Rights
The United States has improved by leaps and bounds when it comes to LGBT policy and protections. Which isn't to say that the U.S. doesn't have a great deal of work in front of it, and not just on LGBT rights, but on civil rights and equality in general. Michigan, in particular, has been in discussion about some highly volatile legislation with the Religious Freedom Restoration Act, which has some rather severe LGBT implications and would allow discrimination against individuals whose sexual orientation clashes with the religious belief of business owners, medical personnel, and so on.
Still, in 35 states, same-sex couples have the legal right to marry, and in 10 other states, marriage has been ruled in favor of and is being appealed. There is a great deal of work remaining, but there are a number of signs both politically and socially, in terms of how American culture has changed and developed in the last few decades. Even conservatives and religious groups have made initial moves toward acceptance of same-sex relationships. Internationally, this can be said for many other countries as well — and one needs only look to the Catholic pope to see that religion is re-branding in a big way. But setting aside America's progress so far, let's take a look at nations that have a great deal of prejudice and legal inequality still in place — those countries that still need progress toward equality and safety of all citizens.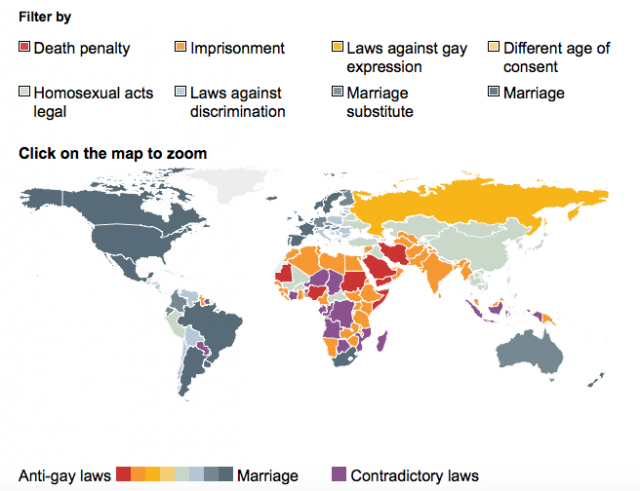 First of all, looking at countries with the worst legal and social conditions for members of the LGBT community can be done in a few different ways. BBC has a good classification of countries by legal stance, as displayed in the map above, color coding based on those nations with the death penalty, imprisonment, and laws that forbid expression of anything but hetero-normative sexual orientation.
Russia
Russia in particular has been the target of international criticism for its prohibition of publicly gay acts, demonstrations, or "propaganda." While certainly not the worst nation in terms of LGBT policy by any means, it did garner a great deal of attention for its stance because of its public position during the Sochi Winter Olympic games, and recently from a Human Rights Watch (HRW) report outlining the problems taking place in Russia. In particular, abuse, attacks, and harassment of members of the gay community in Russia are going unpunished, with a culture of "victim blaming" running rampant.
"Instead of publicly denouncing anti-LGBT violence and rhetoric, Russia's leadership has remained silent. In some cases public officials have engaged in explicit anti-LGBT hate speech," reads the HRW report. Ukraine and Moldova have historically approached those kinds of laws that ban LGBT "propoganda" — i.e. any showing of support or public affection for same-sex relationships or gender identification. However, Ukraine ultimately didn't pass these laws, and though Moldova passed one, it was then repealed later.
Saudi Arabia and the Middle East
As is only too apparent on the BBC's map, many countries in the Middle East still have the death penalty in place for gay, lesbian, or transgender citizens. This is not surprising when one considers the governmental structure of a nation like Saudi Arabia, which is an Islamic state and an absolute monarchy, where the religious viewpoint on homosexuality has great influence — as it often does in the United States as well. Iraq and Iran both are listed by the International Gay & Lesbian Human Rights Commission (IGLHRC) as two countries of particular concern for their laws regarding same-sex relationships. "Most of our work on Iran and Iraq has involved emergency response to arrests and executions, such as when we joined other human rights activists in demanding a halt to the execution of Makvan Mouloodzadeh," said the IGLHRC in a statement.
India and Northern Africa
Recently India jailed a man for being gay following a ruling from India's Supreme Court against a high court decision, which cut down a law that made sexual relations between same-sex couples illegal and punished with life imprisonment. "It is so tragic that in an era when science has proved that sexual orientation is not a vice, society should be forcing zebras to be horses," said Dr. Vivek Benegal, Prof. of Psychiatry at the National Institute of Mental Health and Neuro Sciences, to the BBC.
Northern Africa has a long strip of nations where imprisonment is also the norm for those caught with differing sexual orientations, including Morocco, Algeria, Tunisia, Libya, Egypt, Senegal, Guinea, Sierra Leone, Liberia, Ghana, Togo, Cameroon, and a number of others spreading South down the continent. Mauritania, Sudan, and Nigeria all have the death penalty for same-sex relations. According to 76 crimes, a site for LGBTI support, there are arguably  78 or 79 countries in which homosexuality is criminalized.
More Politics Cheat Sheet:
Follow Anthea Mitchell on Twitter @AntheaWSCS
Check out Politics Cheat Sheet on Facebook