Why Are Foreign Muslims Joining ISIL?
Recently, the Federal Bureau of Investigation posted a video from the Islamic State of Iraq and the Levant (ISIL/ISIS) alongside a request for information. "We need the public's assistance in identifying U.S. persons going to fight overseas with terrorist groups or who are returning home from fighting overseas," said Counterterrorism Division Assistant Director Michael Steinbach. The video in question, linked here on the FBI webpage, shows a man speaking with what is thought to be a North American accent.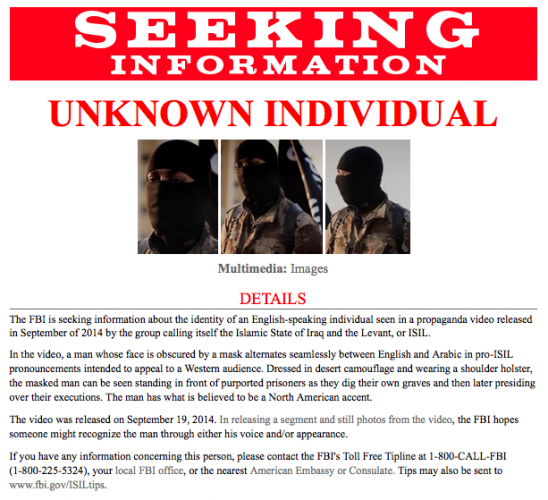 The video is just one example of foreign-born ISIL loyalists leaving their own countries to fight on the side of of extremists in Syria and Iraq. Saturday saw an American teenager, Mohammed Hamzah Khan of Illinois, arrested at the Chicago O'Hare airport just prior to boarding a plane to Turkey where many foreigners have been traveling as a way into Syria and Iraq.
"There is a capability to recruit people and inspire them by a terrorist organization without them ever having to go to a terrorist camp or to get an order directly from somebody in command in a terrorist organization right here at home," said Homeland Security Secretary Jeh Johnson.
Where Are Foreign Extremists Coming From?
Radio Free Europe has accumulated available data from various nations to give a rough estimate of the number of foreign fighters entering Iraq and Syria and where they come from. Most are coming from Morocco, France, Tunisia, the UK, Turkey, Saudi Arabia, Jordan, and Lebanon, but the United States, Germany, Russia, and many others have contributed hundreds as well, as is clear on the RFE map here.
The United States is not the only nation with citizens who have left in order to join the extremist group; 18-year-old Salma Abdel left her family in Paris to cross the Turkish border into Syria in July, along with 2,000 other young Europeans, according to The Christian Science Monitor. This pattern has left many asking why young Americans, French, Germans, Canadians, and others outsiders would want to join such a violent and extreme cause located so far from their home. There are a few ways to answer this. The first is to look at each individual as he or she is driven by their own motives.
Why Do Individuals Want to Join ISIL?
For Abdel, her brother claims she was manipulated using photos of suffering Syrian children. According to ABC, Khan left a letter to his family, saying that, "My dear parents, there are a number of reasons I will be going to the blessed land of Shaam and leaving my home … We are all witness that the western societies are getting more immoral day by day. I do not want my kids being exposed to filth like this."
CNN interviewed a number of young men who have left their homes for Syria to join the jihad, including 25-year-old Abu Anwar from Britain. "I'm from the south of England. I grew up in a middle class family. Life was easy back home. I had a life. I had a car. But the thing is: You cannot practice Islam back home. We see all around us evil. We see pedophiles. We see homosexuality. We see crime. We see rape," said Anwar. "If I come back home, it will be when the black flag of Islam is flying over Downing Street. I know some people have the intention of come back to do attacks. But me personally, I only have the intention of coming back as a conqueror."
What Do the Experts Say?
Hearing personal explanations is predictably highly laced with religious ideology and extremist viewpoints, but it doesn't always get at the core of the issue. Why do these ideas appeal to so many young individuals, and how are they drawn into these groups? The answer is a mix of excellent social media organization and outreach as well as propaganda.
"The general picture provided by foreign fighters of their lives in Syria suggests camaraderie, good morale, and purposeful activity, all mixed in with a sense of understated heroism, designed to attract their friends, as well as to boost their own self-esteem," writes Soufan group president Richard Barrett. Religious motivation is a given, and Barrett points out that, "The individual obligation to help a Muslim community that is under attack, which has constituted the central narrative of Islamist extremism since the earliest days of al-Qaeda in the 1990s." Of course, ISIL has been violently attacking Muslims itself, but propaganda would paint a different picture. The idea of a jihad has long motivated extremist groups, and "the opportunity and desire to witness and take part in a battle prophesized 1,400 years earlier is a strong motivator."
The International Centre for the Study of Radicalisation and Political Violence (ICSR) estimated between 200 and 350 British citizens had left with plans to join the fight on the side of ISIL. The group used the term "ummah consciousness" to explain why British Muslims choose to join in extremist efforts. Similar to what the Soufan group described, it refers to the idea that Muslims "belong to a global fraternity where issues such as loyalty and allegiance are defined through confessional identity (rather than a civic one). Some Muslims may, therefore, feel obligated to defend their 'brothers and sisters' in Syria."
The group also highlighted Britain's "lack of counter-narrative" because both the West and jihadists in Syria argue that Syrian President Bashar al-Assad has done terrible things to his citizens. This alignment of thinking creates common ground to work off of, and familiar viewpoints to home.
This propogandistic appeal to vulnerable youth members of the Muslim community highlights the need expressed by many, including President Barack Obama, for Islamic leaders to offer direction and alternate religious guidance to what extremists are so quickly and efficiently pouring into media channels. Misinformation and single-minded violence are not the sole message the Islamic community has to offer, regardless of what Bill Maher might argue.
Follow Anthea Mitchell on Twitter @AntheaWSCS
More from Politics Cheat Sheet: