Why Did Obama Go to Michigan to Talk About the Minimum Wage?
President Barack Obama headed to Ann Arbor, Michigan Wednesday to make appeals on his minimum wage increase. The pay raise has been heavily on his agenda since he announced his intention to push for an increase at his State of the Union Address — and as promised then, he has begun making use of the power of the pen recently when it became clear that Congress wasn't going to hop on board just yet. He upped minimum wage for federal employees, and made changes to overtime rules. His administration has also been emphasizing the benefits that women would see with such a change, and the fact that it would aid in narrowing the pay gap between genders, saying that, "Increasing the minimum wage to $10.10 an hour and indexing it to inflation could close about 5 percent of the gender wage gap."
Now, in Michigan, Obama emphasized Ford's major increase in payment for his workers, referencing Ford's belief that workers perform better when paid fairly. Obama has been encouraging states themselves to go for the increase as Congress has been emerged in controversy over possible unintended effects on the job market or economic considerations. According to a white house released map using population survey data and CEA calculations, Michigan's workforce would have a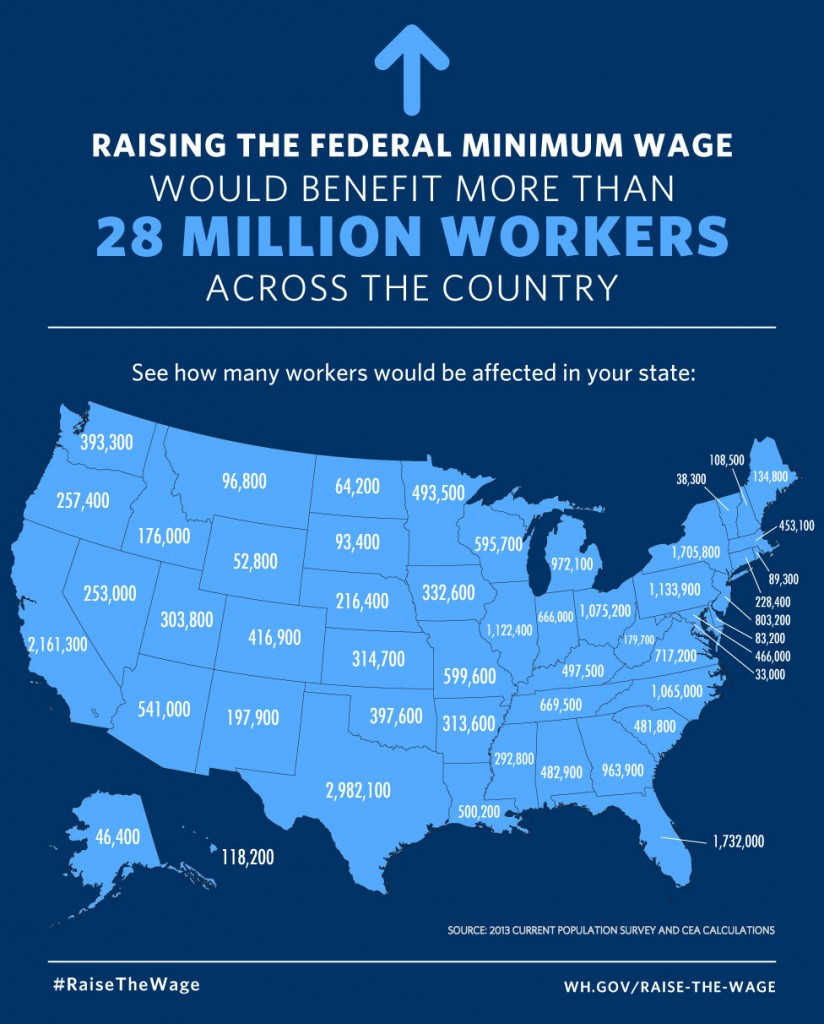 Michigan also has a fairly hefty unemployment rate, at 7.7 percent in February of 2014, low compared to 2013 and 2012, which were more in the 8 and 9 percent range, according to the Bureau of Labor Statistics. It is perhaps for this reason that Michigan was chosen as a place to push the agenda. While the state senate is highly Republican and largely against a minimum wage increase, according to The Washington Post, potential could be seen in Democratic grassroots movements, demanding higher wages.
Michigan's Detroit Free Press conducted a poll recently, asking 600 likely voters on March 9 whether or not they would support a minimum wage increase from $7.40 to $10.10. Based on the results, which had a 4 percentage point margin of error, a hefty majority would be in favor of an increase, at 65 percent, compared to 32 percent who would oppose it, whereas 3 percent who were uncertain.
President Obama's visit, and the poll, gain new significance when considered in light of the "Raise Michigan" ballot committee that has been working to get 258,000 signatures by May 28 on a ballot that would seek to raise the minimum wage via a legislative initiative, according to The Detroit Free Press. Should Michigan's legislature not address the act in a 40 day period, the petition would then go to voters in November — where sentiment appears to be on the side of a hike to $10.10. Frank Houston, treasurer of Raise Michigan, told The Detroit Free Press that another poll showing heavy support across Democrats and Independents was an encouraging sign. "I think it shows the public is really overwhelmingly behind raising the minimum wage," he said, noting, "a broad amount of support across every subgroup. I think it shows we're starting in a good place," he said.
More From Wall St. Cheat Sheet:
Follow Anthea Mitchell on Twitter @AntheaWSCS