Why Do We Spy on Our Allies?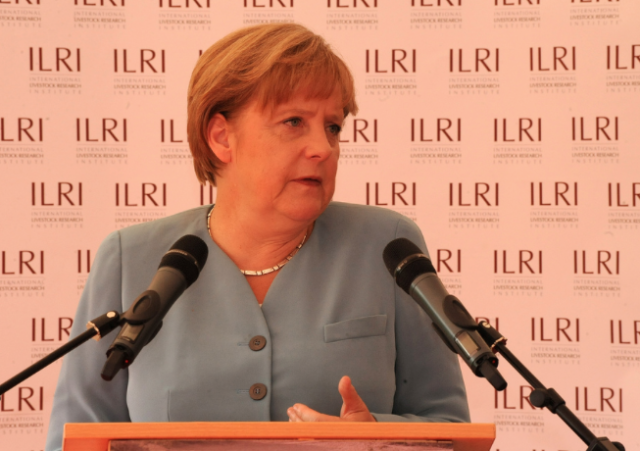 With allegations of a second American spy being caught in Germany, Chancelor Angela Merkel — who has herself dealt with NSA cell phone tapping — said she is "not amused" by the possibility, according to The Associated Press.
Governmental espionage is a necessity of international relations that stretches back to the earliest civilizations, but it's one that has changed an incredible amount in even just the last few decades. A great deal of that has to do with the way that technology has changed spying as it used to be known, both within the U.S. — as former NSA contractor Edward Snowden demonstrated — and outside it. For one thing, it has made it intelligent operations conductible in a million more ways, many from a computer terminal. We now have spying via drone technology; email, text, and messaging surveillance; cyber warfare; the list of new ways to go about intelligence gathering is endless. As Snowden discussed recently, a phone and a laptop are not just a phone and a laptop. They can tell you a great deal about a person, and remote accessing is akin to a push lock, not Fort Knox.
China is a perfect recent example of espionage as we now see it in cyberspace. In May, Chinese military was accused by the U.S. Justice Department of committing cyber espionage attacks against the U.S. The economic nature of the attacks in particular was what incensed the United States. Companies including Alcoa, U.S. Steel, Westinghouse, Allegheny Technologies Inc., and SolarWorld were thought to be targeted. Perpetrators stole information on intellectual property, blueprints that could be used to cut research and development costs for competing companies, business plans — all of which could be used to give other commercial interest an edge. In response to the U.S.'s accusations, China made some of their own. Chinese Foreign Ministry spokesperson Qin Gang claimed that the U.S. had committed "cyber theft, wiretapping, and surveillance activities … cyber intrusion," as well as "wiretapping and surveillance activities against Chinese government departments, institutions, companies, universities, and individuals."
Months ago, former NSA and CIA director Michael Hayden spoke in an interview with Spiegel and addressed the fact that America has been accused of militarizing cyberspace. He pointed out that American cyber security experts, when surveyed, all named China as their greatest fear in cyberspace. Considering the chilly recent history with China, an intense espionage program targeting the People's Republic seems a logical choice on the part of the U.S. But the current tensions with Germany over spying draw attention to the fact that America has eyes in places we would consider allies, or even "friends," so far as that term applies in the cynical and cut throat world of politics.
Allegations have arisen, and according to RT, been confirmed by two unnamed CIA officials, saying that a German man working with Germany's intelligence agency (BND) was found to be an American double agent, passing information from German intelligence back to the U.S. There has since been a second accusation of a second possible spy. Finance Minister Wolfgang Schäuble – formerly a top security official — said that if the investigation proves it to be true, "that's so stupid that one can only cry at the foolishness of it." The intelligence monitoring is, at least according to German President Joachim Gauck "really a gamble with friendship, with a close alliance," and German rhetoric on the discovery has been strongly critical of the U.S..
White House press secretary Josh Earnest has, during three separate press conferences, declined to comment on the allegations, explaining that is is common practice for the administration not to comment on intelligence matters. He did say that, "The relationship that the United States has with Germany is incredibly important. This is a very close partnership that we have on a range of security issues, including some intelligence issues … So we're going to work with the Germans to resolve this situation appropriately."
German Chancellor Angela Merkel has also been quite vocal regarding the scandal fallout on the German-American relationship as well. The German government, and Merkel specifically, have faced a great deal of difficulty as a result of American espionage scandals over the course of the last year or so. There was Edward Snowden's release of documents outlining U.S. spying abilities, which a former senior U.S. intelligence official told The Washington Post that it "made them look incompetent" and has led to political pressure.
There have been talks of a "no spy" accord between the two nations, however, the Obama administration has not been friendly to the idea. Additionally, investigations are being made into the NSA's tapping of Merkel's phone, an issue the Chancellor has brought up in person to President Obama.
When one considers the degree of intelligence surveillance that takes place in the United States itself — something we understand better given the latest documentation on NSA capabilities — it's hardly surprising that the U.S. would place intelligence on an outside, if allied, country. The U.S. doesn't even trust its own internal security, much less an outside force, and once an ally does not mean always an ally.
Having said that, what is surprising is the U.S.'s willingness to risk its relationship, especially given its already questionable reputation as a bully that abuses the long arm of its power. "It's [the espionage scandal] causing disruption in the relationship," admitted on U.S. official to The Washington Post. "The Germans are pretty upset about it." Just Thursday it was announced that the U.S. intelligence reperesentative was being asked to leave the German U.S. Embassy and the country.
When asked why the U.S. would want to spy on Germany, William Engdahl, a well-respected geopolitical analyst and strategic risk consultant said explaining the choice is difficult. "It is unclear. They are spying on so many absolutely idiotic targets," he said, in an interview with RT. "My experience with agencies of the federal government in Washington is that yes, they have certain strategies on a certain level. On the other hand, it is bureaucracy run amok, a kind of self-perpetuating itself through justifying its budget."
More From Wall St. Cheat Sheet:
Follow Anthea Mitchell on Twitter @AntheaWSCS