Why Has Veteran Healthcare Grown Worse During Obama's Presidency?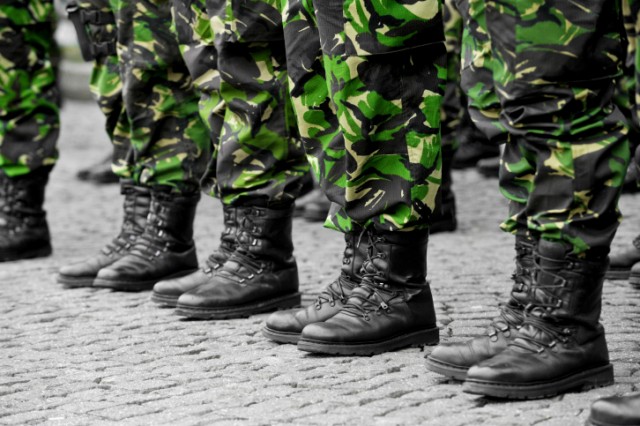 Senators questioned Secretary of Veterans Affairs at length on Thursday regarding the alleged malpractice taking place at VA clinics throughout the country; and while it lasted more than three hours, the greatest revelation to come out of the hearing was that Secretary Eric Shinseki was angered by the accusations. Yet, he maintained that the veterans healthcare system is "a good system." That comment, combined with the generally dispassionate tone in which he read his prepared statement to the assembled lawmakers, presented a confusing defense. Unsurprisingly, lawmakers were left split over his role in the agency's troubled medical system, but many expressed concern over his apparent obliviousness to the situation.
In November, the results of an investigation conducted by CNN revealed that veterans of the U.S. armed forces are needlessly dying because of delays in diagnosis and treatment. An internal document from the U.S. Department of Veterans' Affairs obtained by the publication painted a picture of government healthcare bureaucracy that overlooked simple medical screenings, like colonoscopies and endoscopies, that could have prevented a number of deaths. At least 82 veterans have died, are dying, or suffered serious injury as the result late diagnoses that postponed important treatment. Interviews the publication conducted with experts showed that the veterans affairs agency was aware of the situation but did almost nothing to remedy the life-threatening medical delays. Rather, the agency attempted to cover up the improprieties. That picture of incompetence has embroiled the Veterans Affairs department in controversy, and put its secretary on the defensive in front of a Senate regulatory body.
If the allegations prove to be true, as the CNN documents suggest, the Obama administration and Shinseki will have failed to deliver the reform promised when the secretary took office in 2009. "I came here to make things better for veterans," Shinseki told the senators Thursday, acknowledging that reform had been his mandate. "This is not a job. I'm here to accomplish a mission." His mission from the president was to change the Veterans administration culture so that it would be more responsive to veterans' needs. But as CNN's investigation has shown, system-wide problems remain. VA health clinics in Phoenix and Fort Collins, Colorado drew especial notice for the elaborate schemes used by administrators to hide the records of patients who waited months for care. But now "it seems that every day there are new allegations," according to Senator Richard Burr of North Carolina, the ranking Republican on the committee. Five other facilities, including ones in Cheyenne and San Antonio, have proven to have employed similar manipulations.
Shinseki — a retired Army general who served two combat tours in Vietnam — told the Senate Committee on Veterans' Affairs in a Thursday hearing that he was "mad as hell" about the allegations that VA hospitals had delayed important medical procedures and then attempted to cover up the deficiencies. "I could use stronger language, Mr. Chairman, but in deference to the committee, I won't," Shinseki told Independent Senator Bernie Sanders of Vermont. He has refused to resign, but he did pledge to take action if an inspector general's investigation uncovers evidence that VA workers manipulated waiting lists in order to conceal the long delays for veterans needing medical treatment. But he did tell lawmakers to wait until any conclusive proof was found before attempting to resolve what is a complex problem. The VA medical system — a true case study in sprawling government bureaucracy — conducts more than 230,000 appointments every day.
His testimony was an exercise in government-speak, hitting all the necessary emotions: surprise, contrition, and pride for what is going right in the agency. Shinseki emphasized in his prepared statement that the "VA provides safe, effective healthcare, equal to or exceeding the industry standard in many areas," and that the agency cares "deeply for every Veteran we have the privilege to serve." In fact, he said that veterans have "strongly endorsed VA healthcare," giving around a 90 percent approval rating to both inpatient and outpatient care. But after highlighting what he sees as the agency's strong points, Shinseki acknowledged that there are "always areas that need improvement." He then told the assembled lawmakers that the Veterans' Affairs takes any allegations about patient care or employee misconduct very seriously." Personally, Shinseki said he was "angered and saddened by any adverse consequence that a Veteran might experience while in, or as a result of, our care."
"If any allegations are true," Shinseki told the committee, "they're completely unacceptable to me." Further, "if any are substantiated by the inspector general," who is currently conducting an inquiry, "we will act," he added. But as of now, "I'm not aware, other than a number of isolated cases, where there is evidence of" VA appointment schedulers manipulating records, Shinseki told the senators. Those few words indicated to his critics that Shinseki does not believe that there are any systemic problems with the agency's care system.
But there is some evidence that the Obama administration was aware of the abuses. A letter sent last September to the White House from the U.S. Office of Special Counsel detailed abuses found by the Office of Medical Inspector. The report provided evidence that the VA healthcare system is staffed by overworked physicians and schedulers who manipulated patient waiting lists so it would appear veterans were receiving timely care. "Often, multiple walk-ins are booked into a single appointment slot for one provider and wait hours to see a doctor. This double-booking also creates a delay in the wait time for regularly scheduled patients," stated the letter, referring to a Jackson, Mississippi facility. Jackson Medical Center physician Phyllis Hollenbeck, a whistleblower, alleged that the clinic "overschedules patients for both physicians and [nurse practitioners], resulting in an overworked, understaffed primary care clinic." These allegations were referred to Shinseki so that an investigation could be conducted, stated the letter.
Inappropriate scheduling practices were a concern as early as 2010. A memorandum sent to the Office of Veterans Affairs from the Under Secretary for Health for Operations and Management in April of that year described "gaming strategies" used at VA facilities to mask poor patient access to healthcare. Plus, over the past several years, the Government Accountability Office has also warned on several occasions that waiting lists at VA clinics were inappropriately handled.
When senators pressed him hard on these reports, Shinseki denied any knowledge. "I can't say that I remember it," he said of the U.S. Office of Special Counsel letter to the White House. He said he was not aware of the 2010 memorandum either. Comments made by the VA Secretary indicated that he would not be quick to make changes. In response to questions about whether he would restructure his management team, given the recent evidence of systemic failures over the past few years, Shinseki said that, "I don't want to get ahead of myself." Regarding the Senate Committee's concerns about the agency's culture of circumventing rules, he added that, "I'm sure someplace in a large organization, you're always going to have something like that." However, Dr. Robert Petzel — the VA's top health official — did resign on Friday.
While Shinseki appeared to suggest that the investigation into the problems with scheduling and staffing were a new phenomenon, VA problems are well documented for a number of years, as these reports show. "With the numerous GAO, IG, and Office of Medical Inspector reports that have been released, VA senior leadership, including the secretary, should have been aware that VA was facing a national scheduling crisis," Burr said in his opening statement. "VA's leadership has either failed to connect the dots or failed to address this ongoing crisis, which has resulted in patient harm and patient death." In his opinion, this is the key question: "Even with all of the information available to the Secretary, starting over a year and a half ago, and specific instances of patient harm and death directly related to delays in care, why were the national audits and statements of concern from VA only made this month?"
By comparison, Democratic Senator Jay Rockefeller of West Virginia was less concerned with incompetence of the VA. While he noted that the allegations regarding patient care at VA facilities like Phoenix were "incredibly worrisome," he described the problem in terms of finances. "Currently, the VA faces major challenges. More people are enrolling in the VA than ever, and many of them have complex injuries," he said. "If the VA does not have enough doctors to see these patients, then these problems are a result of a lack of funding. And that is something that we in Congress can blame no one for but ourselves."
A numbers of Republican lawmakers, especially those campaigning for November's congressional midterms, are calling for Shinseki's resignation, and even those who are giving him tenuous support have expressed surprise at both his lack of awareness of the agency's problems and his unwillingness to collaborate with the Senate committee.
"I like Eric an awful lot, but I can't believe the lack of knowledge of some of the things that were obvious and apparent within the system," Senator Johnny Isakson of Georgia has said. "He's either been ill-served by his senior leadership — which I think is part of the systematic problem — or has been oblivious to what's been going on around him."
As Republican Representative Mike Rogers of Michigan told CBS's Face of the Nation, it "took a subpoena to get" Shinseki to answer lawmakers' questions. "That's a huge problem. You cannot, as a veteran myself, walk away, turn your back on what also appears to be a cultural problem throughout the Veteran's Affairs of trying to make it look good without it being good," he said. "And if you can't come up to Congress and say, 'Here's exactly how I'm going to fix it,' then he needs to move along."
In Rogers' opinion, the root of problem is not clear. Unlike Rockefeller, he believes "the money has been there. We've appropriated every year. Congress has been very generous to the V.A."
Meanwhile, President Barack Obama's Chief of Staff Denis McDonough says the president is also "madder than hell" about the allegations. In a Friday interview with White House Correspondent Major Garrett, McDonough also emphasized that the Obama administration has made VA healthcare a primary goal, including a 14 percent increase in spending on the veterans' health administration. While the chief of staff acknowledged that the president is not satisfied with a "bureaucracy that is running amuck and creating a fraudulent impression" that veterans are receiving care within the government mandated 14-day period, he is still confident that Shinseki "continue to fix these things until they're functioning the way that our veterans believe they should."
More From Wall St. Cheat Sheet:
Follow Meghan on Twitter @MFoley_WSCS