Why Women Weathered the Recession Better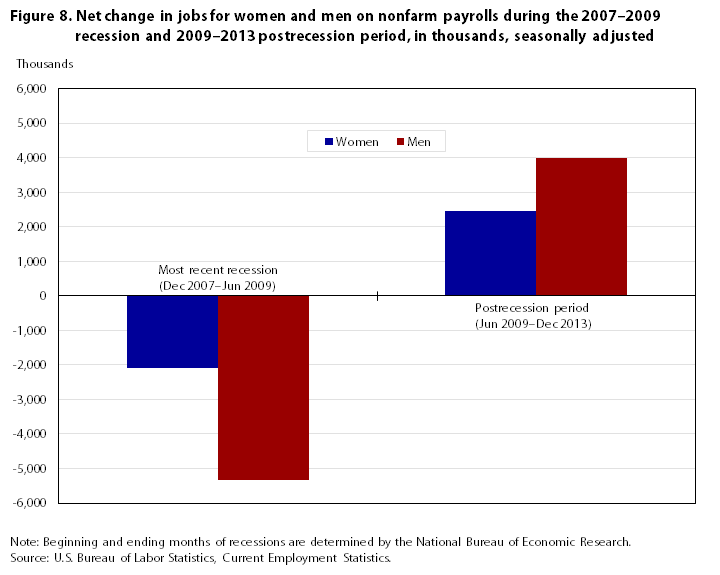 When the recession hit, jobs of all sorts went out the window, and more than a few gainfully employed individuals lost their positions while others found the search for employment just that much more difficult. Recently though, the U.S. Bureau of Labor Statistics (BLS) examined employment data during the 2007 through 2009 period and found some notable trends in women's employment during that time. Namely that, according to the BLS, women showed a greater resilience to job losses than men, with men being removed from positions at a rate of 2.6 to 1. Women in the workforce took up 50.0 percent of the non-farming employment for the first time ever in the years BLS began the series, which stretches back to 1964, when women held 31.7 percent of non-farming jobs.
Read more: 10 Signs Americans Are Still Stuck in the Great Recession

The trend since then has been an increasing number of women in non-farm employment positions, hitting a peak during the recession, then dropping, but remaining high at 49.5 percent in December of 2013. Part of the explanation for this disproportionate retention of jobs for women during the recession period has to do with those industries that suffered most. Eight out of ten jobs in the construction and manufacturing fields were held by men, and jobs in both industries were heavily cut during the recession.
Read more: How Much Did the Great Recession Cost You?

Construction employees are 87 percent male, and construction 73 percent male, and one-third of the 7.4 million job losses during the recession years were among these two goods-producing industries. Other goods-production jobs also suffered heavily, in machinery and mining related jobs, so that overall, 3.6 million jobs were lost between 2007 and 2009 in just goods-production, with 80 percent of the job losses amongst men.
On the other hand, healthcare and education continued to grow, still in demand and, in fact, benefiting in ways from an increase in funding. More women are employed by both industries, and as a result, employment there increased as opposed to decreasing, increasing 4 percent during the years in question, helping to combat unemployment rates in women. Hires were disproportionately female in the healthcare and and social assistance fields as well, with four women hired for every man, 444,000 jobs going to females compared to the 561,000 that went to men.
Read more: 5 Charts to Explain Labor Market Health

"The goods-producing industries, which predominantly employ men, are more cyclical in nature," writes Catherine A. Wood, economist at the Office of Employment and Unemployment Statistics with the BLS, explaining that such industries are "more sensitive to changes in the business cycle."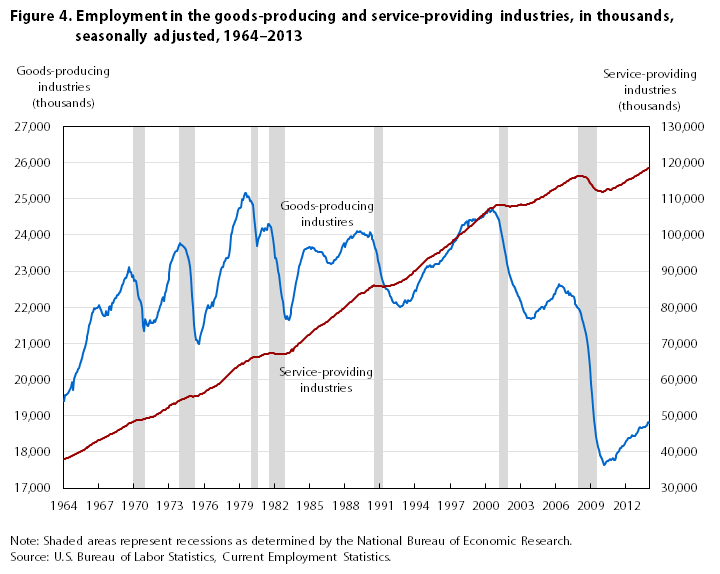 Overall, recovery has gone better for women than men as well. One hundred eighteen percent of women's jobs have been recovered in non-farm industries, improving since the recession. Comparably, 75 percent of men's jobs recovered in the same fields.
With Tuesday being "equal pay day" for women, and Obama's minimum wage increase — which would benefit women disproportionately and decrease the pay gap — and equal pay major items on his agenda, the recovery of women compared to men is tangentially related. That said, a greater resilience to job loss because employment industries disproportionately hire certain genders for certain jobs, does not negate or in any way change to the need for equal pay. If anything, some of the employment data offered could highlight the need for more women in certain fields, and the same for men — who notably are highly in demand in the education field.
More From Wall St. Cheat Sheet:
Follow Anthea Mitchell on Twitter @AntheaWSCS