Will Mortgage Debt Cripple Your Retirement?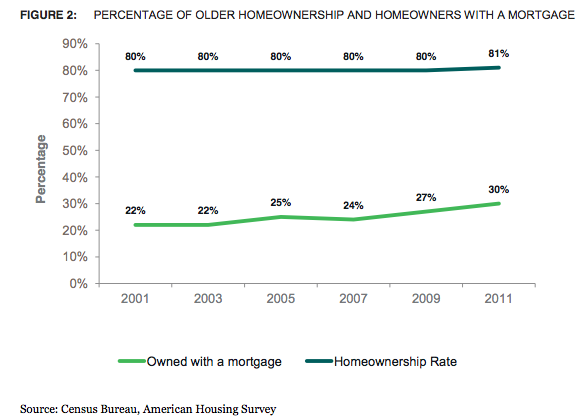 Debt has no age limit. The chains of credit will wrap themselves around any consumer that is willing and able to hold the weight at a specific point in time. Many people strive to escape the burden of debt by retirement age, but a record number of older Americans are saddled with mortgage debt.
While the home ownership rate among those age 65 and older remained relatively constant over the past decade, the percentage of homeowners with mortgages increased significantly. According to a new report from the Consumer Financial Protection Bureau, 30 percent of older Americans carried mortgage debt in 2011, up from 22 percent in 2001. Making matters worse, the number of mortgages among those 75 and older has more than doubled.
"The CFPB reviewed a number of studies, and found that the refinancing boom of the early 2000s, among other things, contributed to this trend. Other factors include a general trend among Americans to buy their first home later in life, provide small down payments on home purchases, and borrow against their home equity to pay for a variety of expenses," the report explained. "As a result of carrying increased mortgage debt, many older Americans have accrued less home equity than their age group did a decade ago. Less home equity means less accumulated net wealth for many consumers."
Between 2001 and 2011, consumers age 65 and older also increased the median amount owed on mortgages from $43,400 to $79,000. Meanwhile, the outstanding balance on their mortgages relative to the value of their homes increased from 30 percent to 46 percent. This situation can become unbearable during a financial crisis, as seen with the Great Recession.
The report found that from 2007 to 2011, the percentage of older homeowners who were seriously delinquent in paying their mortgages (over 90 days late or in foreclosure) increased fivefold. Mortgage holders ages 65 to 74 saw their delinquency rate surge from 0.85 percent to 4.96 percent, while those 75 and older saw a jump from 1.01 percent to 5.87 percent. Foreclosure rates also increased across the board.
"Many homeowners have experienced more dire consequences too when they have been unable to handle the financial burden of mortgage payments on top of their other living expenses. The high foreclosure rates during the financial crisis show the difficulty of carrying a mortgage when experiencing a financial shock," said the report. "For this reason, carrying a mortgage well into retirement poses many potential challenges for older Americans who typically live on reduced income yet face increased expenditures for health and long-term care."
More From Wall St. Cheat Sheet:
Follow Eric on Twitter @Mr_Eric_WSCS